Former ISU standout defensive tackle James Reed in action. (Photo courtesy Iowa State Athleticas Communications)
As Dan McCarney spoke, a rising tide of anger pulsed through James Reed.
Iowa State's football coach tried mightily to sell the talented Saginaw, Mich., native on a position change.
Reed, then a linebacker, wasn't buying.
"Now, I'm going to be honest, I did quit the team for that day," Reed said. "I could transfer. I was a little pissed. My dad was pissed. I was 235 and D-line at 235? I just didn't see it. But it worked out."
Indeed it did. Reed went on to star as a defensive tackle for the Cyclones, racking up 14 career sacks — tied for fifth all-time. He played eight seasons in the NFL until a torn Achilles tendon ended his playing days.
But that day, Reed — the subject of this month's Cyclone Fanatic "Where Are They Now" feature — was indeed, pissed.
Here's how McCarney remembers it:
"It was a combination of — he was upset, he was mad, there were some tears," McCarney said. "I think he was about ready to come over the desk and grab me by the throat. All of the above. Believe me, I remember it."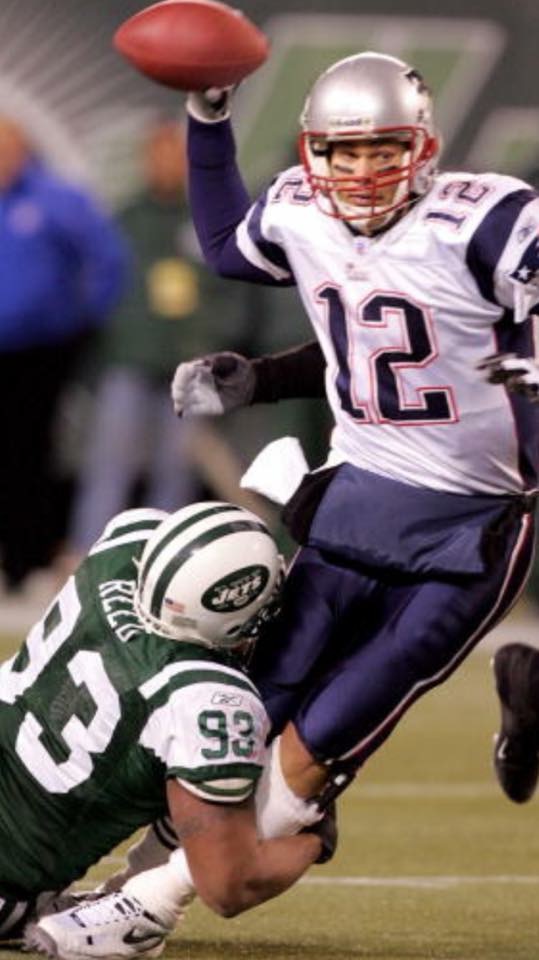 Cooler heads prevailed. And Reed's stock soared.
The athletic and stout 6-0, 285-pounder struck for six sacks in his redshirt freshman season and continued to shine as his career wound toward ISU's fateful 2000 season.
One game stands out of the most to Reed: the 35-27 win at Colorado. The triumph ensured ISU's first bowl berth in 22 years. It also snapped a 16-game skid against the Buffaloes. Reed's big play came near the goal line.
"They were on the one-yard line about to score," Reed said. "I slid through the A-gap, man, and hit the quarterback and stopped them on the one-yard line."
Reed forced three fumbles in his senior season — and helped the Cyclones post their first (and only) nine-win season, as well as their first bowl win.
"Each year we got better," said Reed, who now resides in Dallas, where he mentors young people. "In '98 we were decent and in '99 we lost some close games — we lost a lot of close games we should have won — so you saw the progression. And the year after, we just exploded, man."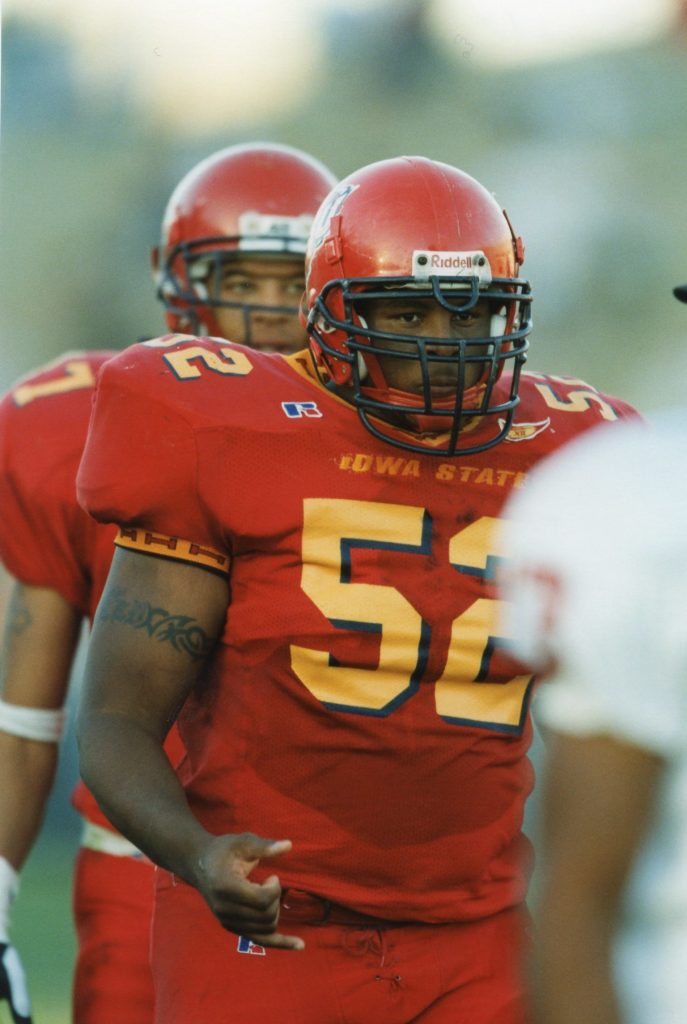 The same could be said for Reed, who's overcome a lot in his life.
Example? He was struck by a car the summer before fifth grade, which immobilized him for months, turning him from fit to flabby.
"A guy turned the corner, I was on my bike, he hit me and it put me in a cast the whole summer," Reed said. "Put my out of commission the whole summer, so that's how I gained the weight. Being an active kid, in the summertime, where I'm from, we run, we go in the fields, we do a lot of stuff — play football. And when I got hit, I wasn't able to do that, and I ate. I ate McDonald's Happy Meals every day and that put a lot of weight on."
How much weight? Sixty pounds.
"I sat in the chair all day," Reed said. "I remember my sister's ex-boyfriend had to carry me upstairs to the bathroom and, yeah, it was miserable."
Sometimes, Reed would sit on the porch. He'd watch his friends, walk, run and leap. Carefree times for them, cautious times for him.
"Injured," he said. "And getting fat."
Needless to say, Reed rebounded, and by high school was a budding star at linebacker. Still, Michigan and Michigan State never offered. Iowa State did — and eventually won Reed's heart.
"It was fuel to my fire, because I'd seen a lot of guys that Michigan and Michigan State recruited that went to Michigan and Michigan State and my career lasted a lot longer than theirs, so I look at that and know I was good enough," Reed said. "I'm glad I went to Iowa State and that's that."
Life presents options. Chasing dreams invites consequences, some wonderful, some painful. Bottom line: choices abound — and that's one of many lessons Reed shares with youth.
"I (work with) kids that have dreams of playing college ball and give them the ins and outs of how to make it," Reed said. "I enjoy trying to make an impact on young men's lives. I try to tell them what it takes and what not to do."
Reed learned those lessons as he went. He said he lacked the tenacity and drive to fully succeed until his senior season of high school. That's when Iowa State began to amp up its recruitment of him and made a distinct impression.
"(McCarney) came in and he said, 'James, I want you to be part of the Cyclone family,'" Reed said. "'If you agree, we're not going to recruit any more linebackers, and if you don't we're going to recruit more linebackers,' and I said, 'I want to come here.'"
McCarney knew Reed's best shot at stardom required him to put his hand down, though. He expected resistance, but was convinced Reed would ultimately trust his judgement, and it paid dividends on the micro and macro level.
"James Reed ended up being one of the great examples in the history of Iowa State football of just go and recruit good football players and find a position for them once they get there," McCarney said. "Just go find good football players. I didn't know he was going to be an NFL defensive lineman, but I knew he was a darn good football player and we loved him from the start. We loved his energy, his juice, his passion, his toughness, his personalty. We loved all those things. And soon after he got there we just felt like this guy's going to be OK as a linebacker — just OK. So if we put his hand down and put some size to him, this guy might be special."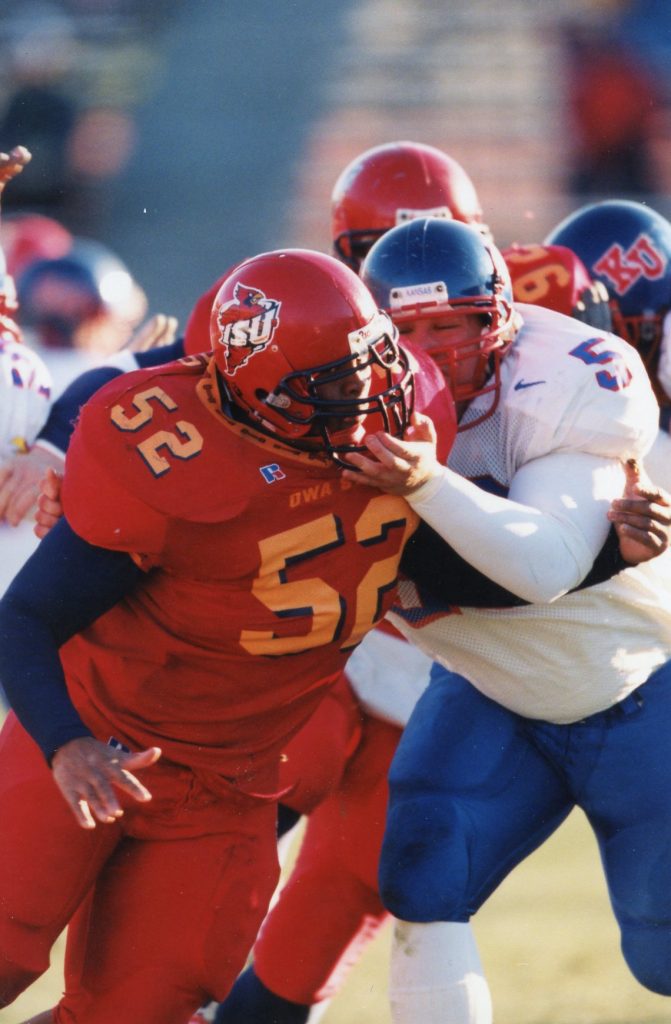 Smart thinking.
"We loved coaching him," McCarney said. "He was a joy to have on the team. We made history together and that was one of the great defensive lines in Iowa State history, with him, Reggie (Hayward) and (Ryan) Harklau and Nigel Tharpe, and that whole crew, now, that was a really, really good defensive line."
Reed continued to develop and was drafted in the seventh round of the 2001 NFL Draft by the New York Jets. He started two games as a rookie and spent five seasons with the Jets before winding down his career in Kansas City — and a training camp stint with New Orleans.
"To go up against some all-Pro guys and some strong guys I practiced against, pro guys, future Hall of Famers, it was tough," Reed said. "In the league, I was a nose guard, and at Iowa State I was a 3-technique. So in the NFL I was an undersized nose guard. I was 6-feet, 280, so I had to exhaust every ounce of energy and strength that I had to go out and try to make plays.  At the end of the day, I feel it now. I feel it when I can't sleep at night. I feel it when I walk, or when I stand or when I sit. Back then, I didn't feel it, but the after-effects, man, it's brutal."
It doesn't compare to the pride stemming from realizing a dream, though. Reed said he probably wasn't even a two-star recruit out of high school, but McCarney and his staff saw greatness in him — even if it wasn't at his preferred position.
"I said, 'What the heck?" Reed said. "'Try to be the best at it.'"
A winning philosophy. One he shares now with aspiring young men and his own daughters, Briona (18), Alyssa (15) and Summer, who turns 14 on Aug. 26. Briona is a freshman at Michigan. Alyssa plays select basketball and is drawing D-1 interest. Summer's in competitive cheer.
"Just excited about their growth and where the Lord takes them in life," Reed said of the children he's raised with his wife, ShaRee. "Just trying to mold them to be Christian and to respect others and to love others and work hard for what you want."
Sometimes, a well-plotted path take a momentarily unwanted turn, as they did for Reed that day in McCarney's office. Or when that car slammed into his bike several years earlier.
Reed knew he'd never really quit being a Cyclone. It's not in his make-up, which is rooted in strong faith.
"Trust the Lord," Reed said. "We're going to go through things in life, but you've just got to fight adversity and know that he's got your back."