Reggie Hayward sat quietly, at the foot of his bed, contemplating the future. The then-true freshman Iowa State defensive end faced a critical crossroads — and the only signposts he could seemingly find read "exit." He glanced at his bags, already packed, offering surrender and a way out of a dismal 1-10 season.
All he had to do was stand up, grab them, and walk out that door.
"I was just kind of defeated," Hayward told Cyclone Fanatic. "Like, 'I can't believe this is what I signed up for.' I was ready to throw in the towel. It was a lot for a true freshman, Physically it was very demanding but mentally it was very demanding. I was out there playing football games. I wasn't getting mature and growing. I was lifting weights, I was running, going to school and also competing in the Big 12. When I look back at it, it's kind of insane the maturity you have to have to do all of that. I had the physical attributes to do it, but I don't think I was mature enough to understand that it is a full-time job."
Hayward, as we know and love, stayed. He fell in with the "all-in" crowd. The future NFL star married his muscle-bound, 6-foot-5 frame to a fresh mental perspective — one rooted in the day-to-day concept of just getting better. Determination wins. Resignation flees, as Hayward nearly did.
"I was that close to having that type of story, that story where I would have regretted not seeing what would have came of this," said Hayward, who went on to record 16.5 sacks in his final three seasons while leading the Cyclones to their first bowl win, in 2000, over Pittsburgh. "It's only by the grace of God that I made the decision to take the tough road. At the time, it was extremely tough to take the tough road and not the easy road and just call it quits and come home and not have to deal with the pressure."
Instead of dealing with it, Hayward began furiously producing it. He ranks third all-time at ISU in sacks and rifled off seven in that landmark 2000 season that the Cyclones finished with an historic 9-3 mark.
How'd it happen? Hayward's meteoric rise, as well as the team's? It sprang from that one, vital quality Hayward found to be in short supply his freshman season: Unshakeable belief.
By his senior season — and that of James Reed, Sage Rosenfels, J.J. Moses, Ryan Harklau, Chris Anthony and others — faith merged with talent and only a No. 2 Nebraska team, Texas A&M and No. 19 Kansas State could dampen ISU's spirits.
"When we stepped into that leadership role, we were like, 'We are going to win,'" Hayward said of the Dan McCarney-led team. "We believed that we can win. We believed that no one can beat us. Whether that was insane or not, that was the belief we had. Granted, we went 9-3. Only three teams proved us wrong. And that's the difference. We had the same coaches and assistant coaches (as in 1999, when ISU went 4-7). It was just they were so accustomed to losing a close game. They were so accustomed to not being able to get over the hump that they didn't believe that they could, and they could have. We could have. Some of the players in '99, they folded. And when Ben Bruns stepped into that position on the O-line, he believed. We had believers at every positon. We had leadership that believed. We had coaches that believed. And that's how you win. That's the only difference. That's how I knew we got over that hump. I wish Iowa State would have stayed over that hump, but we got over that hump and we made history just because we believed that we could beat everybody."
 FROM FREESTLYIN' TO STRUCTURE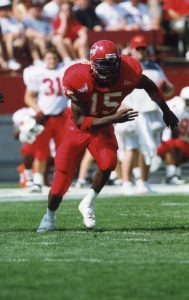 Hayward was always strong-willed. He'd drawn interest from many high-profile schools such as Michigan and Michigan State, but chose ISU partly on the condition his girlfriend at the time could get in. She did, with flying colors, so Hayward said goodbye to Dolton, Ill., a suburb of Chicago, and hello to Ames.
"They rolled out the red carpet," Hayward said. "They did everything, like I said, you would want someone to do. Mac was amazing. The school was amazing, Everyone was friendly and excited and elated for me to be there."
 Back to Hayward's strong will, or "personality" as he called it. He's certain he caused some headaches for coach Dan McCarney and his staff that first season in which he almost quit.
Why? Mostly because Hayward had simply been charged with making plays in high school, where oddly enough, he played middle linebacker because that was a position of need.
"It was funny, my (high school) coaches, now that I think back at it, they just kind of let me freestyle," Hayward said. "They were like, 'Yeah, just go make a play.' I had no idea what the play was. It was just like, 'Reggie, you just do your thing and everybody else, just play off of that.' And that's what I did. It's kind of funny. I had the freedom to just — I was Troy Polamalu out there. I was shooting gaps and just doing whatever needed to be done and it was working. Maybe my coach was a mad genius in that sense, but it was fun."
Less fun: Dealing with structure. McCarney demanded it. Hayward resisted at first, shunning everything from protective knee braces to sensible tackling polices in practice.
"(McCarney) did a great job, because when you're coaching young men, it's more than just football and Xs and Os," said Hayward, 38, who resides in Jacksonville, Fla. "He had to cater to different personalities and when I first came to college I had a personality out of this world. Very difficult to do deal with, because you take someone who didn't have a whole lot of structure and you throw him into everthing structured, 'Be on time, be here, go to school. Eat this, run here, run there, lift that. Practice. Repeat, repeat, repeat. Don't get in trouble.' That's a whole lot of structure and I'm pretty sure that I was a monster to deal with, but it paid off in the end, because once I figured it out, we had a hell of a football team."
And he was a heck of a football player. Hayward earned the Insight.com Bowl defensive MVP after the 37-29 win over the Panthers. He went on to play in two all-star games — and set the stage for becoming a third round NFL Draft pick by the Denver Broncos.
He'd come a long way from staring down his packed bags and almost giving up football entirely.
"Everyone holds onto the things that you can hang your hat on," said Hayward, who racked up 39.5 sacks in an NFL career cut short by injuries. "But I remember the bad memories. The memories of wanting to leave Iowa State because we weren't having success. I'm not accustomed to losing on such a level — such a dismal level of losing. … But to go from that, my freshman year, to the cream of the crop, so to speak, my senior year, I wouldn't have changed a thing. That's my memory. My memory is — and you can edit this the way you want to — my memory is going from (crap) to sugar. It is. It's going from pure (crap) to sugar. You know? To standing on some type of stage — not the biggest stage in the world, it was the 
Insight.com
 Bowl, but it was still standing on some type of stage and celebrating Iowa State football. You can't beat that. That's my memory, you know. Going from the depths of hell to Mount Everest in our eyes, in Ames' world, that was huge."
 THE PRO GAME(S)
Hayward played four seasons with the Broncos. In his first training camp, coaches ran him ragged  — until all-pro receiver Rod Smith took a stand on the rookie's behalf.
"(He) just stood up and we were in practice, and he went like, 'This is some bull(crap). Y'all are gonna kill him. Y'all got him doing everything. Look how tired he is?'" Hayward recalled. "He literally spoke up for me because they had me running and doing everything. And I was young and I just wanted to make the team so I was running around and doing everything — and my heart's about to fall out of my chest. He was just like, 'Enough's enough. Give this man a rest.'"
That remained hard to come by, though. Star tight end Shannon Sharpe was famous for the cold-blooded pranks he'd pull on rookies and Hayward was not exempt.
"Sharpe, being the ringleader that he is, every year, he gets the keys to all the rookies' rooms," Hayward said. "So around 3 a.m., him and his little group of guys, they open up your room door, and they dump a huge bucket of cold-ass water on you and the bed and everything and they run the hell out of there before you can even figure out what just happened. We had two a days the next day."
Hayward excelled as a pass rusher both at Denver and Jacksonville before leg injuries forced him to retire from the game. One play stands above most others in his nine-year (he's credited for 10) pro career, though: his only interception, which spanned 76 yards.
I'll let him take it from here: "I got tackled on like the one-yard line," Hayward said. "It was insane because we were playing the Saints in the dome and we were winning. It was Aaron Brooks, they got the ball on their own 15-yard line and they were marching all the way down the field, hurry up offense, trying to get some points on the board, they were running out of time. So it's play after play, pass rush after pass rush, and they go all the way downfield and they get all the way to the 35 and I picked the ball off — you've got to understand, it was like a two-minute drill all the way down the field. And I pick the ball off and the tight end caught me on the one-yard line. I was exhausted. That was the closest I came to scoring an NFL touchdown. I mean, I was beat, but I was so elated that I got an interception and I dropped back — it was a zone coverage — I dropped back in that zone and he threw me the ball. I was like,' Wow, he's just going to throw this right to me,' and I was standing there, I think I was the only person around, and was like, 'He threw it right to me.' Caught it and took off. I just ran out of gas. I was already tired before I caught the damn ball."
 It's those memories — along with the pranks, camaraderie and high-class hijinks — that Hayward cherishes the most. He doesn't miss the game so much as he misses the tightly-knit relationships.
"It's not that I miss playing football," said Hayward, who will celebrate his one-year anniversary with wife, Megan, in late July. "Like, I don't miss practice. I don't miss 
Monday
 Night Football. I get goosebumps when it comes on, because it's what I did for long, but I don't really miss it. I miss being around the guys, and the fun, and the pranks. It was just the good times that you can't get in the office. You can't get these in the office. There's something about a locker room or being with a group of people that all understand each other and get each other and having laughs and tears, and breaking bones and stuff like that that normal people don't understand, and it's not for them to understand, but that's what you miss. You miss the laughs. You miss the silly (crap)."
 THE ROMANCE
 Hayward first met Megan when she was on a date at a beach bar. A friend introduced them. His eyes widened.
"Here's this six-foot tall, cinnamon-skin basketball player," Hayward recalled. "I'm like, 'Wow, she is extremely gorgeous."
They exchanged pleasantries, but Hayward wasn't about to ruin anyone's date — not until the second one, anyway.
As fate would have it, she showed up on the arm of a friend at a big barbecue Hayward hosted. This time, they sat and talked. Outside noise became muted. They were engrossed by each other's company.
"(We spent) basically the whole day together — and her date had left," Hayward said. "Every time we see him, he says, 'You should give me credit, because I hooked you guys up. I brought her to your house, Reg.' So we spent to whole time just talking and getting to know each other and it just took off from there, which is crazy. My wife was on two dates — each time I met her she was on a different date, and she still wanted to hang out with me. She still wanted to get to know me and we've been together ever since."
They were married July 2016 in a lavish wedding in Chicago. Hayward wanted it to be big. She favored a small gathering.
"I'm from Chicago," Hayward explained. "I have a huge family. We're going to do it big. And that's what we did. It was huge. It was epic. And we still talk about it to this day."
 FULL CIRCLE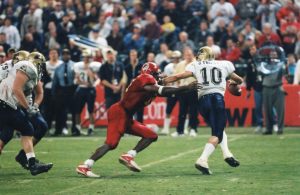 Hayward no longer even considers the "easy road." He never has since those fret-filled bedside moments as a freshman in Ames. Last year, "packing his bags" meant a dream honeymoon loop from Dubai, to South Africa and the Seychelles, and back to Dubai.
"We said since we're going on that side of the world, we might as well see everything," Hayward said.
That includes Ames. Hayward returned as an honorary captain for last month's spring game and said he's confident second-year ISU coach Matt Campbell can lead a resurgence.
"I walked around," Hayward said. "I talked to Campbell. I looked him in his eye. He believes what he says. You can get that feeling when someone's shooting you hot air, or you get that someone where the person firmly believes in what they're saying; they totally buy in. He's not giving me sound bites. He's giving me what he believes. He's giving me everything he's trying to instill into his coaching staff and his players. And that's encouraging. Now let's see what that translates to and the Big 12 is tough. Win. Win the games you should win and beat some people we didn't think you were going to beat and that's how you get to a bowl game."
Hayward knows — and being and remaining a Cyclone helped teach him that. Now it's a major piece of his unique identity. Now every signpost reads "family," whether in Jacksonville, Chicago or Ames.
"Everyone who does something worthwhile or difficult comes to that point in their life where they can turn and walk away from it or they can push through the adversity and keep going," Hayward said. "Sitting on the edge of that bed, and I made the decision to stay — the decision to keep grinding it out, it just paid off tenfold. Because I, not knowingly, would have forfeited all these experiences. Not just the NFL stuff, but just all these life experiences, I would say would have went down the drain, because football has gotten me to Jacksonville. Football has gotten me all across the country and football has taken me to so many different worlds. And I almost forfeited all of that because it was hard — and that's not a reason why you forfeit something, because something's hard. But try to explain that to an 18-year-old. It's difficult to explain to an 18-year-old that you don't forfeit it because it's difficult. Being 38 right now, no, you push through, because I see the fruit of the labor, but an 18-year-old? Most 18-year-olds quit video games when it gets too hard. Imagine them not quitting on football, in life. So it's by the grace of God that I decided to keep moving forward."
So on he goes. As a husband. A father. And always, a Cyclone.
"With all the NFL memories and all the NFL excitement and being a part of that fraternity, I am still excited — I get goosebumps when I walk through an airport and I see someone with an ISU shirt on, or a jacket," Hayward said. "I still go over there and, 'ISU, go ISU.' I get pissed off when I go into stores and they're selling Nebraska and Iowa stuff and I can't find an ISU cup, or ISU hat, or some type of ISU anything. If I see other colleges and I don't see ISU, I get pissed off. So I will always be a Cyclone. Always. Barring my kids going to some (other) university, which I have to cheer for, I will always — if they play Iowa State — I will always cheer for Iowa State. So I would choose my university over my kids beating my university. That's the type of Cyclone I am."