Scott Christopherson exulted, then knelt, positioning his lips toward center court at Hilton Coliseum.
The slick-shooting guard finally planted a parting smooch on the hardwood after a rousing comeback senior night win in 2012 over Baylor — and none of it was orchestrated.
"I never planned anything going into any games," said Christopherson, who helped put Iowa State basketball back on the map in 2011-12. "Anything that I ever did was, I don't know what you want to call it, because I was young and stupid, or because I had a lot of passion for the game — one of those two."
Certainly not stupid. Young and ambitious, maybe — both vital traits to combine when helping to rebuild a long-suffering basketball program.
Christopherson scored 1,106 points in his Cyclone career. He shot over 90 percent from the free throw line his senior season, and sealed the comeback over the Bears at the stripe there in his final game at Hilton.
"I'm so proud of our guys to send our fans off with a great feeling in our last game at Hilton this year," then-ISU coach Fred Hoiberg said after the win.
Hence, the kiss. Hence, the appreciation. As deafening cheers rained down from the rafters, Christopherson closed a personal chapter while ushering in new hope for ISU, which hasn't missed an NCAA Tournament since his senior season.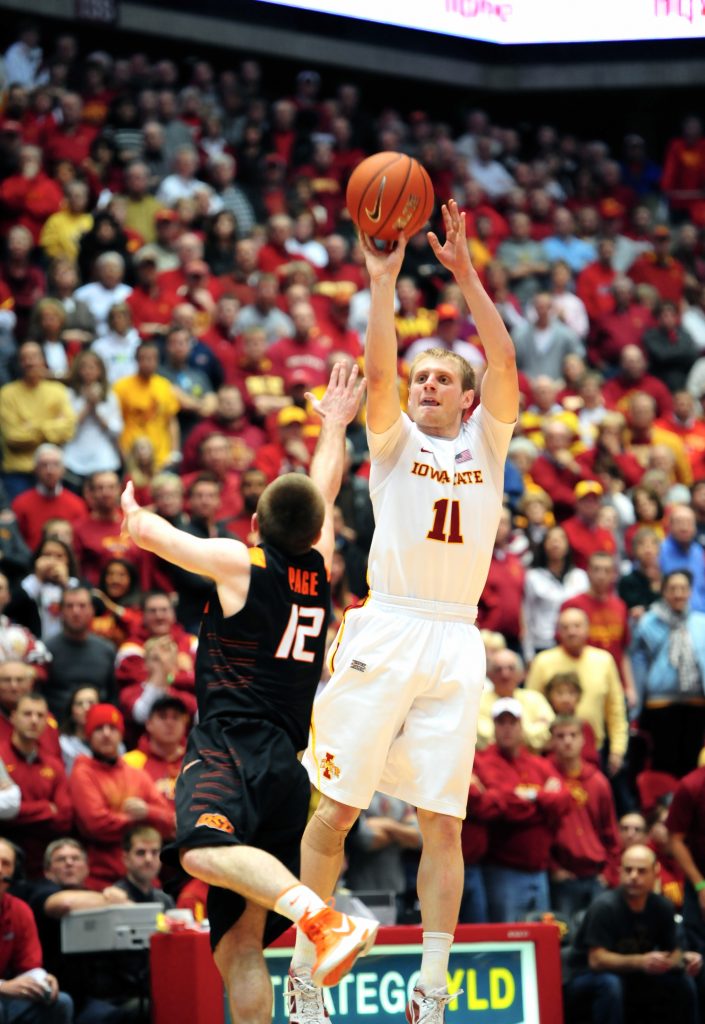 "What I remember about senior night is I think we were probably a lock to be in the tournament even if we would have lost that game, but I think everybody just felt a lot better going into the Big 12 Tournament, that we won that game," said Christopherson, who went on to play in Europe and Australia before settling into an entrepreneurial mindset first in Chicago, and now in Minneapolis. "We kind of solidified ourselves into the NCAA Tournament and I think that that was kind of a moment where the Iowa State basketball program — I don't know if you could say that it had arrived, but it had kind of come back, or kind of gotten its feet on the ground, and obviously since then it's taken off and grown even further."
That season started with uncertainty and tumult. Newcomer Royce White spiked expectations. Other transfers such as Chris Allen and legendary shooter Tyrus McGee augmented the known production players such as Christopherson and Melvin Ejim would provide.
This team needed to find its way; to carve out a fresh path toward success on its own terms. Thankfully, rock bottom happened early, on a cold November night at Drake. The Cyclones fell, 74-65, to the downtrodden Bulldogs and answers were in short supply as their record dropped to 1-1.
ISU had missed the NCAA Tournament six seasons in a row and talent, as recent seasons had shown, doesn't always reverse adverse trends all by itself.
"My sophomore year, we had a ton of talent, but we stunk," Christopherson said. "My junior year, Coach Hoiberg came in and a lot of people left, or graduated, etcetera, and we didn't have enough guys, but he really instilled a style of play that was going to bring in some talent and going to be a fun style of play for the fans to get behind and root for. But that junior year was not always fun. It was a struggle. And even like I said, at the beginning of my senior year, we were not a good team. I remember getting beat by Drake at Drake. Getting beat pretty good at Michigan. I want to say, now that I'm starting to think back on it, I think the game that really was a coming together moment was the Iowa game at home. We were a pretty unstable team at that point and what I mean by that is just the season could have gone one of two ways and fortunately we were able to have a big game. I think Royce had a big game that game and I think from there we started to really build on something."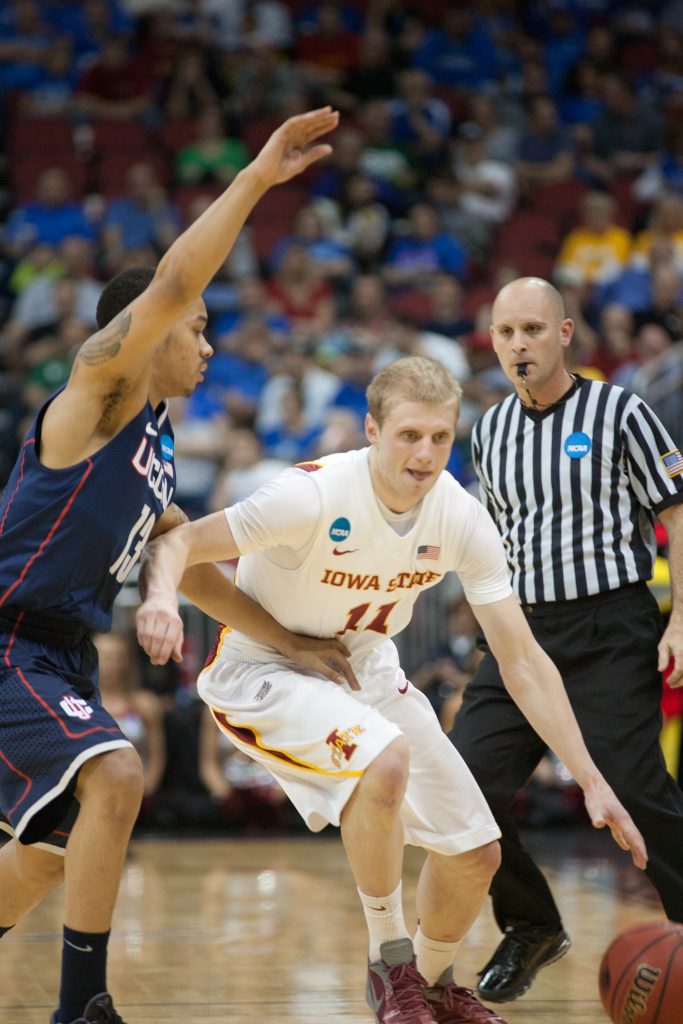 Call it a gathering storm. Call it fate for a formerly rock-solid program when Hoiberg starred as a player for Johnny Orr, and also shone brightly under Tim Floyd, helping to pave the way for the 2000 Elite Eight team helmed by Larry Eustachy.
Christopherson, ISU's second-leading scorer his senior season, knew that history. He also navigated through it with fresh eyes — a Wisconsin native who hadn't thought of being a Cyclone until transferring from Marquette when coach Tom Crean left for Indiana.
"I decided I wanted to open back up my recruitment and obviously one of my high school coaches was a high school coach of (former ISU assistant) T.J. (Otzelberger)'s," Christopherson said. "Put me in contact with him and I went there and played with the guys and got to know T.J. a little bit and just thought it was going to be a really good fit. Obviously, being close enough for my family to get down to the games was very important to me at the time and I was very glad that it ended up being Iowa State. I think it was a great fit for me personally, socially, on the court and off the court and obviously having my family get to be a big part of it, too, was fantastic."
Christopherson played his part in reviving Hilton Magic. His last-second banked-in 3-pointer quelled the Oklahoma State Cowboys on Jan. 18, 2012. The Cyclones were coming off a tough nine-point loss at No. 10 Kansas and stood 2-2 in Big 12 play at the time. Christopherson's glass-kissed clutch shot sent the crowd into hysterics. He climbed onto the scorer's table after the buzzer sounded and pounded his chest. ISU had arrived, indeed.
"I actually remember I hit a pretty deep 3 with maybe two or so minutes to go," Christopherson said. "That was kind of big in getting the run started and then Tyrus hit a big 3, as well, I want to say to tie the game up. I want to say there was another shot or two in there that kind of got us into that position and then to be honest with you, the shot was a special moment — a little bit lucky as well, obviously banking it, and the celebration is something that people that followed me still bring up to this day. You know, I don't know if I should be proud of it or a little bit embarrassed but it was definitely not planned."
Be proud, Scott. Be proud. ISU would win nine of its next 13 games — including an ESPN-televised home takedown of the Jayhawks — to close the Big 12 season at 12-6. The Cyclones had won a total of seven conference games in Christopherson's first two seasons.
"I think as you get a little bit older and you kind of look back at things, you put a lot less stock into certain wins, or certain games where you maybe had a good game personally," Christopherson said. "I think the thing I look back on that I'm most proud of is when I got there, not to say the program was a mess, but it was struggling. The culture within the program wasn't great. And coming from Marquette and playing for Tom Crean, who I think anyone that's ever played for him would admit, if there's one thing that guy's going to do, he's going to instill some toughness and a work ethic in you. When I came in, I think that's one of the things that I brought to the program mores than any skill set I had, or any sort-of talent that I had. I think that I was a big part in starting up the work ethic amongst the players."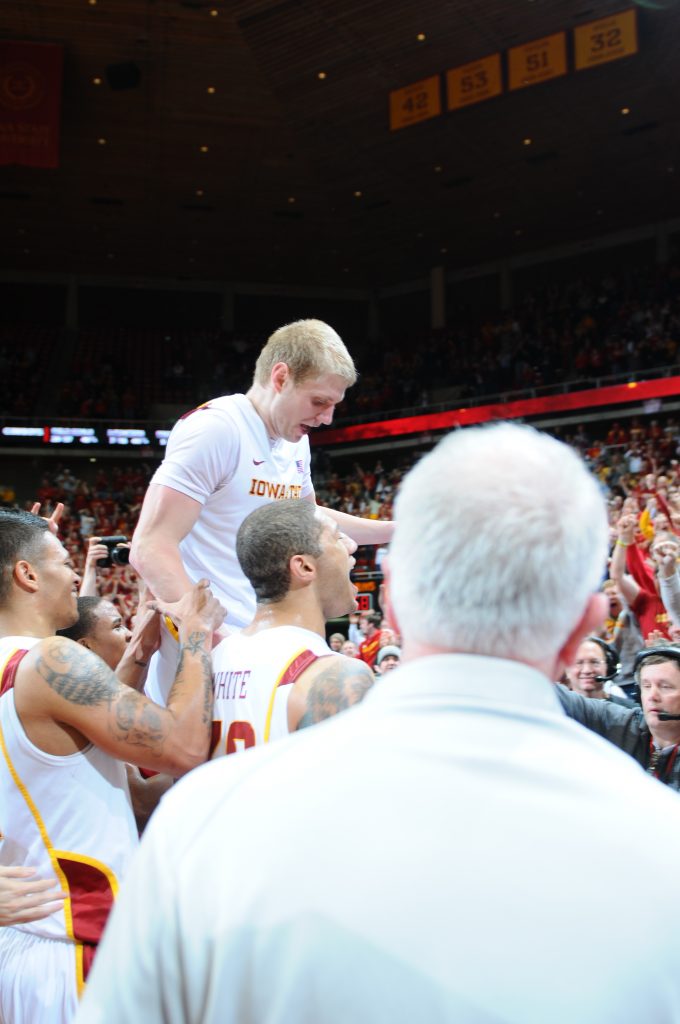 It's mushroomed from there. Christopherson's kiss-filled senior season ended in the round of 32. The Cyclones fell to eventual NCAA champ Kentucky, but the program's trajectory had been magnificently altered. Christopherson doesn't dwell much on basketball much anymore — that ship sailed when his pro career ended overseas, but the concrete framework of discipline that helped bring ISU basketball back, still guides him today.
"I think it's important to live in reality," said Christopherson, who's working on attaining his real estate license in the Twin Cities while pursuing a variety of business opportunities. "I'm not looking to be Scott the basketball player for the rest of my life. I'm just happy to be Scott Christopherson, the guy that I am. One of the reasons I went to Chicago for three years after I got done playing is because I knew when I went there that I would be challenged in a lot of ways and also that no one would know who I am. That's a pretty big city and there's a lot going on there — a lot of professional teams, a lot of people are very successful and I would get to be just a guy and kind of go about my business quietly and just learn, grow and develop as a person and professionally.
"Extremely happy that I chose that and also extremely happy that I cane to the relaxation that that wasn't going to be my long-term goal. Excited to kind of get the ball rolling here in Minneapolis. Of course, I don't know if scary is the right word, but you realize you're kind of wanting to maybe do some entrepreneurial things and I acknowledge that that's a fantastic challenge and I think what a great reason to wake up at, you know, 5:30, six o'clock every day. Approach and attack each day with a lot of energy and fight and all those different things. Really no different than how I approached my basketball career. You try to make the most out of every day. You try to find value in every day. Very, very happy to be where I'm at and very very happy for the experiences that I had."