Jan 31, 2017; Ames, IA, USA; Iowa State Cyclones guard Monte Morris (11) goes up for a shot as West Virginia Mountaineers guard Teybon Myers (0) and forward Esa Ahmad (23) defend at James H. Hilton Coliseum. Mandatory Credit: Rachel Mummey-USA TODAY Sports
AMES — "Terrible."
Iowa State's star point guard Monté Morris chose that word to describe his team's performance in its first meeting with West Virginia this season.
"And I feel like when you play terrible in this league, you lose," he added.
That's a stone-cold lock — as proven on January 31 in Ames, when the Mountaineers thumped the then-struggling Cyclones, 85-72.
Happily, that setback prefaced a revival.
ISU reeled off a 7-1 run throughout the month of February, including an ultimate bounce-back win at Kansas that ignited a hot streak on the heels of the West Virginia loss.
"We are a different basketball team right now," said ISU coach Steve Prohm, whose 24th-ranked team would solidify an outright second-place Big 12 finish with a win in Morgantown Friday at 6 p.m. "I just think we have a different confidence than we did in that game to be honest. That's my opinion."
It's borne out by facts.
The Cyclones (20-9, 12-5) boast two top-six RPI wins and have risen to a consensus No. 6 seed projection for the NCAA Tournament since the head-shaking loss to the No. 10 Mountaineers.
The mercury's rising — and the good sensations are palpable as the Big 12 Tournament looms next week.
"We need this game," said Morris, who's dealt 114 assists to just 14 turnovers in conference play. "We need this win. If we get that, I feel like we're in a great spot to go down to the Big 12 tournament and make some noise, so we definitely need this game. Why not just be outright instead of sharing it?"
Why not, indeed.
ISU hasn't stood alone at second in the league to end the regular season since claiming back-to-back titles in 2000 and 2001.
And a loss could drop the Cyclones to a No. 4 seed in Kansas City, depending on how Baylor fares Saturday at Texas. If ISU falls in Morgantown and the Longhorns score an upset, a No. 3 seed becomes reality.
Best to erase the uncertainty. A win means No. 2. Period.
"If we can be a 2 in the Big 12 Tournament, that's what's first," Prohm said. "That would be awesome."
West Virginia's thinking the same thing — in reverse.
If the Mountaineers win, they're guaranteed the No. 2 seed, as well, based on the conference's head-to-head tiebreaker. So the stakes are as high as always in March, where everyone seeks to be at their best.
"We're going in the right direction and if we can go that one more step then we can be one of the elite teams," Prohm said. "I truly believe that."
 THE JACKSON FALL
Donovan Jackson took a frightening top-heavy spill in Tuesday night's win over Oklahoma State, but he's fine.
"No concussion," Prohm said.
And …
"Donovan's tough," Morris said. "I went over there and said, you're from Milwaukee. Get up."
He did just that after a scary encounter with the Cowboys' Phil Forte, but only after making sure his still less-than-100 percent right wrist was protected from the hard landing.
"As soon as I was in the air and I felt a little nudge over, I'm like, 'Yeah, it's time to put the wrist away,'" Jackson said, demonstrating by hiding his right arm behind his back. "I couldn't let that happen again."
Jackson's 9-for-12 from 3-point range since ISU's 67-65 loss at Texas.
"I just take what's given to me," said the Cyclones' sixth man. "I try to fit in where I can get in and thank God I'm just making shots at the right times."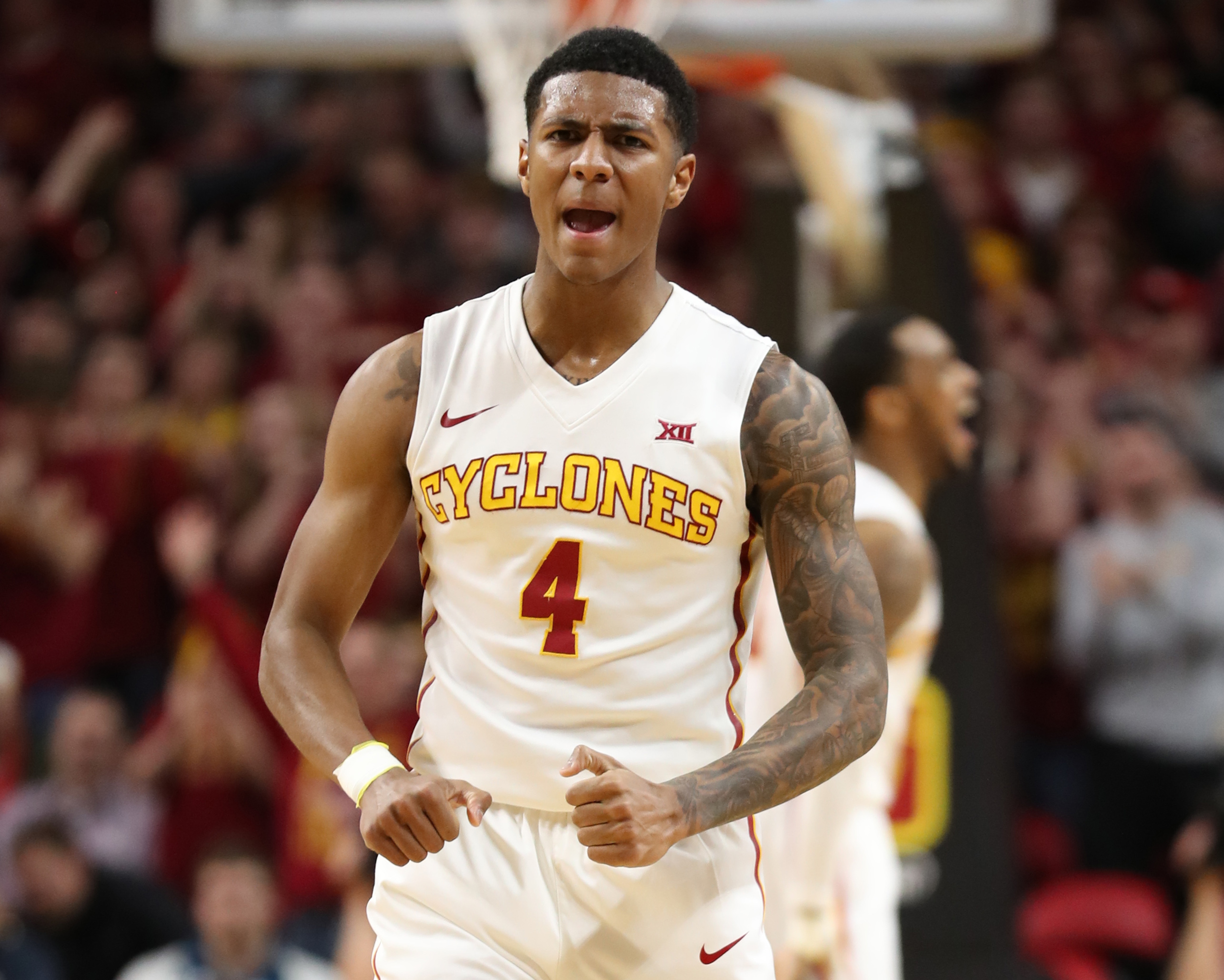 PROTECT AND RISE UP
The Cyclones matched a conference season high by turning the ball over 16 times against West Virginia in the first meeting. That can't happen again — especially on the road — if ISU's to close the regular season on a seven-game win streak.
The keys?
"Open 3s, open layups," Prohm said. "Not contested 3s and contested layups. Then if we don't have it, be tough enough mentally and physically, to run offense even though they are pressuring. Then on the defensive end, be able to make them have to take some time off the clock. They scored 85 here. That's just too many points to give up on your home floor."
The implications of another top-10 win are significant. Prohm declined to speculate on how much the Cyclones can enhance their NCAA Tournament resume in the next week or so, but it's clear loftier heights can be reached.
"I think our confidence is good, but everybody we play is really good — especially this time of year," Prohm said. "They're all going to be good from here on out and we understand that, so we have to be at the top of our game."