Jan 24, 2017; Ames, IA, USA; Iowa State Cyclones guard Deonte Burton (30) sets a screen on Kansas State Wildcats forward Wesley Iwundu (25) for Iowa State Cyclones guard Monte Morris (11) at James H. Hilton Coliseum. The Cyclones beat the Wildcats 70 to 65.  Mandatory Credit: Reese Strickland-USA TODAY Sports
When Iowa State's offense is really whipping around, and I mean really moving the ball, they find a gear most teams can't. The speed of their passes, the quick first steps on drives and all downhill movement towards the rim is tough to find across college basketball.
That's the level Iowa State's offense was on during the first 25 minutes of their 70-65 win over Kansas State on Tuesday at Hilton Coliseum.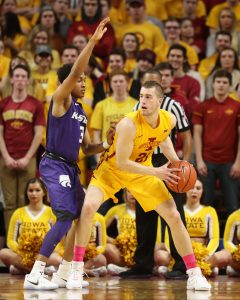 Behind 20 first half points from Matt Thomas (who finished with a career-high 25 points), the Cyclones built a 43-26 halftime lead that was too much in the second half despite a wild Kansas State comeback.
What was different for Iowa State's offense even from their win against Oklahoma on Saturday? Let Steve Prohm explain.
"I hate running sets all the time," Prohm said. "I don't think we're as good when we do it. They're better when they're just playing basketball and spreading guys out. What they did, they ran it at a different pace tonight. Usually, we just come by and toss it here and toss it here but we were getting downhill. We were making the extra pass. We were slicing by guys and we shared the ball."
The Cyclones playing downhill opened up looks at the rim and from deep. It allowed Monte Morris, who finished with 12 points and four assists, and Naz Mitrou-Long, 13 points and three 3-pointers, to force Kansas State's defense into scramble situations.
The Cyclones shot 59.3 percent from the field and 60 percent from deep during the first half. They played some of their best basketball of the season.
"We were just moving the ball and playing good basketball and making the right play," Thomas said. "It's as simple as that."
During the second half, it was like a switch flipped and the offense went stagnant again. Iowa State pushed its lead as high as 20 points but all of the sudden, the looks weren't coming quite as easy and the ones they got weren't falling.
Iowa State shot 32 percent from the field and were just 2-of-8 from behind the arc.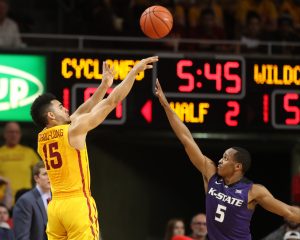 It allowed the Wildcats, who won the second half 39-27, to crawl back into the game possession-by-possession. They were creating easy offense for themselves by playing with energy on both ends of the floor, just like the Cyclones had done earlier in the game.
"Then in the second half when we started running it, you saw it different, if you really watched what we're running, you saw the ball stop," Prohm said. "You saw guys probing it instead of just trying to drive the next guy. The way we play, you're up 20 and when you keep trying to take good shots, you may miss and then they're going to get a run. When we're in that dribble action, usually your guards are going to be up top. Well, anybody can be up top in that four-out and now we weren't very good in transition. That really hurt us in that segment. They really got a lot of run-outs."
Those run-outs helped Kansas State work its way back into the game and take a one-point lead with five minutes left to play. It was the Wildcats' first lead of the night but they held it for only 23 seconds.
A jumper by Thomas put Iowa State back on top after the next possession then the Cyclones kept them at arms length until the final stretch. That final stretch included multiple acrobatic defensive plays by Deonte Burton, who finished with nine points and six rebounds.
They were the kind of plays you need when it comes time to close out a Big 12 win.
At the end of the day, whether the Cyclones gave up a lead or not, winning games in this league is no easy task.
"It's hard to win in this league," Prohm said. "I've gone through that to where, man, you analyze wins and everything and you don't win by enough. I've done that before when success is always expected. That's a miserable way to do it. I'll go home tonight, I'll watch the tape and we'll talk to the team on Thursday and correct some things. But, man, I'm happy as I've ever been right now. We're 5-3 in the best league in the country. We're in third place. We're off tomorrow and then we've got to get ready for Vanderbilt on Saturday."