Dec 5, 2016; Iowa City, IA, USA; Iowa Hawkeyes guard Peter Jok (14) brings the ball up court against the Stetson Hatters during the first half at Carver-Hawkeye Arena. Mandatory Credit: Jeffrey Becker-USA TODAY Sports
Iowa State will head east on tonight to take on in-state rival Iowa in a matchup that is sure to be fast-paced. The teams enter the game with two of the nation's most potentially explosive offenses, but the Cyclones' defense could be the difference in this game.
Where Iowa State has shown drastic improvement on that end of the floor, the Hawkeyes have regressed at stopping teams in 2016.
Here are five keys to an Iowa State victory on Thursday at 7 p.m. in Carver-Hawkeye Arena:
1 — Slowing down Jok
It will be tough to completely stop the Hawkeyes' leading scorer and far-away best player, but finding a way to limit him will be key for the Cyclones. The West Des Moines native enters tonight's game averaging 23.9 points per game, which is the fifth-highest average in the country.
The 6-foot-6 guard has already scored 27, 30, 27, 42 and 33 points in games this season. Most likely, Iowa will need him to put up a big number like that to walk away with a win.
"He can make tough plays," Iowa State head coach Steve Prohm said. "He can get his shot really anytime he wants it. Whether they run good offense or bad offense, he can make them good shots. We've really got to do a good job of denying him. Being there on the catch, contesting all of his shots."
Jok is one of the most skilled players in college basketball and the Hawkeyes will try to run almost all of their offense through him. According to KenPom.com, he has taken 35.3 percent of Iowa's shots (the 23rd-highest percentage in the country).
He's capable of scoring at the rim and shoots close to 40 percent from behind-the-arc. There's no doubt that Jok is one of the best players in college basketball and this will be an interesting test for the Cyclones' improved defense.
2 — Don't let the others get confident
Iowa's offense is explosive, but they don't exactly have a lot of weapons.
Only three players, including Jok, average in double figures and one of them is injured. Freshman big man Cordell Pemsl has been the Hawkeyes' second-best scoring option since Tyler Cook went out with a hand injury two weeks ago.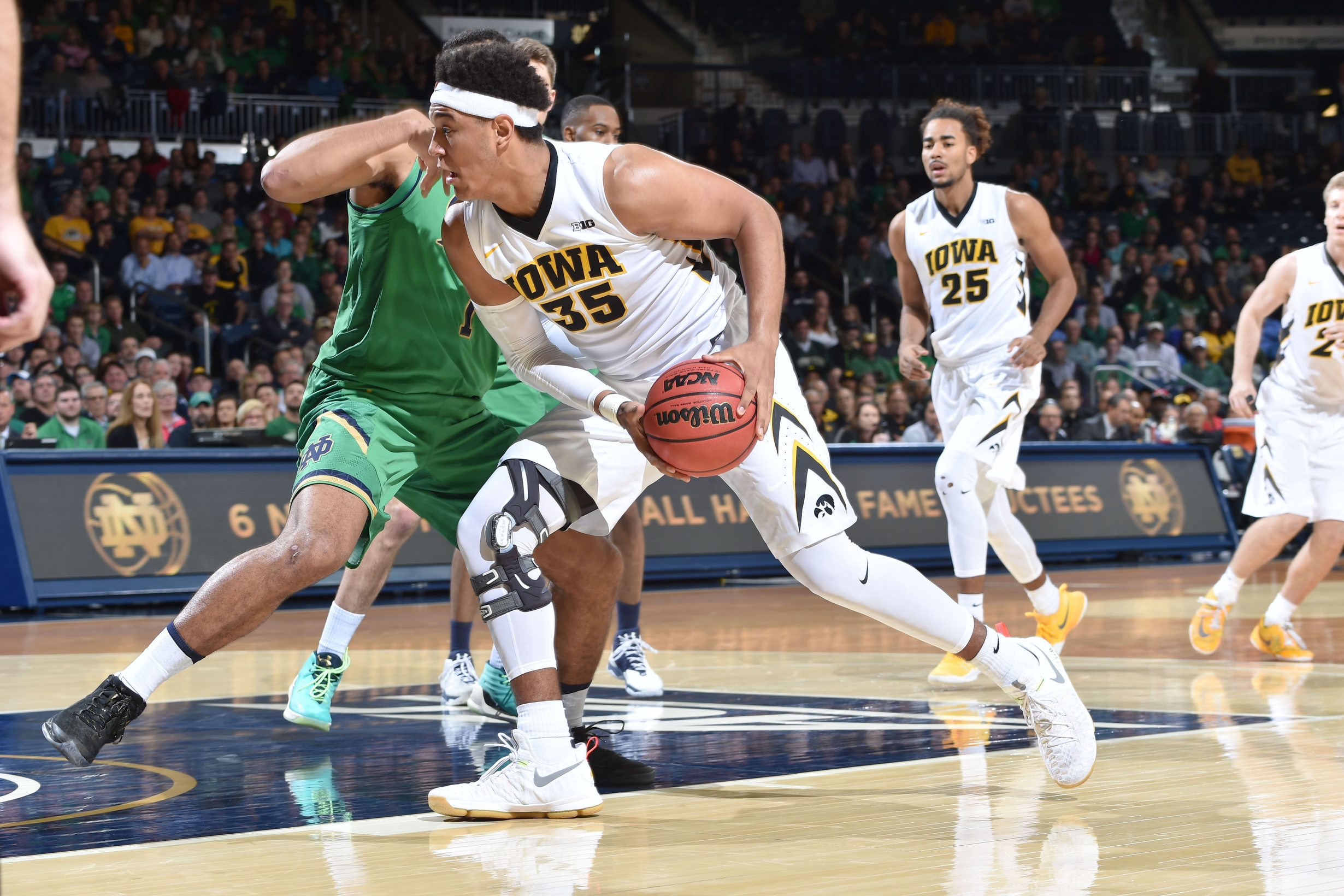 Pemsl, a Davenport native, is averaging 10.6 points per game while shooting higher than 77 percent from the floor. The 6-foot-8 forward has been highly efficient underneath the rim and is 15th nationally in field goal percentage.
Outside of Pemsl and Jok, freshman guard Jordan Bohannon is scoring 8.4 points and is the team-leader in assists. Sophomore forward Nicholas Baer has also been solid while scoring 6.8 points and grabbing 5.2 rebounds per game.
The Hawkeyes' high-scoring average and explosive offense has been more related to tempo than it is anything with their players' offensive skill-sets.
"They're averaging 87 points a game and they've played a good schedule," Prohm said. "They've played Notre Dame, Seton Hall, Virginia, Memphis. Those four schools are all really good so they can score. Our defense is going to have to travel over there."
3 — Be efficient offensively
This one seems like a bit of a no-brainer, but staying efficient, working for good shots and moving the ball will be important in this game. Iowa's defense has been less than stellar during its first nine games, but none of that matters if Iowa State takes bad shots or has poor ball movement.
Every team that has beaten the Hawkeyes has shot higher than 45 percent from the field. That trend will likely need to continue for the Cyclones really excel offensively on Thursday.
This could probably be said for every game, but this seems like it could be a Monte Morris special. Outside of Jok, the Hawkeyes don't have many guards that will be fully capable of handling the Cyclones' floor general, especially off the dribble, so I'd look for him to have a big game.
I'm interested to see how Iowa comes out of the gate defensively.
4 — Get a fast start
The best way the Cyclones can put this one away early is to get out to a fast start. As we saw in Monday's win over Omaha, when Iowa State gets out fast and is hitting shots early, it is really tough to come back on them.
It will be crucial for the Cyclones to get out early with some easy buckets to quiet the crowd and set a tone early in the game.
5 — Keep Iowa off the offensive glass
This will be the stat I'll be watching the closest. When the Cyclones are hitting the defensive glass hard, I think they are capable of playing with anybody in the country.
If they're not, the window of opportunity gets a great deal wider for any opponent Iowa State plays. The Hawkeyes haven't exactly been a huge offensive rebounding team through the first nine games, but they still have some athletes that are capable of hurting teams in that aspect of the game.
Not allowing second-chances to an offense as good as Iowa's will be crucial for Iowa State to come out with a win. Once you allow an offensive rebound, the door is open for the other team to get you scrambling and all out-of-sorts defensively.
If the Cyclones can avoid situations like that, I'm confident they can leave Carver-Hawkeye Arena with a convincing win.