Nov 14, 2015; Ames, IA, USA; The Iowa State Cyclones fans signal from the stands during the Cyclones game against the Oklahoma State Cowboys at Jack Trice Stadium. The Cowboys won 35-31. Mandatory Credit: Steven Branscombe-USA TODAY Sports
AMES — A number of story lines foreshadow Iowa State's Thursday night (6:30 p.m., ESPN) clash with No. 12 Oklahoma at Jack Trice Stadium, but perhaps the most glaring one is the outcome's so often a foregone conclusion.
The Cyclones (1-7, 0-4) are 0-16 against the Sooners at Jack Trice Stadium. They've won the matchup a grand total of five times (with two ties) — and the last triumph came in 1990 at Norman.
No one outside of Cyclone Nation expects this meeting to be any different.  Baker Mayfield-led Oklahoma (6-2, 3-1) is a 21-point favorite and ISU's lost five of the past six meetings by 20 or more.
"It's Oklahoma," Cyclones quarterback Joel Lanning said. "They've got dudes all over the place."
Still, hope remains that maybe, just maybe, there's a bit of untapped magic in this rebuilding and rebranded Cyclones team.
And guess who brings that out the most?
Yes, Matt Campbell and his staff have demanded and received improvement from their win-starved team.
But the best and biggest jolt of energy comes from you, the fans, who have remarkably shown up 50,000-plus strong in a school-record 36 straight home games.
Thought one: That's amazing — and as we know, it's why Campbell was drawn to Ames in the first place. The anecdote from his first press conference about strolling through the tailgate lots prior to Toledo's last game vs. ISU set a tone of appreciation he continues to hold.
It's heightened, even.
"For me it continues to be the foundation of why I know this program's going to turn around and what our greatest strength of selling the future of this program, the here and now is," Campbell said this week. "You go out there and you see — we come in on Saturday to do the Spirit Walk and you just see the energy and the emotion that surrounds our stadium. And we're down 17-3 or whatever it is (in last week's 31-26 loss to Kansas State) and as you start to come back in that football game it's that fan base, it's them that kind of energizes you and just gives you the excitement. It has been nothing short of incredible in my opinion.
"I've been on the flip side of it where we're winning at such a high rate and nobody is coming. You're just extremely grateful and appreciative and really it's the fire underneath, I think, every one of us that say sooner or later we're going to get it (swung) for this fan base and sooner or later this fan base is going to get what it deserves."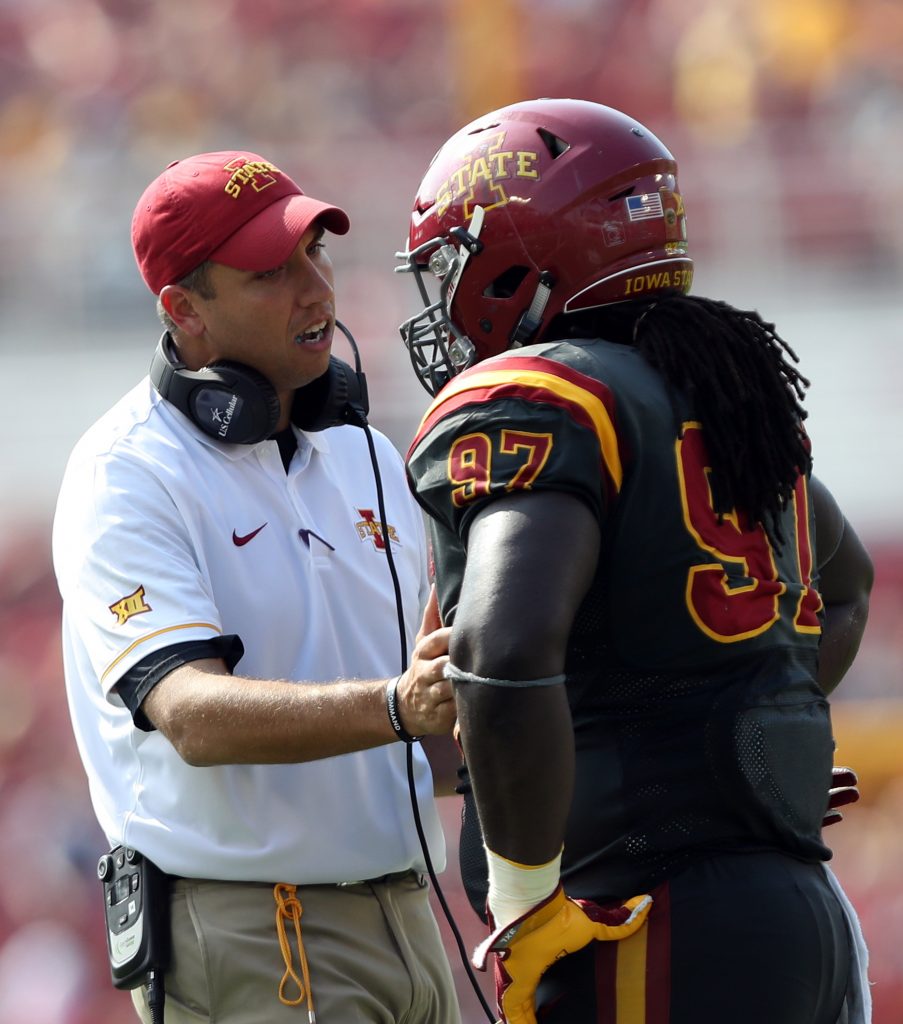 That's wins, baby. Stay tuned, but a jacked-up crowd in the Jack could help provide the added energy needed to keep this round of ISU-OU interesting until the final horn.
"It's really impressive for Cyclone Nation to come out every week and give the same amount of energy," said first-year defensive back D'Andre Payne. "It helps us as a team and I really enjoy seeing that, because it's been a rough season as you can see, and they still come out and support (the team). That's real big and I really love them for that."
The players love the support more than you know. They know it's hard to suffer through losses alongside them, but as former coach Paul Rhoads often pointed out, Cyclones fans are second to none when it comes to loyalty.
"Being an Iowa State fan my whole life, I've always known that we have a strong fan base," said ISU kicker Cole Netten, who stands just four points shy of the program's all-time scoring record. "And for me being out on the field watching so many people supporting you, it's incredible. It helps so much. Do we wish we could finish games better for these people? Absolutely. It hurts us more than it hurts anybody to struggle like this, but at the same time we appreciate all the support from the fans."
Here's to another crowd of 50,000-plus on Thursday to push that streak to 37.
Thought two: Netten's really, really good. His onside kick attempt late in last week's failed comeback bid against the Wildcats was inches from being successfully converted.
"It happened fast and I saw the guy out of the corner of my eye," Netten said of recovering his own kick just short of the required 10 yards. "Last second decision. I said, "I've got to take it now and see where it is, otherwise he's going to grab it.' Unfortunately, it was just a little too short."
Netten's been just about perfect in every other way since struggling the first half of last season. He went 7-of-12 in the first five games of 2016, including a critical 30-yard miss in the loss at Toledo. Since then, he's nailed 16 of his last 17 field goal tries to bolster his program-best 76.7 percent accuracy rate.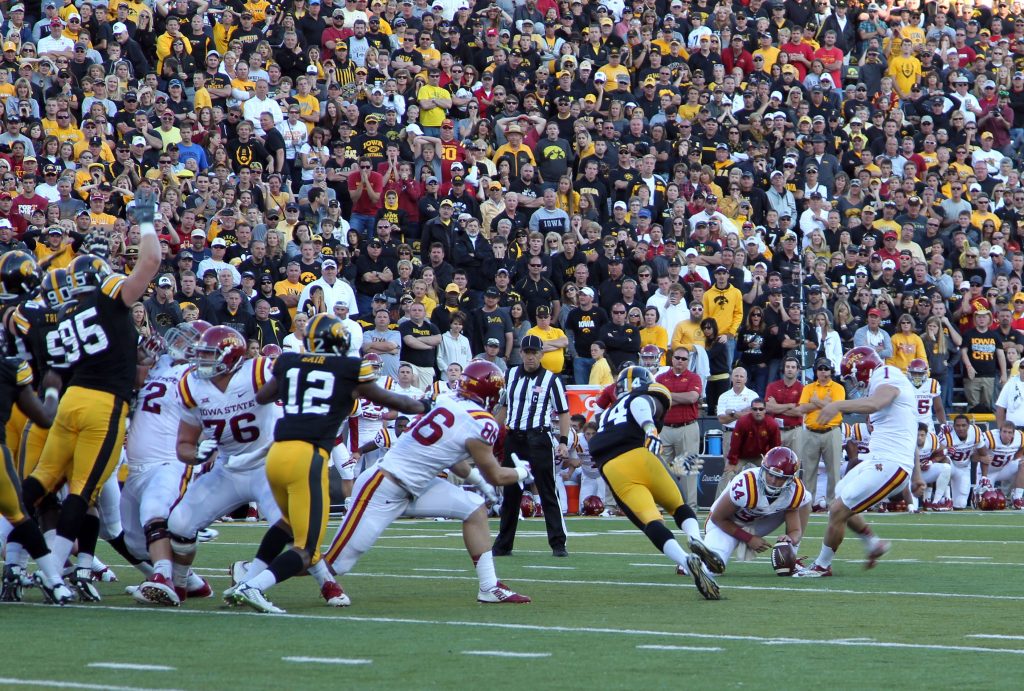 What spurred the best stretch of kicking in his career? A change in mindset.
"I've just been trusting in my process and from there you get the results," Netten said. "I stopped going out there and looking at, 'Hey, what happens if I make (or) miss this field goal?' And I started going out there, saying, 'Hey do the little tings right and that stuff will come.'"
It's come, all right. And silencing that inner what-if critic must spread virally throughout the team for a similar surge to occur late this season and into the next one.
"Unfortunately, it took me five years to realize that, but I'm glad I'm thinking about it now," Netten said. "Focusing on those things is going to help the result. You can just have fun. You can just play the game you've played so long."
Thought three:  I'll be surprised if a true freshman on offense doesn't have a big impact on Thursday's game.
Will it be speedy receiver Deshaunte Jones, who clutched two touchdown catches against K-State to push his season total to five?
"Deshaunte's got the make-up in terms of character, toughness, he's played on these stages before," Campbell said.
Could it be running back David Montgomery, who's averaged 4.7 yards per carry in the last two games and caught at least one pass out of the backfield in the last three?
I'll go with both, though Jones has obviously delivered breakout performances before. Montgomery simply seems poised for one because he excels in all three phases: running, blocking and catching.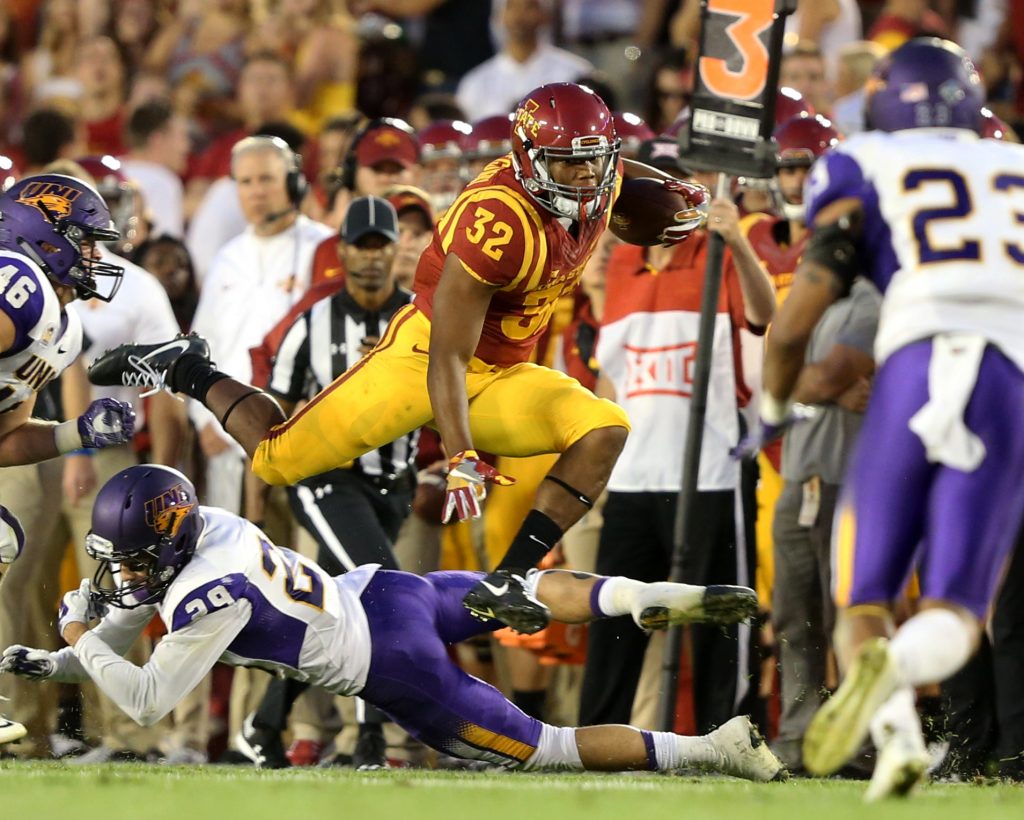 "I think what makes him so different and what really has given him the ability, I think, to earn the right to be on the football field is he's complete," Campbell said. "His ability to catch the ball out of the backfield and to block. He's powerful. I think he just gives us a different edge at times in the football game and it's nice to have so many options there and so many guys that can do different."
Thought four: I don't see this going down as a "typical" Iowa State-Oklahoma game. I expect the Cyclones to feed off the crowd and create their own sparks while keeping the energy high. What does that make the final score look like? Probably still not great, but this season is about building a greater future. One this fan base deserves. And one that finally is measured in wins and losses — once the necessary progress is made to make that balance a much happier one.
"Both sides of the ball they've got the ability to control the game," Campbell said of OU. "They're really talented on defense, they've got length, they've got speed. Offensively, the've got the ability to score and kind of like Texas does, they've got some of those elite athletes across the board. What you have to do is you have to do a great job of dictating the tempo of the football game, somehow, someway."