Nov 11, 2016; Ames, IA, USA; Iowa State Cyclones guard Monte Morris (11) looks to the officials for a call against the Savannah State Tigers at James H. Hilton Coliseum. The Cyclones beat the Tigers 113-71.  Mandatory Credit: Reese Strickland-USA TODAY Sports
AMES, Iowa. — Most non-conference college basketball games are generally lack emotion, especially when one team is a lot better than the other. You show up, you play and you go home and there is little feeling in between.
Iowa State's 73-55 win over Mount St. Mary's on Monday night in Hilton Coliseum wasn't one of those games. 
First of all, the Cyclones honored former Iowa State guard Bryce Dejean-Jones, who was shot and killed in May, with warmup shirts and jersey patches. It was a tribute near and dear to the hearts of several of the players on Iowa State's roster.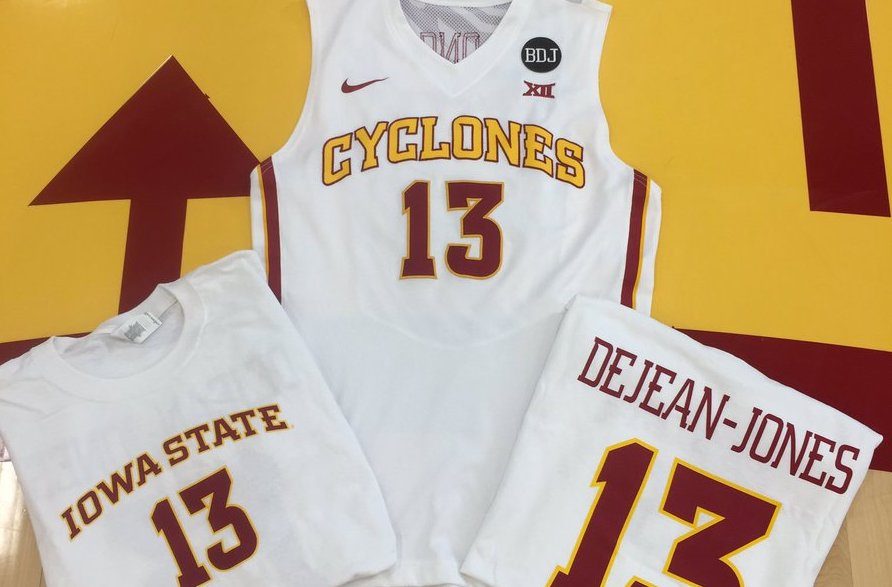 "It was big time," senior point guard Monte Morris, who led the team with 18 points, said. "We played a full season with Bryce. He was a great person on and off the court. He was a really good teammate. He was to himself. A lot of people that probably didn't know him had their own opinion about him, but me personally, starting with the guy, seeing how he carried himself and preparing for games was big time. That's why he started his NBA career pretty good. Our prayers go out to his family. I hope he was watching this game and tonight was for him."
Secondly, the Cyclones' emotional leader, senior guard Naz Mitrou-Long, got the chance to play against his brother, Elijah Long, a sophomore guard for the Mountaineers. On the stat sheet, it was the younger brother that had the upper hand.
Long scored a team-high 19 points, on 5-of-15 shooting, and grabbed seven rebounds for The Mount. Mitrou-Long struggled shooting most of the evening, finishing with eight points, on 2-of-10 shooting, and six rebounds.
The brothers had 36 friends and family members at the game, making a surreal night for both even better.
"Honestly, I thought it was going to be all good," Mitrou-Long said. "Going into it I was like, 'Alright, it's just going to be another game,' then the lights started flashing and I look over and I'm like, 'Man, we're really about to play,' you know what I'm saying? It was kind of surreal, honestly. It sucks because part of me kind of wanted to cheer for him. I can't even lie, because he was making some plays tonight. Everybody saw that and part of me was keeping it competitive. So it was a little weird, but, man, it was a good time."
As for the game, the tempo was uneven and the play, for most of the night was sloppy.
The Cyclones shot 44.8 percent from the field while holding the Mountaineers to just 26.6 percent. Iowa State was 4-of-16 from behind the arc and turned the ball over 11 times.
"I was telling my coaches on the sideline that I don't like playing at that pace. It got slowed down at times," Iowa State head coach Steve Prohm said. "It seemed like it was either fouls or balls out of bounds and then we went through a stretch in the second half, I thought, where we started struggling and they made their little run. I really think it was a lot of our poor offense. I'm not overbearing offensively. I want those guys playing with freedom, but there's a difference between freedom and bad shots. We were tinkering on that line a couple times."
Matt Thomas (13 points), Deonte Burton (10 points and 13 rebounds) and Nick Weiler-Babb (10 points) were Iowa State's other three scorers in double-figures. They were all able to find some sort of rhythm in a game that had none.
"I thought the pace was just rough to get any flow going," Prohm said. "Where the ball was coming, we're in transition, a lot of it has to do with them. They're pressing. They're making the four man bring it up, taking it out of Monte's hands. Then you've got to pass and make decisions from there and attack from there if you can, but, obviously, we're not going to see this kind of style each and every night."
Iowa State will see another completely different style when they host The Citadel, one of the fastest paced teams in college basketball, for a 1 p.m. tip on Sunday. Like most college basketball non-conference games, it probably won't be this full of emotion.