Nov 26, 2016; Ames, IA, USA;  Iowa State Cyclones running back Kene Nwangwu (20) returns a kickoff for a touchdown as West Virginia Mountaineers safety Toyous Avery (16) chases during the first quarter at Jack Trice Stadium. Mandatory Credit: Jeffrey Becker-USA TODAY Sports
AMES — On Saturday afternoon at Jack Trice Stadium, the only thing stopping West Virginia (9-2, 6-2 Big 12) quarterback Skyler Howard's long passes was himself. Despite throwing into — at times — pretty tight coverage, errant throws were the only thing keeping the No. 19 Mountaineers' signal-caller from connecting with his receivers in a 49-19 win.
Iowa State (3-9, 2-7 Big 12) was able to hang tough for most of the first three quarters, but the big plays came back to kill them. Howard converted on touchdown passes from 34-yards, 48-yards, 71-yards and 40-yards. He added another from six-yards out during the fourth quarter.
He threw balls into small windows and through fairly constant Iowa State pressure on his way to 330 yards on 12-of-21 passing. For the first time in awhile — maybe, the first time since Big 12 play started — a team was able to dice its way through the Cyclones' pass defense with ease.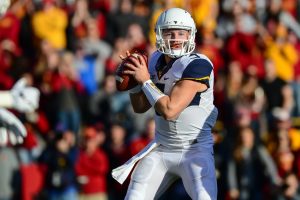 While Howard was connecting on big play after big play, Iowa State showed signs of being able to move the ball. But, they weren't able to put the ball into the end zone.
Iowa State's lone touchdown came on a 97-yard kickoff return by true freshman Kene Nwangwu (more on him in a second). The rest of the Cyclones' points came on four field goals by Iowa State's all-time leading scorer, Cole Netten, in his final game at Jack Trice Stadium.
Here's a few thoughts from Iowa State's 49-19 loss to West Virginia:
Red zone execution
Iowa State made it into the West Virginia red zone on three separate occasions, but those trips produced just three field goals. Well, one of them would've ended in a short Joel Lanning touchdown run, but it was called back by a chop block.
I don't know if the chop block was legit. People that know football better than I do seemed to think it wasn't, but that isn't really the point.
The Cyclones weren't able to execute effectively during any of their trips inside-the-20.
Iowa State had flourished in this position for most the season — and was among the nation's leaders in red zone conversion percentage for some of it. This was the area of the field where Lanning had been most effective, but we only saw him on the drive that ended in the called-back touchdown.
That seems odd to me after the redshirt junior ran for five touchdowns in last week's win over Texas Tech.
 "They were loading the box immensely and really playing man coverage and they did it for the first three quarters of the football game," Iowa State head coach Matt Campbell said. "So I thought, and kind of what I said earlier in the week, I knew they were going to face us to throw the football. And we were able to, we just didn't efficiently do some things we needed to and, again, you take away those fumbles and I don't know if it's even, if we're talking about that, or if Joel's effectiveness is able to come in when we're playing catch-up. It's kind of more of a situation that it had anything to do with Joel."
Nwangwu's explosiveness
I can't wait to see how Campbell and his staff will use this kid during his second season with the Cyclones. His kickoff return for a touchdown had been brewing all season long and he finally got enough space to bust one.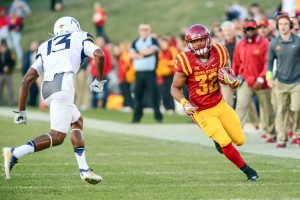 The emergence of David Montgomery, who rushed for 141 yards on 21 carries, and Nwangwu has made it clear how bright the future is for Iowa State at the running back spot. That's even before we know whether or not Mike Warren will actually be playing for the Cyclones in 2017.
This is a position that should have every Cyclone fan excited entering next season.
Lazard joins an elite club
The junior wide receiver from Urbandale has been climbing the Iowa State record books all season long, but he joined an exclusive club on Saturday. Lazard, who finished with 103 yards on four catches, became the fourth player in program history to go over 1,000 yards receiving in a single-season.
His 1,018 yards is good for third all-time in a single-season at Iowa State, behind only Lane Danielsen's 1,073 yards in 2002 and Tracy Henderson's 1,051 yards in 1983. He jumped over Todd Blythe's 2005 output of 1,000 yards during the game.
It was Lazard's eighth game with more than 100 yards receiving, a new school record.
"I don't think you can place a value on Allen," Campbell said. "Allen's a guy that, again, he's got incredible ability. I think you're just starting to see the evolution of what Allen can become in my opinion. He's got great tools. And fighting through some health issues at times throughout the season, he just kept grinding as well and I think there's even more to come of him to be honest with you. I think his best is yet to come. He's certainly skilled. He's got great ability and I'm really excited for there future of Allen Lazard because I think great things are ahead for Allen. I look forward to  a great offseason of health and him kind of getting himself where he needs to get to. Like I said, I think he can be one of the best wide receivers in all of college football."
Final thoughts
This was a game that I really think came down to Iowa State's inability to put the ball in the end zone when they got chances. The score – and game – would've looked a lot different if even two of those drives that ended in field goals had been touchdowns.
I don't really think West Virginia was 30 points better than Iowa State. They were just able to convert on big plays offensively and buckle down defensively when their backs were against the wall.
At the end of the day, you could still see how much this Iowa State team had improved since Northern Iowa left Jack Trice Stadium with a win on Sept. 3. Based on that improvement and the emergence of some young talent, it is hard to call Campbell's first season in Ames anything but a success.
Now, there's only 279 days until the Panthers roll into town to kickoff the 2017 season.