I can safely say I'd never been to an Iowa State football practice like the one held on Thursday morning.
The Cyclones are kicking off the Matt Campbell era with split practices allowing two different groups of players to practice at different times. This makes it possible for each guy to get more individual times with the coaches and increases the number of reps for each player.
It is a really solid concept and, from what I heard on the field, most everyone seemed to be pleased with the results. Iowa State hadn't ever done this before, but Campbell said it was something he'd done since his days at Mount Union.
"What I love about split practice, and doing this, is it gives our kids the ability to learn," Campbell said. "Kids learn by doing. Kids don't learn by sitting in a meeting room just sitting there drawing up plays. It allows guys to get reps. They're not super long practices, they're more of short, to the point."
Iowa State is planning to have three split practices, including Thursday's, but that number could grow to five depending on how the next two days go.
Joel Lanning, Allen Lazard, Mike Warren and most of the other guys at the top of the depth chart heading into camp were there for Thursday's first session. That left a lot of freshmen, transfers and other newcomers for the second group in the afternoon.
Here are my takeaways from Iowa State's first practice of fall camp.
1 – If Thursday's practice was any indication, Lanning-to-Lazard connection is going to be seen frequently in 2016. Lazard was by far Lanning's top targeted receiver and that led to a good number of big plays during 7-on-7 and 11-on-11 drills.
Trever Ryen was another one of Lanning's top targets. He made a couple really nice plays throughout the day, including a one-handed catch across the middle of the field that got most of the team fired up.
Someone told me that Dondre Daley is also poised to take on a much larger role this season, but on this particular day he wasn't targeted quite as much. It is just the first practice though.
2 – The first offensive line group was made up of Jake Campos (RT), Patrick Scoggins (RG), Julian Good-Jones (C), Nick Fett (LG) and Jaypee Philbert (LT). In other words, the same guys that were on top of the depth chart released last week.
"You put them into positions of adversity as much as you possibly can," offensive coordinator Tom Manning said about finding the starters along the line. "We give them as much as we can early on in camp. We have a general idea of the physical capabilities of each player, but I think it's really important to understand now as you start to formulate an offensive line, the mental capacity and being able to react to situations that happen at pretty rapid speed."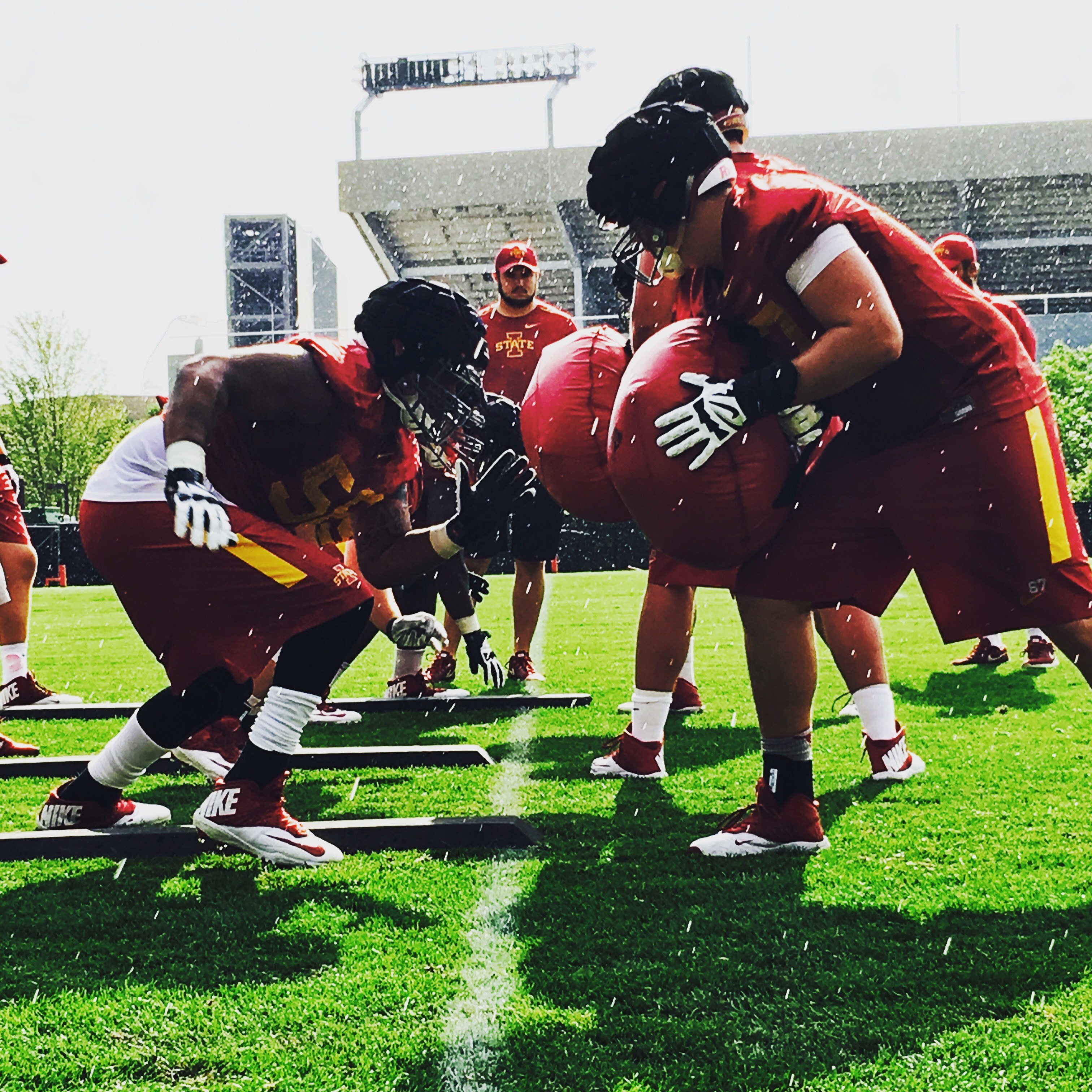 Brian Bobek, Karson Green, Oge Udeogu and true freshman Sean Foster were a few of the guys that worked in during drills. I don't think that necessarily means that they're second string, but they were the ones replacing the first group.
3 – True freshman tight end Chase Allen was suited up and practicing, and  has had his 103 stitches removed after being hit by a car two weeks ago. They didn't target him with any passes throughout the practice, but there is no doubt he's a physical specimen.
"I think what helps Chase is he's extremely bright," Manning said. "You know, we didn't do a ton of stuff today but I think he had a pretty good idea of what was going on. He did run a hot route today, which we don't even have in, so that was good for him."
Senior Justin Chandler got a majority of the reps with the top group and caught a couple passes throughout the day.
4 – Senior nose guard Demond Tucker didn't suit up for practice on Thursday. He'd been dealing with some illness lately, and had recently been in the hospital, so Campbell said it was just precautionary.
"Demond is 100 percent fine," Campbell said. "He had the flu a little bit last week. We're going to be really smart in how fast we bring Demond back. I expect him to probably be out at practice (Friday)."
5 – Senior Mitchell Meyers was back on the practice field after missing all of last season while battling Hodgkins-Lymphoma. He looked to be back at full strength and moved around very well for his first day back.
"I think we're all blessed that he's out there and doing his thing," defensive coordinator Jon Heacock said. "The fun thing about him is he just wants to play ball so that's what's exciting."
Meyers got in and made the quarterback uncomfortable on several different occasions during 11-on-11 drills. He stopped by the Jacobson Building after practice to talk with the media so I'll have more on him later today.
6 – One of the biggest points hammered home during practice, and the following media session, was the fact that Iowa State needs to improve their turnover margin. The team did a couple drills during practice that were meant to simulate takeaway type situations and that's something they'll focus heavily on moving forward.
"It's the most important thing in this game," Heacock said. "I've been doing this for 34 years, there's nothing more important than the turnover margin. You can go do all the stats, you can do an article on it, you can do whatever. If you don't win the turnover margin, you don't have a very good chance of winning."
7 – Iowa State will be back on the field on Friday. Alex Golesh and the tight ends will be the focus of the post-practice media session.