The July recruiting period ended this past weekend for college basketball coaches across the country, and they're starting to hand out their final offers for the month. Iowa State has handed out a couple more offers over the last two days, one to a JUCO guard and another to a point guard from Florida.
A quiet period will start will start on Aug. 1, which prohibits coaches from having face-to-face contact with a recruit unless they are on the school's campus.
With that being the case, it is likely that Iowa State will host some visitors over the next couple weeks. Coaches can also call and send recruits mail during this quiet period that lasts until Sept. 8.
As always, we'll have full coverage of recruiting during the month of August so keep checking back for updates on visitors, new offers, etc.
Here's a look at two of the most recent ISU basketball offers.
Davion Cole-Johnson
Cole-Johnson averaged 18.2 points per game last season for Mississippi Gulf Coast C.C. as a freshman. The 6-foot-4-inch, prospect is listed as a forward on the MGCCC website, but it seems likely that he would shift into a guard role at the college level.
He is a capable 3-point shooter and shot 31.6 percent from behind the arc during his first season with the Bulldogs. He's an above average rebounder for his height which shows from his 5.6 boards per game.
There isn't any film on Cole-Johnson, not surprising for a JUCO, but there really isn't much else to find about him either. That isn't uncommon with JUCO players but it is a little odd that it is nearly impossible to find anything about his high school game.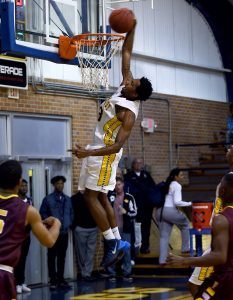 It does appear as though Cole-Johnson found himself in a bit of legal trouble a couple years back which could explain why this talented scorer ended up in the JUCO ranks.
Zack Bryant
This underrated point guard has seen his recruitment heating up over the past couple of months. He picked up an offer from Iowa State on Tuesday after having Clemson and Kansas State recently throw their hats into the ring.
The 6-foot-1-inch, 175-pound, floor general has a really good handle, sees the floor well and can shoot the ball from deep. His shot is a little unorthodox, but I guess if it goes in, then it goes in.
The Jacksonville, Fla., native also has offers from UAB, Murray State, North Florida and a few others.
On film, he looks like a guard that could slide between the point and the two-guard. I find it likely that someone might try to adjust his shot once he gets to the next level, but it is more than serviceable at the high school level.
There is no doubt that Bryant is a little under the radar, but he's an impressive under the radar guy at that.