We waited all summer for the first Iowa State depth chart of 2016 and on Monday leading up to Big 12 Media Days, we got just that. There weren't many surprises on Matt Campbell's first chart since taking over at Iowa State.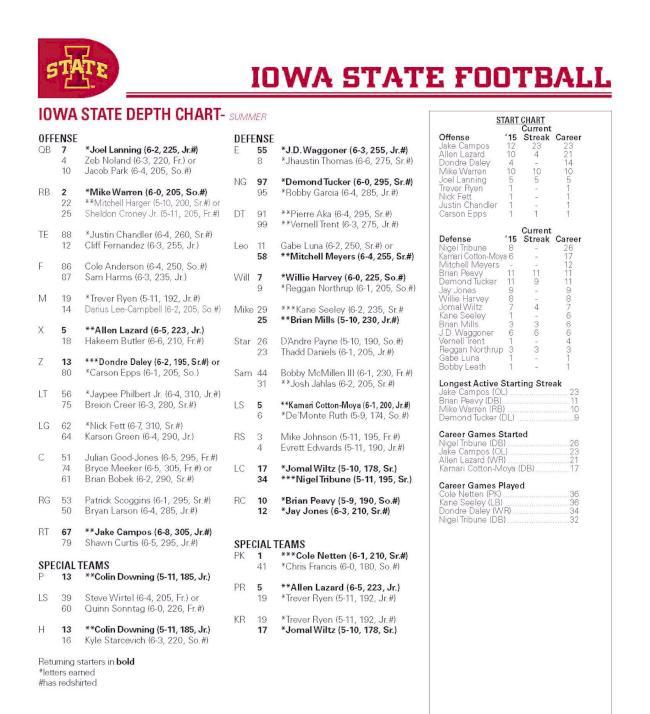 Of course, junior Joel Lanning is listed as the starter at quarterback while true freshman Zeb Noland and sophomore Jacob Park are separated by an OR for the second spot. Senior Mitchell Harger and freshman Sheldon Croney are listed as the backups to Mike Warren with an OR.
Junior Jake Campos moved from left tackle to right tackle while junior Jaypee Philbert took over the top spot on the left side. Freshman Julian Good-Jones is slated as the top man at center while seniors Nick Fett and Patrick Scoggins hold the guard positions.
Senior Kane Seeley is slated as the other linebacker along side sophomore Willie Harvey. Senior Jomal Wiltz and sophomore Brian Peavy are the top guys at the two cornerback spots.
Seniors Demond Tucker and Pierre Aka, and juniors JD Waggonner and Vernell Trent are the starters along the defensive line heading into fall camp. Senior Gabe Luna is also listed ahead of senior Mitchell Meyers at the Leo spot.
Sophomore D'Andre Payne and freshman Bobby McMillen III are the starters at the two specialty defensive back positions. Junior Kamari Cotton-Moya and freshman Mike Johnson are the top players at the safety spots.
There weren't any surprises in the special teams with Collin Downing punting and Cole Netten kicking. Allen Lazard was slated to return punts while Trever Ryen will return kicks.