1 – Time flies.
As of last week, it has officially been one calendar year since Steve Prohm was hired as Iowa State's head basketball coach. So much has changed since Prohm's somewhat awkward opening press conference, and it all starts with the man himself.
If you haven't already, I strongly encourage you to go back and listen to THIS PODCAST that I recorded with Prohm last week. Within it, you will hear a down-to-earth, regular guy who finally feels comfortable in his new gig. Like you and me, this relaxed version of Prohm is now a true-blue Iowa Stater. He is a man whose eyes are on the future and will not rest until the Cyclones are a perennial power in the NCAA Tournament.
What I love most about him is the fact that Prohm loves it here. On and off the record, you guys (the fans) are all he talks about. The 41-year old southern boy glows when he refers to Iowa State having a "top five fan base in America."
I don't see him having wandering eyes either. Prohm, a small school guy, truly feels blessed to be in his current situation. 
Looking back, I still don't think that anybody not named Steve Prohm can fully grasp the awkwardness of the situation that he walked into. Fred Hoiberg was worshiped here. At a Memorial Day picnic in 2015, I had friends actually get mad at me for suggesting that Fred was likely leaving for the NBA. Much of the fan base was in absolute denial during #HoibergWatch2015. 
And then last June, a quiet-by-nature Virginia native entered Ames and took over what this raucous fan base considered to be a preseason top-10 team. 
That's a tough situation. 
2 – Prohm's evolution as a basketball coach during his first year at Iowa State reminds me of a scene from the old NASCAR movie "Days of Thunder."
At this point in the movie, the team was struggling to finish races so old school crew chief Harry Hogge (played by Robert Duvall) took rookie driver Cole Trickle (Tom Cruise) out to the track for a test session. Hogge instructed his driver to run 50 laps however he wanted to. After a quick pit stop, Trickle was to run the second 50 laps under the guidance of the veteran crew chief.
Hogge's way was significantly faster and saved the tires too.
Perhaps it is a rough analogy, but that is essentially what Prohm did with a group of talented players who up until then were "Hoiberg guys." 
The in-season suspensions of Hallice Cooke and Jameel McKay were signs of Prohm doing things his way.
To their credit, the guys bought in, Monte Morris specifically. A sound relationship with Prohm is one of the big reasons why Iowa State's stud point guard is coming back for his senior season.
The transition was a little rough at first (which would have been the case no matter who Iowa State hired), but make no mistake that now, this is 100 percent Steve Prohm's program. 
3 – Unfortunately, the Fred Hoiberg side of this story is not so happy. A year ago, nobody saw the Chicago Bulls missing the playoffs in the NBA's lowly Eastern Conference in 2016.
I am blatantly a Hoiberg guy, so I choose to give the Iowa State legend the benefit of doubt. Injuries combined with a crippled, ancient roster made success in year one nearly impossible for the rookie head coach to achieve. That's especially the case when you consider the style of basketball that Fred wants to play.
Fred's first year in Chicago was tumultuous, to state the obvious. It began when he benched Joakim Noah in the preseason, continued when Jimmy Butler neutered him via the press and ended on his couch watching the NBA Playoffs.
What's next?
It will be a busy summer in the front office for Hoiberg and former Iowa Stater (now Bulls GM) Gar Forman. The Bulls will consider moving Derrick Rose, Jimmy Butler and Taj Gibson (not all, but individually) and it's almost a sure-thing that Noah and Pau Gasol won't be back.
The NBA's salary cap is about to jump up by $22 million too.
The Bulls fan in me says to blow the whole thing up and rebuild. The Hoiberg fan in me fears that there might not be enough time to do that with Fred surviving his first professional gig. 
Oh, and please draft Georges Niang.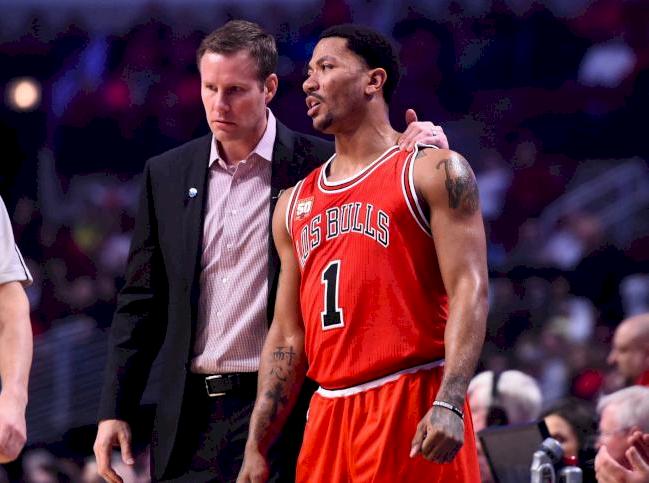 4 – A quick hit on the developing story at Baylor this morning… 
A few weeks ago, I think that we all gave the suits in Waco way too much credit for "firing" Art Briles. 
We all should have known (and many did) that letting go of a big-winning, money-printing coach like Briles at a school with Baylor's tradition would be an incredibly difficult thing to do. 
Before Briles arrived in Waco, Baylor hadn't finished a season ranked inside the AP Top-25 since 1986. The Big 12 formed in 1996. Baylor didn't win its first conference road game until 2005. That's almost a decade!
Remember when Waco was a football graveyard?
Now, fresh off of two recent Big 12 championships, Baylor has a brand new (and beautiful) stadium, shiny uniforms, bowl trophies and millions upon millions of dollars – all with Briles' fingerprints all over it.
Even after reading today's news, my guess is that Briles won't ever coach another game at Baylor, but the fact that it is even being considered is sickening.
5 – I've done some digging on the Jordan Harris situation and it sounds like he was probably going to seeded as the third-best linebacker on the team heading into fall camp. Harris, who had serious issues (which forced him to redshirt) picking up the Paul Rhoads/Wally Burnham defensive scheme out of junior college, struggled with the new staff's playbook in the spring.
Still, Iowa State was thin at linebacker before losing Harris. Even if (in a new 4-2-5 look) he wasn't going to start, that's a major depth piece to lose in the month of June.
I don't care what anybody says: At some point next season, this departure will sting. 
6 – Last week, I used this space to write about how pointless I felt divisions in a 10-team Big 12 would be coming up in 2017. 
Today, I will back off of that stance after pondering the idea floated out last week – that the Big 12 is considering changing divisions by the year based off of previous results and future projections. 
I love it!
It's such a fresh approach by a league often criticized for being reactionary. This idea – although somewhat irrelevant considering all 10 teams will play each other every year anyway – is revolutionary.
It has a European soccer relegation feel to it.
This is one of my favorite college football ideas to surface in some time.