Josh Johnson wants to be a part of something big. He could feel that something big building when he visited Iowa State last weekend. It was what led the 5-foot-10-inch, 170 pound wide receiver to decommit from Indiana on Monday.
A few hours later, he tweeted an edit with the simple message of, "La Familia." Johnson had made the switch and committed to Iowa State.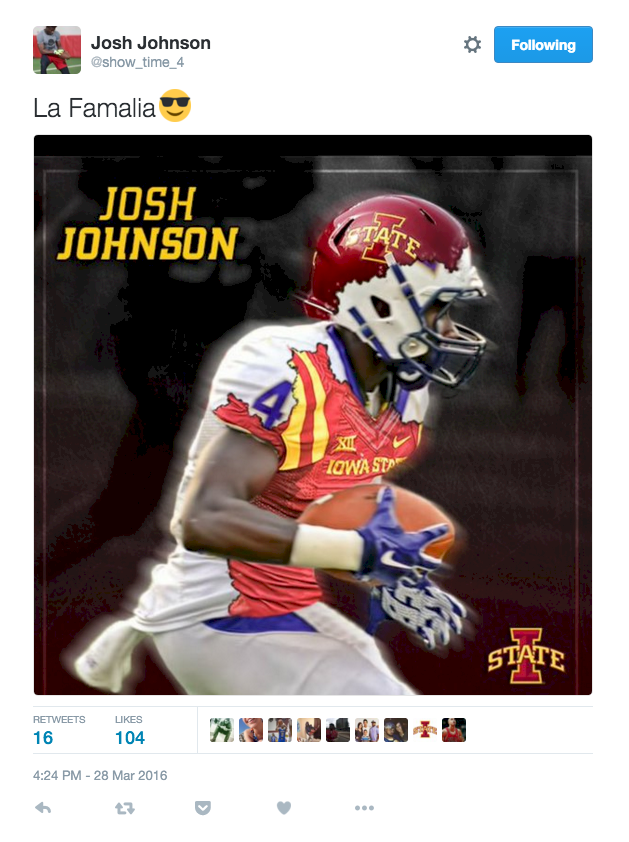 "Iowa State, I had been talking to them a lot and I was really feeling them," Johnson told CF in a phone interview Friday morning. "When I was committed to Indiana, I went on a visit to Iowa State and it just felt right. Then I just wanted to go to the best place that's comfortable for me."
The consensus three-star out of Central Arkansas Catholic is one of the highest rated players in The Natural State. He's the No. 2 player in the state and No. 88 wide receiver nationally according to Rivals. 247 has him No. 7 in Arkansas.
He holds offers from Illinois, Kansas, Kansas State, N.C. State, Notre Dame, Oklahoma State and Vanderbilt, plus a quite a few others. He's received interest from Alabama, Ole Miss and the in-state Razorbacks.
Those are some big name programs with big time reputations, especially with receivers. Iowa State stuck out from the pack anyway.
"Coaching staff and family," Johnson said when asked what caused Iowa State to rise above the rest. "I know the players are really close and then the offense fits me the best."
Johnson's fit in the offense doesn't really mean he has a defined role. His main recruiter, Alex Golesh, has told him he'll play inside or outside. They'll move him around to create mismatches.
The Maumelle, Ark. native says he models his game after the likes of Texas A&M's Christian Kirk, who caught 80 passes for other 1,000 yards and seven touchdowns as a freshman last year for the Aggies. During his junior year, Johnson caught 87 passes for 1, 245 yards and eight scores.
"I'm so versatile," Johnson said. "They're talking about I could play either inside or outside so they're just going to move me around."
Committing early has allowed Johnson to connect with other ISU commits Devon Moore (QB, Waterloo, West) and O'Rien Vance (OLB, Cedar Rapids, Washington). Two kids from Iowa and a kid from Arkansas.
They've combined to create a recruiting trio that, hopefully, can rival the group put together by Matt Campbell. Well, almost rival at least.
"We've been talking to a lot of guys. We're trying to get a lot of guys on the bus," Johnson said. "We're just trying to get something of our own and show those guys what's up."
Johnson's pitch to other recruits is about that big thing I mentioned before. The thing that caused him to decommit and then recommit just a few hours later. The thing that made Iowa State feel like the most comfortable place for him.
"I the them that we're really on the come up," Johnson said. "People were sleeping on us last year but the new coaching staff and everything is great. I tell them that the city is great and, also, how the players are really cool. It's just like a family so it's like a home away from home."