I like the spring game. I, and, as Chris Williams wrote earlier this week, Matt Campbell, might be in the minority on that. There isn't always a ton to take away from these exhibitions. 
Most coaches don't really show much. Some schools don't even play it as a real game.
I like the spring game because it fills the void between the end of college basketball and the NBA Playoffs. I like the spring game because we get to watch some football.
How can we really complain about getting to watch football? You can't. It isn't possible.
Campbell and his staff most likely won't show a lot during their first spring game at Iowa State on Saturday and why would they? There's no reason to give away anything five months before they play a game.
I won't be watching schemes or plays as much as I'll be watching the players. How much bigger do guys look? Who is playing faster and with more confidence? Who will be the under the radar guy that emerges to have a big game?
They are questions that don't really mean that much right now but who knows what they'll mean in a few months.
Here are my five players I'll be watching in Saturday's spring game.
1. Willie Harvey
Early last week Matt Campbell said there wasn't a player on Iowa State's roster having a better spring than Harvey. The redshirt sophomore is expected to step into a much larger role in 2016 after finishing last season fourth on the team with 59 tackles.
He showed the ability to be an explosive playmaker on the defensive side of the ball with three tackles for loss and two sacks during his freshman season. Expect that number to increase as Harvey continues to get stronger, faster and smarter within Campbell and defensive coordinator Jon Heacock's scheme.
This guy is the real deal — and there's a reason Campbell said Harvey has the potential to be the best linebacker he's ever coached.
2. Carson Epps
Epps is another sophomore that should be expected to make a big jump in a larger role during his sophomore season. During his true freshman season Epps caught eight passes for 42 yards with his best game coming in a three catch performance against Oklahoma.
Iowa State needs guys to step up at the wide receiver position and Epps seems like a solid third option behind Allen Lazard and Jauan Wesley. It will be interesting to see how he has progressed after having a full season to adjust to college football.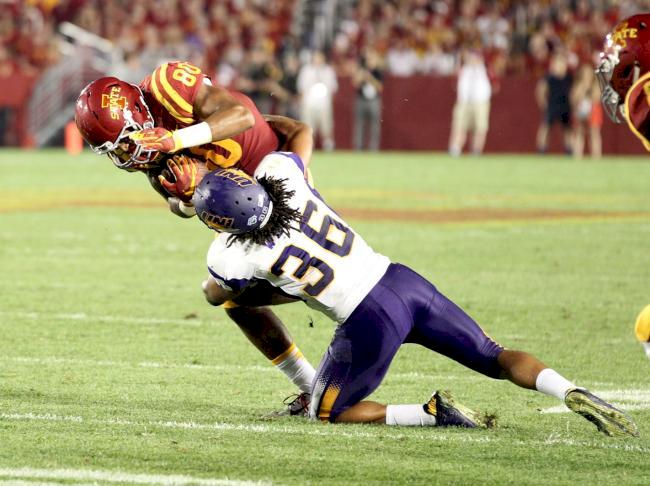 3. D'Andre Payne
Payne was one of the best cornerback recruits in the country when he signed with Tennessee back in 2014. He had four tackles in eight games during his first season with the Vols before transferring to Arizona Western Community College.
According to Campbell, if Harvey had the best spring it was Payne in second. This is a guy with big-time natural talent and experience at a high level of college football.
Iowa State's defensive secondary could be pretty salty in 2016 and Payne figures to be a big part of that.
4. Zeb Noland
Don't get me wrong, the starting quarterback job belongs Joel Lanning. That doesn't mean Noland isn't an intriguing player on the roster.
The true freshman was named the No. 2 quarterback on the depth chart on Tuesday's Cyclone Insider show on 1460 KXnO, solidifying the idea that he's best best QB prospect ISU has had in a while. Expect Noland to make some mistakes during his time on the field Saturday but I wouldn't be surprised to see him make some really solid plays too.
5. Gabe Luna
Luna's first two years at Iowa State have been ravaged by injury and getting a fresh start with Campbell's staff could be exactly what he needed. The new staff sees Luna playing the Leo role in their defense as a defensive end/linebacker hybrid. He's going to be asked to rush the passer, play in space and just make plays.
I think a few people might have forgotten about Luna after his redshirt season two years ago then getting injured in the first game last season. Staying healthy is going to be the first order of business but he's got the ability to be a huge piece in the defense if he is.