Karl Chevrolet gives you peace of mind when you purchase a GM Certified Pre-owned vehicle. We have been the #1 GM Certified dealer in the nation for 10 consecutive years. Before you make your next purchase, come see why more people nationwide drive a Karl Chevrolet Pre-owned vehicle than any other dealer-There is a difference, Come see why TODAY!!
Start chugging water now. Chances are if you're reading this, you probably need to be completely hydrated for the next 72 hours, we are about to embark on the best three days of the season. If you haven't been to Kansas City for the Big 12 Tournament then you need to re-evaluate your life pronto. The Big 12 Tournament combines some of life's most enjoyable pieces: basketball, good friends and a huge outdoor patio with copious amounts of refreshments. And even if you don't have friends, wear some Iowa State gear, head to the country bar and you'll find some friends. Tickets (and sleep) are overrated, just go and enjoy. But bring some Tylenol.
Outside of the always reliable party, the action in the Sprint Center will be a basketball fan's nirvana. Six of the nation's top 25 will be represented in one building. To adequately prepare you for the 72 hours ahead, here are the 12 items to watch for in the mecca of college basketball.
12. Nice knowing you Travis Ford
Wednesday night's Oklahoma State game will be the final appearance for Travis Ford as the head coach of the Cowboys. This year's team has been ravaged by injuries, but that won't be enough for Ford to escape. He has made five NCAA tournaments in eight years but has a single NCAA Tournament game victory. But don't feel too sorry for Ford, who will get a nice $7 million to take his pink slip. He also, I assume, is still getting paychecks for his role in the 1997 Marlon Wayans classic The Sixth Man.  
Look for Stephen F. Austin head coach Brad Underwood (who was a finalist for the Iowa State job) to get a long look as the next head man in Stillwater.
TCU's Trent Johnson also shouldn't feel very comfortable about making a return trip to Kansas City next season.
11. Scott Drew Time-Out Frenzy
One of the highlight's of my basketball viewing this season has been how Scott Drew has acclimated to having one fewer time-out. In both games against Iowa State, he has exhausted his allotment of time-outs with five minutes remaining in the game. Yet, he won both games. His style is so random and unorthodox it drives the basketball traditionalists (and most logically minded individuals) bonkers. If you need a game to play during Thursday's opening contest between Baylor and Texas, take bets on when Drew will take his first time-out and last time-out. If he has any remaining, everyone takes a shot of fireball.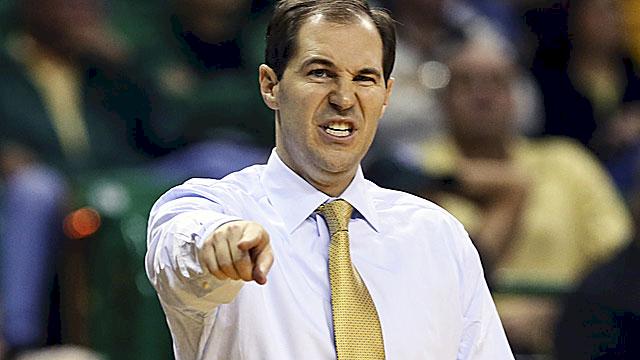 10. Big 12 Hand Signals  
When I ventured to my first Big 12 Tournament in high school, I was struck by a few things from the then members of the southern Big 12 Schools: 1. The cheer squads had a lot of talent (TCU has been a solid addition to run with this baton) 2. Everyone has some sort of a hand signal representing their mascot. It's as if the schools are in non-verbal, tribal times and they need to communicate with gestures and short phrases.
Texas has the famous horns, Baylor the open-handed Bear Claw, Oklahoma State and Texas Tech have the finger guns and TCU has the middle and index finger frog. I'm glad Iowa State does not participate in this because I have no clue what gesture they'd add. And Wichita State, you're not invited to this party.
9. No Underdogs Allowed
If history is any indicator, the Cyclones will buck some trends if they indeed achieve the 3-peat. In the 19 years of the Big 12 Tournament, the higher seeds have consistently humbled the underdogs. The No. 1 seed has lost twice in the quarterfinals (Iowa State vs. Baylor in 2001, Kansas vs. Baylor in 2009),  the No. 2 seed has reached the semis 13 out of 19 times, and the 3 seed has advanced to the semis 14 of 19 times. The worst seed to win the whole enchilada was Iowa State in 2014, when they took the crown as a 4 seed. As you are well aware, this is no ordinary year in the Big 12, but the Cyclones certainly have their work cut out for them. If Iowa State does capture the title, they will have to potentially beat teams ranked No. 6, No. 9 and No. 1 in consecutive days.  Also, only four of the 10 schools have won the Big 12 Tournament. Kansas (9), Iowa State (3), Oklahoma (3), Oklahoma State (2).
8. All the old guys
What has made this season so remarkable in the Big 12 has been the name-recognition of the top stars of the conference. It is almost unheard of in this era of early-NBA entrants to have several headlining players stick around for their entire careers. The Big 12 first and second teams are made up entirely of upper-classmen. In fact only one of the 15 players named to an All-Big 12 team is an under-classmen: Baylor's Jonathan Motley. Old dudes like Hield, Niang, Ellis, Prince, Gathers and Spangler have been around long enough that people know them and can develop a strong distaste for them. I call it the Edjuardo Najera treatment. It will be strange next season in Kansas City to not see some of these guys roaming the Sprint Center.
Also worth noting that Georges Niang has the potential to break the Big 12 Championship career scoring record. Texas Tech's Jarrious Jackson currently has the record with 175 points. Niang has 139 and will likely break it if Iowa State wins one game.
Another record is in jeopardy this week. Former Cyclone "Uncle" Jake Anderson has the mark for most points scored by a senior in a Big 12 tournament game with 33 against Colorado in 2011. (Iowa State somehow lost this game.)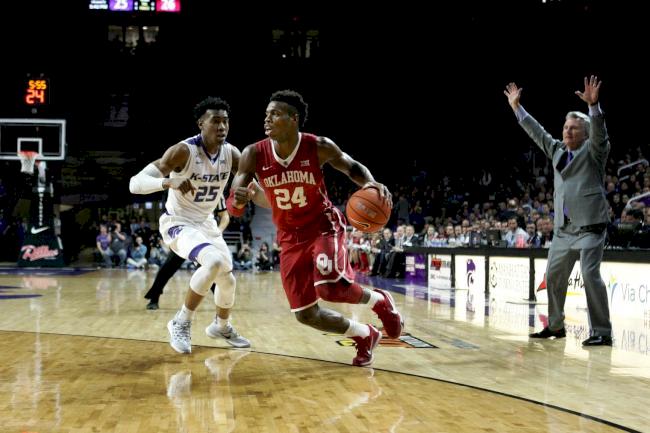 7. Power & Light Travel Guide
I don't claim to be some travel expert, but a word of advice for those non-college aged tournament goers. If you are looking for a non-dance-club to have a good beer in the P&L, I recommend the Flying Saucer Draught Emporium. Sure, you won't get to see bull-riding waitresses or piano players alternating between Pour some Sugar on Me and Sweet Caroline, but it's a nice place for a change of pace.    
Fun story, I was at the Flying Saucer one Thursday night a couple years back with some media friends. Former Cleveland Cavaliers big man Zydrunsas Ilgauskas walked in. Big Z was a scout for the Cavs at this point in his career. I was with a former member of the KXNO radio station and this KXNO host went up to Big Z to request an interview for the next day's show. Big Z shot him down. "Des Moines? No thanks." It reminded me of my efforts on Welch Avenue in college. You never know who you'll run into in KC.
6. West Virginia: Stay a While?
West Virginia has never won a Big 12 Tournament game. Weird, right? They are 0-3 and have lost their last two games in Kansas City by double digits. This is their best team of the bunch and we can safely assume Bob Huggins has packed more than one wind breaker on this trip. It'd be nice for West Virginia to win a game, having been in Morgantown, they have some fans who know how to have a good time. They could be that crazy friend everyone keeps around because they always up the ante. And Country Roads would be a pleasant diversion at the Piano Bar, should you be required to enter that establishment.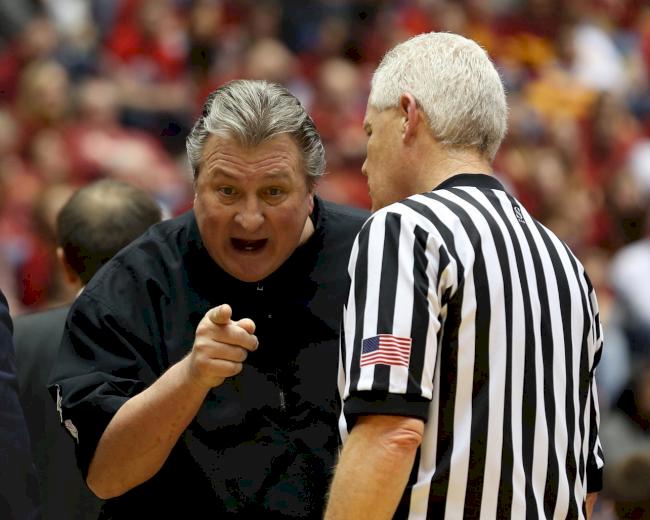 5. Need Monte to be Monte
It's strange to say this, but Monte Morris has been a bit inconsistent of late. That felt awkward to type. But in his last five games, Morris is averaging just 8.6 points on 35 percent shooting and he has turned the ball over 15 times in those five games. He has logged so many minutes and been beat up throughout the year, so it makes sense he'd eventually have a stretch like this. Morris hasn't made excuses, but has the Cyclone Nation feeling like Lloyd Christmas in Dumb & Dumber, "Well pardon me Mr. Perfect! I guess I forgot that you never make a mistake."
We're all crossing our fingers that Morris' shoulder is healed enough to be effective. The Cyclones need their orchestrator to play at a high level if they have any chance of doing damage in March.
4. HOLLYWOOD HIGGINS TIME
The great thing about the Big 12 Tournament is all the big-time officials get the Tournament games. (I'm only partially kidding). So rest assured, we will see all the stars of the conference come out to be seen: John "Hollywood" Higgins, Doug Sirmons, Mark Whitehead, Kipp Kissinger. And there will be monitor time, lots of monitor time.
3. Where my Bench at?
Playing three games in three days is a tough adjustment, even for college players. With the aforementioned Morris not at 100 percent and the grind of playing in highly-contested games, bench production will be a necessity. When Iowa State won the 2014 title game against Baylor, Iowa State got 47 minutes and 17 points off the bench from Naz Long and Matt Thomas. In 2015 against Kansas, they got 47 minutes and 21 points from Abdel Nader, Bryce Dejean-Jones and Matt Thomas. Even the light-on-depth 2000 Cyclone team that won the Big 12 received 28 minutes off the bench from Brandon Hawkins and Martin Rancik.
It is unlikely the Cyclone bench can log 45+ minutes in any game, but Deonte Burton and Hallice Cooke will need to have sustained AND productive minutes. In Lawrence on Saturday, those two played a solid 32 minutes and scored 11 points. Similar production is required if Iowa State is able to make a run.  
2. Kansas' Tournament to Lose 
One of my good friends has a phrase about Kansas Basketball, "They live in a tree, where no one can touch them!" It's usually followed by a couple expletives. Kansas' last Big 12 Tournament Championship came in 2013. They haven't gone more than two years without a title under Bill Self.  Self can downplay their efforts all he wants this week in Kansas City, but there is pressure for his Jayhawks to win it all. They are setup with a fairly pedestrian road to the final and have the most depth of anyone in the field.
 Kansas is the odd's on favorite for good reason and I would bet on the Jayhawks Rock-Chalking their way to their 10th Big 12 title in 20 years.
1.  Three-Peat Cyclones
But if there is a spoiler to the Kansas coronation, it might as well be the team that has knocked them off two straight years in Kansas City. Oddly enough, teams have three-peated three times in the Big 12 Tournament. Kansas won the titles in 1997-1999, Oklahoma from 2001-2003 and Kansas again from 2006-2008.
People can logically argue why it may be in Iowa State's best interest to save energy for the NCAA Tournament and bow out early in the Big 12. But at the end of the day, winning is fun and winning the Big 12 is an epic celebration. It is truly hard to top a Saturday night in Kansas City sipping on a celebratory beverage and soaking in a once-in-a-lifetime atmosphere with all of Hilton South.
 From 2006-2012, Iowa State didn't win a single game in the Big 12 Tournament. Not one single game. That's recent history that I'm not fully over.
 Stay for as long as possible Cyclones. The party awaits.