Total Clone shill move coming up. As they like to say in Hilton Coliseum: "Y'all Ready Fo Dis?"
Check out the following graph, which compares Iowa State last year at this exact date to now.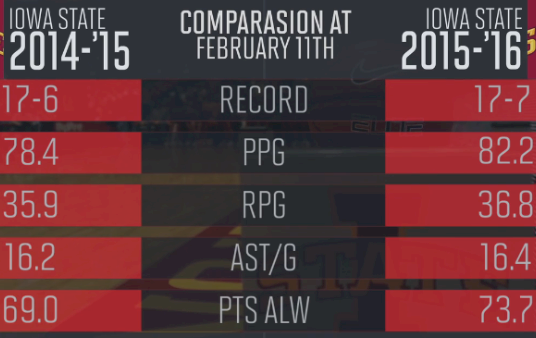 This, of course, is without Naz Mitrou-Long, Jameel McKay for two games, Bryce Dejean-Jones and Dustin Hogue. It's with a coaching change too.
The Cyclones are right there, guys. While disappointing, that Texas Tech loss really didn't change my overall opinion on this team at all. At this point (in my mind), it's all about March.
Why the current tenor? It's because our expectations were so high going into this season. 
And the Big 12 is better this year too. 
So what's the problem? I actually think it's pretty simple. It's execution. Free throws. Grab a clutch rebound. A little luck would be nice. 
Think about how many close games Iowa State won over the last two years. The Cyclones got some bounces that have gone the other way this time around. Georges Niang and Monte Morris aren't different guys.
Listen, you guys can think what you want. Your passion is what makes the Iowa State basketball brand what it is. I don't feel like these guys are far off.
However stats don't tell a complete story and obviously, only time will tell. 
Big game coming up tomorrow vs. Texas.