AMES — Pick your word to describe the Big 12 regular season race thus far.
 Crazy? That's a popular one.
 Unpredictable? Obviously.
 Chaotic? Pretty much — and we're only one-third of they way into the grueling 18-game slate.
 But as No. 19 Iowa State prepares to prowl through TCU's sparsely-populated, but newly-renovated Schollmaier Arena at 3 p.m. Saturday in Fort Worth, the only term on the Cyclones' collective tongue will be "stay the course."
 And before you roll your eyes … 
"People laugh when I say that, but that term has been really good to me," ISU coach Steve Prohm said.
 Adhering to what that go-to phrase truly means has helped the surging Cyclones (14-4, 3-3 Big 12) navigate through early conference season heartbreak and into an oasis of opportunity.
 ISU's one game out of a tie for second place in the league standings despite its .500 record — and maintaining that skyward trend against the struggling Horned Frogs (9-9, 1-5) hinges upon treating Saturday's game as if it were the forthcoming Big Monday matchup with No. 3 Kansas.
 "You don't want to trip and fall especially to a team that you feel like you're better than," Cyclone All-American Georges Niang said. "We can't look ahead. What we're really focusing on is on Saturday and what TCU does and after Saturday we'll figure out how to beat Kansas."
 The Horned Frogs — who posted their lone conference win over red-hot Texas — rank at or near the bottom of the Big 12 in most statistics, but they're middle of the pack in offensive rebounds, averaging 11.7 per game.
 Simply put, TCU exudes effort. The Horned Frogs may be out-manned most nights, but they're rarely outworked.
 "They have a ton of guys out there playing 100 percent," said Niang, who's averaging 21.5 points per game in Big 12 play. "When you have guys like that, eventually something's going to click for you, so we've got to give even more of an effort to try to go down there and beat them."
 ISU's coming off arguably its best rebounding game of the season, a plus-11 effort in Monday's buzz-creating 82-77 home win over Oklahoma, but surrendering second-chance points has been a problem area at times. 
 "You can't overlook nobody in the Big 12," said NCAA assist-to-turnover record holder Monté Morris. "This league is probably the best league in the country. Texas went down to West Virginia (Wednesday) and got the job done, so nobody predicted that. We just don't want to be that team (to be upset) Saturday, so we've got to focus on TCU."
 What happens when a team's field of vision becomes blurred by glances toward the future?
 Wednesday.
The already wild Big 12 race was one Kansas State road upset of now-league leading Baylor from being fronted by five teams with a 4-2 conference mark. Instead, the Wildcats fell in double overtime, but the margin for error when resolve wanes is razor-thin for any team — contender and pretender alike.
 In short: The team that manages to "stay the course" wins most among a conference packed full of teams capable of regular season runs that could eventually extend deep into the NCAA Tournament.
 "This thing is wide-open and there are a lot of team that I think could not only just get to the second weekend (of the tournament), but it wouldn't surprise me if I saw them in the Final Four, as well," ESPN analyst Jay Williams said on a Wednesday teleconference that preceded that night's Big 12 wackiness.
 His colleague, Seth Greenberg concurred, while noting it still goes through Kansas, which has won or shared the regular season title 11 straight times.
 "I think the league is more wide-open than ever," Greenberg concluded. 
 ISU finds itself suddenly alive in well in that volatile mix, seeking to rise to the forefront with improved defense rested firmly on a level head. The Cyclones' eyes are fixed on their current location, not distant dreams or past landmark achievements. 
"This can't be our mountaintop. I don't want it to be our mountaintop," Prohm said of ISU's first win over a No. 1 team since 1957. "There's great things in store for us, but we've got to continue to do the right things and we've got to continue to push the envelope. Push, push, push. And if we do that, good things will happen. You can see the way the league's shaping up right now, there's a lot of good teams, man, so people are going to beat each other up. You've just got to stay the course."
 Wise words, coach. Wise words.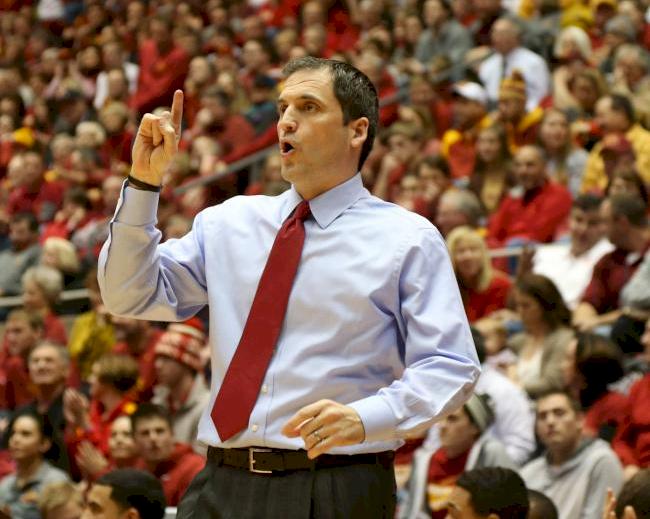 KENPOM SAYS …: According to KenPom.com, ISU should win Saturday's game 83-74. Win probability is set at 77 percent. 
 COOKE SPEAKS: Hallice Cooke spoke to reporters Thursday for the first time since serving a one-game suspension. Cooke said he was absent from the road win at Kansas State because he was five minutes late for practice the day following a team meeting. "Unfortunate," Cooke said Thursday. But he, his teammates and his coach have moved on. 
 "(I'll) just keep working hard and now we have practice finally," said Cooke, who now will try to work his way back into the Cyclones' regular rotation. "I get to earn something back in practice and just show coach that I care, show my teammates I care, which they already know, but just keep doing what I've been doing."
 ISU ironman Monté Morris noticed. He sent a long note to Cooke during his short suspension. Its contents?
 "We all have our own spills here," Morris said. "Nobody's perfect. Yo can go down the line with any professional athlete that was successful, they had a stage in their life where something basketball-wise didn't go right. You can't close the book on him and his situation because we've all been through something like this. Maybe not being suspended, but it was a situation in our career once, so I just told him to just keep working and just explain this story to a kid growing up or something — anything that inspires somebody to not give up. He took that all in. He was cheering and so happy for everybody Monday and that just shows the character of Hallice."
 So Cooke keeps putting shots up and staying positive. He said at at least one point this season his confidence had dipped. It's not down anymore, though.
 "When the ball comes my way i'm just going to let it fly and keep playing confident, play confident," said Cooke, who shot 45.6 percent from 3-point range at Oregon State before transferring to ISU. "There was a point in the season where I wasn't very confident in my shot. I think it was the Cincinnati game. The Cincinnati game I wasn't hitting and I was in my own head. Now I'm just like, 'I'll go out there and play. Just go out there and do what you've been doing your whole life.'"
 Jordan Ashton replaced Cooke as the seventh man in the Kansas State win and drilled his first career Big 12 3-pointer. Ashton also played in Monday's victory over No. 1 Oklahoma. Cooke is averaging 3.7 points per game this season 
 "Just kind of play it by ear, but right now our rotation is good," ISU coach Steve Prohm said. "Whether it changes, really, is based on production and based on practice."