I firmly, unequivocally, believe that hiring coaches is almost a complete guess – except for when the Lakers hired Byron Scott. That was obviously a terrible idea. I honest-to-goodness could easily envision in my mind scenarios where Nick Saban could come to Ames to coach and fail and Gene Chizik to come back to Ames and succeed.
A lot of that is based on the fact that I think a lot of coaches have the same basic knowledge and skills to evaluate and make decisions but other variables come into play. Things like assistant coaches, which recruits develop as expected (or hoped), timing of everything, and a big ball of luck all impact the program.
So is Matt Campbell a good hire? Absolutely. Similarly, Greg McDermott and Gene Chizik were also good hires because you can only judge the hire for what is known at the time it is made. Will Matt Campbell be successful in Ames? Time will tell on that front as it always does.
But what do we know about him and the offensive and defensive style and performance that he brings with him? That's why I am here, to give you the numbers on what he has done and how he has done it, statistically speaking at least.
Because I have a day job and a family, I don't have all four years of Toledo numbers where Campbell was at the helm but I have the last two seasons to get a feel for what his fingerprint on a football team may look like. This should at least give us a starting point as we get to know our new guy.
The stats run down the far left column and data for 2015 and 2014 is displayed while also giving their rank in the NCAA and MAC (for added context). Stats regarding tempo have the higher ranking for the faster teams, everything else should be fairly intuitive. All of the shading is done for each year's ranks in the MAC to highlight team strengths, the MAC ranking was used because that should give a better indication for performance against their peers.
First up, the offense (all data from cfbanalytics.com):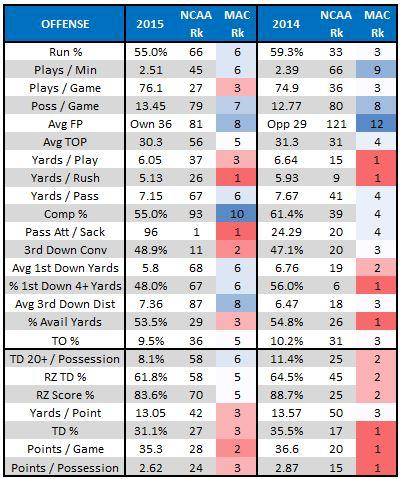 The first thing I notice is that almost all of the numbers near the bottom that involve scoring are where the Rockets rate the best for the past two seasons. Whether you measure by touchdown percentage, points per game or points per possession, Toledo has done well. Also, yards per point has been strong for the Rockets – a number that is better for an offense the lower it is as an efficiency metric to say they need fewer total yards to score a single point (hypothetically, because scoring a single point at a time is like, not possible).
They've done most of that scoring this year methodically, as just 8.1 percent of their possessions have ended with a touchdown from outside the red zone.
Stylistically I was surprised to see that they opted to run the ball on just 55 percent of plays this year and that was middle of the pack in their league. Really, given their strength running last year that we all saw first-hand, I am also surprised they didn't run more frequently in 2014. Tempo wise in terms of plays per minute they have been pretty middle of the road.
When it comes to yardage, the best thing to look at is yards per play and in the past two seasons they've been top three in the MAC and top 40 in the NCAA. The catalyst for that has been their absurd ability to run the ball so well as you can see with their yards per rush.
They haven't been known for their passing ability, but their overall ability to gain yards by average yards per pass has been solid up over seven yards per pass attempt. Perhaps the one concern is this year's low completion percentage in the mid-fifties. I, however, double and triple checked the math on their ability to protect the quarterback. They've given up just four sacks this year and one for every 96 pass attempts, best in the NCAA and the MAC.
When it comes to strong offenses the ability to move the ball is critical and obvious but one of the key components to that is third down conversion rate, an area where Toledo has excelled the past two seasons. This year's ability to do so is a bit tricky because their average yards gained on first down, percentage of first downs where at least four yards was gained, and average distance to go on third down doesn't rate all that well. In 2014, however, those were strong suits that no doubt helped their third down conversion efficiency.
Along with moving the ball consistently is the metric, percentage of available yards. What this tells us is, based off of field position, how many yards did the offense gain compared to what they would've gained if every single drive this year got them in the endzone. In this way, Toledo has been very consistent and highly rated by gaining over half of the available yards to them.
Also, turnovers can get pretty heavily involved with luck but in the past two seasons they've done a good job in ball security by turning it over on right around ten percent of their possessions the past two seasons.
As we've talked about during week one of the Campbell era, his offenses have done well and they have been built on the strength of the ground attack.
What about the defense?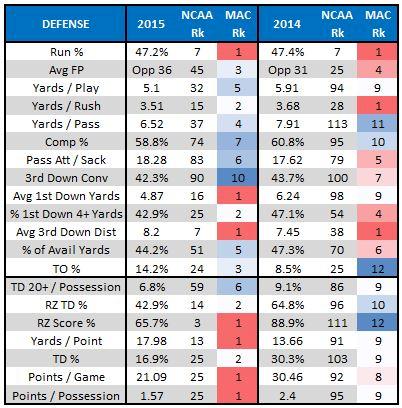 Just by profile, the defense looks better than I would've guessed. Especially the scoring defense in 2015 where they led the MAC in many areas but they also sport the 20th best adjusted scoring defense on the CFB Analytics ratings.
But this year's Toledo defense did give up yards, they were strong against the rush but offenses were able to throw the ball with some success, avoid sacks, and really make hay on third down. The yards they gave up is also apparent in that opponents were close to the 50 percent make on available yards gained.
The one thing that I really like that shows up in both seasons is that they often won first down and kept teams behind schedule to earn a first down. This year they're second best in the MAC allowing an average of 4.87 yards on first down. Just 43 percent of first down plays have gone for four yards or more, and the average distance on third down is a league best 8.2 yards.
This year they've done a decent job with creating turnovers and that is something that Iowa State could stand to improve while trying to fire fight the Big 12 offenses that can burn you like raging forest fires.
A final word
None of this is really a "final word" as the months, years, and games ahead of us will truly decide how the Matt Campbell hire is assessed. While I truly do believe that there is a lot of guessing and luck involved, there are three major things that have comforted me and given me optimism during this transition.
First has been the recruiting strategy that has been very apparent early on and visible on social media. That fosters to thoughts from me; this staff is playing the game of relating to the kids more than the previous regime and their strategy of where to recruit has me intrigued greatly. Since I can remember back into the mid to late 90's, the thought has always been that you have to recruit the diamonds in the rough to Ames from Florida and Texas. I think there is still some truth to that but Matt Campbell is clearly bringing a new line of thinking on where to get players and what type of players to get. I like the idea and at the very least, at least it is something new. The old method was clearly one that couldn't be capitalized on often enough for sustained success.
Next was an epiphany on the lack of experience Campbell and his staff thus far have at the major conference level. As it turns out, football is the same in the MAC as it is anywhere else and as long as your coaches are smart and can evaluate talent I just don't see how it is a real issue. Smart in that they can scheme and adapt their team to the style of play in the league.
The other thing worth noting is just an observation in regards to how the Iowa State football program isn't a coaching graveyard. Sure, it's difficult but success is all relative and people around the country realize that. But, two of our last three coaches – the two that actually tried – each had a window. A window that was cracked for their team to plow through and realize unmitigated and unprecedented success in Ames. Neither of them truly capitalized but the fact that they were able to get to that point leads me to believe that Matt Campbell can too.
The only question is; can he take full advantage when the opportunity presents itself?