AMES — Clutch players making decisive plays.
 Those five words aptly describe the difference between winning and losing in Iowa State's surprisingly close — but confoundingly one-sided — football rivalry with Kansas State in recent years.
 One team's made them, the other hasn't.
 The Cyclones (3-7, 2-5) and Wildcats (3-6, 0-6) go at it again at 11 a.m. Saturday in Manhattan, Kan. If this encounter unfolds like all but one of the previous six in the Paul Rhoads era, one play — or player — could make the difference. Five of the six meetings since Rhoads took over as ISU's coach in 2009 have been decided by a touchdown or less.
 Why? See above. 
 Until this season, Kansas State under coach Bill Snyder has proven adept at executing the pivotal, gritty and well-timed play on a consistent basis. It's the foundation for winning and occasionally magical seasons, as another Big 12 team is demonstrating in 2015. 
 "Each game is different and certainly is happening in a completely different year and a different season," said Rhoads, who has beaten every Big 12 foe other that Kansas State and Oklahoma in his coaching tenure at least once. "You want to talk about one play and the effect on games, look at Oklahoma State this season, not only on the road (as in the comeback 35-31 win last week over the Cyclones), but at home. You could point to probably one, three or five plays in each one of those games and say, 'Wow, without that, we're not 10-0, we're 7-3.' And I think that would probably be historically accurate with Kansas State, not just in this series, but in many games."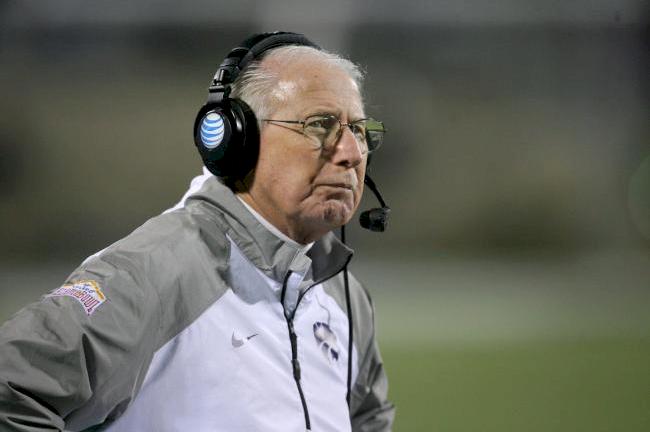 As for clutch players, how about former Wildcats receiver Tyler Lockett, whose controversial touchdown catch just before halftime of last years' 32-28 win over ISU proved to be the difference?
 "Huge, huge play," Rhoads said. 
 How about former K-State quarterback Collin Klein, whose late heroics in the 2012 meeting helped deal the Cyclones a painful 27-21 setback? 
 "(He's) been a guy in the series who has made plays like that, whether it be a drive-extending play or a touchdown, possibly," Rhoad said. "Jake Waters, the same in some of those plays. I think it's just clutch players making big plays."
 Time to flip the script. Rhoads sees plenty of players on his sideline who can flip rise to the occasion against the favored Wildcats.
 "(Receiver) Allen Lazard's capable of making (such plays)," Rhoads said. "I believe (quarterback) Joel Lanning's capable of making (them) and (nose guard) Demond Tucker's capable of making (them). We've got to get those guys making those plays at the right time in this game in Manhattan."
 Tucker's coming off his best game as a Cyclone. He ruled the trenches in last week's loss, driving through for eight tackles and two sacks. He also forced a fumble and earned Big 12 Defensive Player of the Week honors. 
 "He's getting great push at the line of scrimmage," Rhoads said. 
 Lanning's making the most obvious progress as a playmaker with his legs. He rushed for 130 yards in the loss to the Cowboys, including two touchdowns.
 Lanning's started three games. One ended in a win. But only one concluded without a chance to make a crucial game-tipping play down the stretch, which is both frustrating and encouraging as his learning curve gathers steam.
 "I was just talking to (defensive end) J.D. (Waggoner) when we were walking up here and he said it sucks, because our record doesn't really show how good we are," Lanning said. "We can compete with all these teams in the Big 12. Just a few things haven't gone our way here and there and then we've made mistakes and other teams have capitalized. So we're right there. We can do it. We've just got to find the ways to do it."
 Just as K-State always seems to when the Cyclones patrol the other side of the ball. Something's got to give eventually, right?
 "(It's) a game that has proven to be, over the last six years, a tight game, a slugfest, a game that's come down to five two-minute drives in the course of those six games," Rhoads said. "We know it's going to take an excellent week of preparation, great attention to detail and excellent execution and performance on game day."