AMES — ISU coach Paul Rhoads tackled the burning question with two, forceful words.
 So, coach, will backup quarterback Joel Lanning play more snaps Saturday at No. 2 Baylor?
 "He will," Rhoads intoned.
 Enough said? Hardly. Fans have been clamoring for more Lanning for weeks. And last Saturday in a 45-21 loss to No. 3 TCU, the athletic sophomore from Ankeny was involved in precisely two plays, then sat out. 
 Lanning's first play proved to be blasé: A one-yard designed run.
 His second play ignited fireworks: A 74-yard first-quarter touchdown strike to star sophomore receiver Allen Lazard.
 "He made me look good," Lanning said after the game.
 Yes he did, Rhoads added. 
 "A phenomenal play by Allen," said Rhoads, whose Cyclones (2-4, 1-2 Big 12) are a 37-point underdog against the Bears (6-0, 3-0). "Probably not a ball that should have been thrown, but when you throw to Allen, you're safe sometimes every time you throw in that direction."
 So Saturday, the safety's switched off, but how much the gifted, but green Lanning gets deployed in Waco will hinge on what looks Baylor's defense provides.
 Rhoads said the Horned Frogs countered the package tailored for Lanning last weekend by making sound defensive adjustments as the game wore on.
 But …
 "We should have ran it more," Rhoads said.
 Lanning himself responded with a shrug when asked why he didn't return to the field after tossing his first career touchdown against TCU.
 He also said all the right diplomatic things about his road ahead as the backup to fifth-year senior Sam Richardson.
 "Sammy's doing great," said Lanning, who is 7-for-12 for 120 yards through the air in his abbreviated career. "He's fine with what he's doing. He's doing what he can and everyone's making plays so we've just got to keep fighting."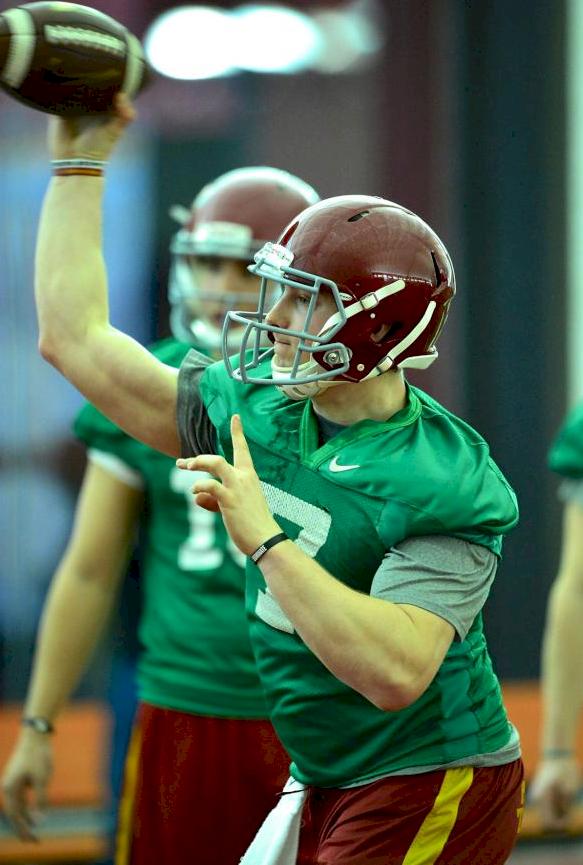 Richardson threw for 251 yards against the Horned Frogs, but didn't toss a touchdown pass. His career touchdown-to-interception ratio is 45-to-22, but he's thrown three touchdowns to five picks in the past three games.
 Hence the outcry for change from many in the fan base, but Rhoads offered a lengthy explanation for why an immediate switch won't likely be made.
"(Richardson's) a fifth-year player that thoroughly understands our offense," Rhoads said. "That thorough understanding is a big part of it: Being able to check this to that, run this when you shouldn't run that and then have the physical abilities to get that accomplished. If you don't have that mental piece in place as strong as it needs to be, it can be catastrophic and we have great confidence in Sam in that piece of him being able to deliver. The subject of change is also emphasized as the reality to where our schedule is. We've lost four games. Three (of those) teams are undefeated. The other team's only losses are to the No. 2- and 3-ranked teams in the country. You have a different schedule and we're 4-2 or we're 5-1 and Sam's playing at the same level, people aren't asking that question. We've played really, really good football teams and we've got really, really football teams ahead of us. If there was a breakdown at any position that wasn't giving us an opportunity to win, we'd make a change."
 Richardson, for his part, expressed nothing but praise for Lanning after Saturday's loss.
"It's awesome; I'm so proud of him," said Richardson, who's struck for eight touchdowns while tossing six interceptions this season. "He's a great friend of mine and it's a huge step in his career and any kind of situation he's thrown into he's making plays and he really made a big difference (Saturday). He made a difference in the game with the two snaps he got."
 How many more he's afforded this week is anyone's guess, but Lanning said he's prepared for whatever comes.
 "I'm starting to see things and the game's slowing down for me," he said. "It's enabled me to go into the game and execute the offense how they want me to and how I want to. I've made tremendous mental strides, I think, too."
 He's not alone. Both offensive coordinator Mark Mangino and Rhoads have noticed, as well.
 What that translates to for Lanning as the Cyclones try to pierce a Baylor defense that's held foes to 167 or fewer passing yards in four of their six wins, only time will tell.
 "I can definitely hear the crowd when I run in there and run off the field," Lanning said. "It's kind of obvious, but the crowd can't really decide If I'm going to play or not. So It's up to the coaches."