AMES — The first time he saw Kareem Hunt, Iowa State running backs coach Lou Ayeni was taken aback.
"I was just like whoa. It was like a two second thing where he just kinda walked by and I was just like whoa," Ayeni said. "He just laughed at me because he knew I was looking at him."
That was back in 2012 when Hunt was a junior at Willoughby (Ohio) South High School. Ayeni was the running backs coach at Toledo and before Hunt was considered one of the best running backs in the country.
It was the start of a relationship that couldn't be broken by a coach moving on.
"He's kind of like a son to me," Ayeni said. "His mom called me the other day. He called me last night. He's a really special kid to me. He's a really likeable, lovable kid. I'm like a proud dad watching him develop and do what he's been doing the past few years."
Hunt ran for 2,519 yards and 39 touchdowns as a junior at South and then followed that up with 2,685 yards and 44 touchdowns during his senior season.
Ayeni knew he had to get this kid in a Toledo uniform.
"I'll never forget the first time I met him. We had an instant connection," Ayeni (below), who's in his second year at Iowa State, said. "That thing just lasted. There's just a bond there. When you meet someone the first time sometimes you just click."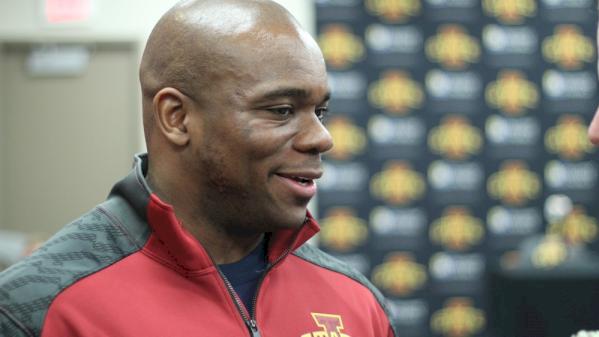 On signing day in 2013, the coach got his man.
"I remember on signing day when we signed him I said in our deal, 'This is the biggest recruit in Toledo history,'" Ayeni said. "He's kind of turning out to be like that."
Hunt didn't get playing time right away when he stepped on campus with the Rockets. He had to earn his time and work his way up behind senior David Fluellen, a pretty darn good back in his own right.  
"The first six games I had him I didn't play him that much and I had a senior that was pretty good. But then I decided this kid's getting better. I need to play him," Ayeni said. "I remember that Fluellen had like 135 or 150, and he had like 160 or 170 and won the game for us against Navy. And I'm like, 'This dude's going to end up being something pretty special.' He ended up having one hundred yards every game from there and was close to 900 yards in six games as a true freshman."
He finished with 866 yards and six touchdowns during that freshman campaign.
Ayeni took off for Ames following that first season, which he says was tough considering the backs he was leaving behind.
Ayeni's departure didn't keep Hunt from taking a step forward as a sophomore as he rushed for 1,631 yards and 16 touchdowns.
"He's the total package. He's explosive. I remember watching him his senior year in track and he runs a 10.7 hundred meters and he's 220 pounds. He high jumped 6'8", he long jumped 23'3". He's explosive. He's a home run threat," Ayeni said. "He's got feet and he's got power, and he can hit the home run if you give him the chance. He's a handle. He's as good as anyone we'll see on our schedule. He's one of the best in the nation."
On Saturday, Ayeni will return to the program he helped build when the Cyclones visit Toledo for a 7 p.m. matchup. Hunt didn't play in last year's 37-30 Iowa State win, so it will be Ayeni's first chance to see him play live since he left the Rockets.
It will be Hunt's first action of his junior year after being suspended for the season's first two games. It's a moment Ayeni won't let slip away.
"He's a special kid, special talent. It will be fun to see him out there," Ayeni said. "Hopefully we can chorale him, because I want to win this game."
Quick Hits
*** Wally Burnham said that Demond Tucker's injury on Saturday hurt the defense, but it wasn't the nail in the coffin.
"It didn't cost us the game by any means. It hurt us. Anytime you lose a starter, you know your second team guy isn't as good. We missed him but it didn't cost us the game."
*** Burnham was asked on Tuesday how many sacks he could realistically see Dale Pierson ending up with. His answer was pretty funny.
"How many does he have now? (Five) Well, 12 times five is how many? If he can get two and a half the rest of the way, we'll be happy."
*** Lou Ayeni was asked what it will take to get the Iowa State rushing attack jump-started.
"The biggest thing with us is just continue to have faith in it. It's tough to get in a rhythm when you might pass nine straight times or do anything like that. When we do have our opportunities we have to be physical, we've got to be violent. We've got to be able to, up front, move people. In the back field, run through people. We have to set a precedent with our running game. We've got guys who can do it. It's tough, we're not ranked very high, and we haven't ran very well, but we do have some pieces in there that can be good enough to help us win. We've got to continue to work that and go with it and believe in it."