AMES — The sudden realization hit then-new Iowa State running backs coach Louis Ayeni like a hard-charging trio of NFL-caliber linebackers.
 The former Toledo run game coordinator and associate head coach had been on the job in Ames for roughly a week.
 That's when scanning the 2014 schedule summoned a serious jolt: His Rockets — what until a week earlier had been his Rockets, anyway — would come to town on October 11.
 That's obviously now this week.
 This Saturday at 2:30 p.m.
 Ayeni's two-word reaction at the time?
 "'Aw, man,'" he recalled.
 It's not often, but hardly unprecedented, for a coach to seize an opportunity at a new school and end up facing his former one the following season.
 But for Ayeni, a 2003 Northwestern graduate, it's uncharted friends-turned-foes territory.
 "It's kind of the first time in my coaching tenure I'm actually playing people I like," he said. "Those guys are dear and true to me. I still talk to them a lot. They are my friends in this profession. I learned a lot from those guys."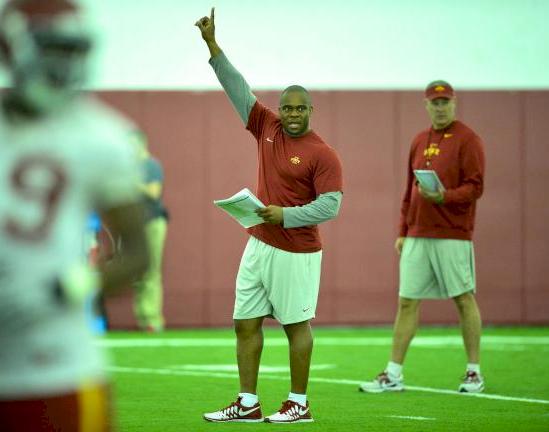 Now, he'll do anything within reason to beat them.
  Cyclone players and coaches have tapped his knowledge with regard to how the high-powered Toledo offense works.
 Deception?
 He spots it immediately when watching snippets of game video.
 Player tendencies?
 Heck, he recruited several of those players — especially for the rushing game, where the Rockets are averaging 242.7 yards per game.
 "Every single one of them," Ayeni said.
 Front and center among that group stands hobbled star Kareem Hunt, who's rushed for 527 yards and seven touchdowns in four games this season.
 Hunt's missed the past two games with a foot injury and it's unclear if he'll be able to play.
  His absence hasn't slowed the Rockets' rushing attack so far, though, as backup Terry Swanson's rushed 30 times for 269 yards and a pair of touchdowns in his stead.
 "They're all talented in their own ways and they all bring something different to the table," Ayeni said.
 Ayeni brought his rapidly-rising reputation as a recruiter and coach to ISU.
 Now his wisdom's impacting the scouting report.
 "You get an understanding, a thorough, accurate understanding of personnel," Cyclone coach Paul Rhoads said. "This is a guy who's been there and knows exactly what they are. You're typically doing a scouting report based on film study. And if you've played a team in the past, you've got a little bit better understanding. A team like Toledo, we haven't played, so you're basing it all on film. We'll get a more accurate scouting report with Lou being on staff."
 Still, players gotta play.
 "That does't aid in victory," Rhoads said of Ayeni's helpful hints. "It just aids in your knowledge."
 Rhoads knows that first-hand.
 He served as an ISU assistant from 1995-1999 before taking the defensive coordinator job at Pittsburgh in 2000.
 The Cyclones met and beat the Panthers 37-29 in the Insight Bowl in late December that same year.
 "I had a pretty good feel for what the Iowa State personnel was, too, but it didn't do us any good," Rhoads said.
 College football coaching circles form a tight, but often unusual orbit.
 Former teams can become current ones.
 Jobs are won.
 Jobs are lost.
 "I'm sure people like coach Rhoads, coach (Wally) Burnham, coach (Mark) Mangino, they've been in this business this long that it ends up happening like that," Ayeni said of his soon-to-be new experience. "But this close — 'Man, I was with you guys four or five years and now I'm playing you.' It's like, 'Whoa.' Kind of crazy."
 Ayeni's former charges at running back still keep in touch.
 They share group texts with him.
 Jokes.
 Goals. 
 Trust-forged bonds.
 This week, the group texts have gone on hiatus, though.
 "I've just had certain conversations with individual ones — that they're excited to see me and stuff like that," Ayeni said. "This week, all of them are like, 'You'd better be ready. We're coming to see you.'"
 Ayeni said watching his blossoming former recruits on film produces feelings akin to those of a proud father.
 He noted he doesn't have children, though — and therein lies the rub.
 At some point, dads might let their sons beat them at something.
 Maybe a 50-yard dash.
 Or a game of 21 around the backyard basketball hoop.
 There'll be none of that this Saturday,
 Now when Ayeni looks at his game week calendar, a different two-word declaration emerges first.
 "Beat them," he said. "Once the game starts, you've got to go out and beat those guys. Afterwards I hope we hug and talk on the phone and stuff like that."