AMES — Fred Hoiberg is a quarter of the way done whenit comes to filling his four open scholarships for the 2015-16 season. Nick Babb announced on Twitter Sunday morning that he has chosen to become a Cyclone.
"I'm happy to inform everybody that I'm going to be an Iowa State Cyclone next year! #cyclONEnation S/O to @MonteMorris11 and @NazzyJLong," the tweet read.
Babb, the 6-foot-5 younger brother of former Cyclone Chris Babb, officially visited Iowa State this weekend. He averaged a meager 0.7 points and 0.8 rebounds per game last season at Arkansas but only played 4.8 minutes per contest.
Instant analysis
The key here is managing expectations. Nick is not Chris Babb. Chris is not Nick Babb. The two are different basketball players and it's important for fans to realize this from day one.
The scouting report on Nick is that at 195-pounds, he is a legitimate Big 12 body that will give Iowa State versatility on the wing. Think of Nick Babb as a larger version of Naz Long (not that type of shooter, obviously) who can handle the ball if he has to. Nick has the ability to drive, kick and space the floor. That's his game. 
They key here is that Babb will sit out next season, which will allow Hoiberg to mold him into the player that he will want him to be for the 2016-17 season and beyond. This is important because Babb's sit out year is basically like him not playing as a freshman. In his third year as a college athlete, a more fully developed Babb will still have three years to play.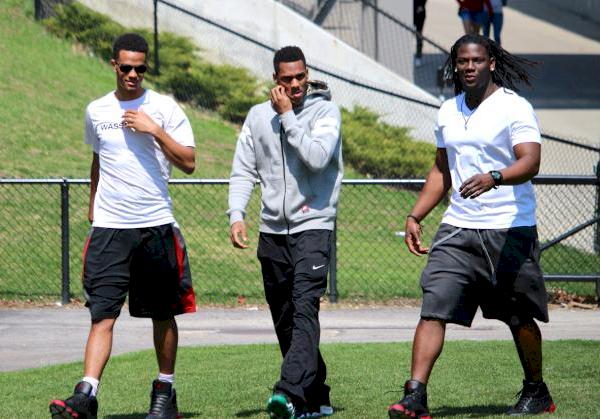 ABOVE: Nick Babb, Monte Morris & E.J. Bibbs at Saturday's spring game. 
Looking ahead to 2016-17, along with Monte Morris running the point, Iowa State's backcourt will consist of Matt Thomas, Hallice Cooke and Babb. That's a decently sized group of guys and of course, the recruiting season has just begun.
As I wrote last week, Babb is a locker room guy, which is important. You need glue guys like that when it comes to culture. Babb wants to be at Iowa State, has a family tie to the university and has the reputation of being a hard worker (like his brother).
This is a safe play by Hoiberg's staff on the recruiting trail and at this point in time with a scarce looking scholarship chart in play after next season, I like the move a lot.