AMES — Quenton Bundrage made one cut, then hugged the sideline and ran.
 The big-play Iowa State wide receiver felt strong. Fast and free. Not remotely focused on the past, which included a torn ACL four plays into the 2014 season.
 "Not at all," said Bundrage, who's highlight reel-worthy play of Saturday's spring game came on a 24-yard sideline catch amid tight one-on-one coverage. "I'm just out there running as if nothing happened. I don't even think about the injury at all, so I feel great."
 That's great news for the Cyclones, who sorely missed Bundrage's field-stretching production last season.
 His absence for all but those four plays did allow then-true freshman Allen Lazard to quickly emerge as a playmaker, but being without numbers such as 48 catches for 676 yards and a school record-tying nine touchdowns — numbers Bundrage put up in 2013, deprived the offense of a needed star.
 The 6-2, 192-pound junior's fully back now and eager to stow that no-contact blue jersey sometime in the fall. Heck, a teammate even forgot about it Saturday, leveling him after his first catch.
 "I did get hit once," Bundrage said, smiling. "But that's part of being a football player."
 Being a great one hinges on consistency. Bundrage's career has been marked by a number of drops as well as plenty of big gains. He wasn't perfect Saturday, either, but did pull in four balls for 39 yards.
 "I still think he's a tad bit gun-shy," ISU coach Paul Rhoads said. "I do think that will change a great bit when the doctors say, 'You're 100 percent full-go, don't worry about anything.' And when we do that, I think his concentration at catching every ball will be what it needs to be, but — and we talked about it early — his explosiveness off the line of scrimmage and certainly no decrease in his speed is what you're happy to see coming off an ACL surgery and recovery."
 The stars of the offense Saturday, as expected, aren't pegged to be front-line contributors in the fall.
 Walk-on Trever Ryen flashed speed and play-making ability with a game-high six catches for 146 yards and a 49-yard touchdown from backup quarterback Grant Rohach.
 Fellow walk-on Clifford Kwaw-Mensah ate up fourth quarter carries at running back, totaling a game-best 50 yards on 12 totes, plus a touchdown.
 And the quarterbacks? A mixed bag.
 Clear No. 1 Sam Richardson completed 11 of 23 passes for 145 yards, a touchdown, and an interception. The battle for No. 2 will be interesting to watch in the fall, as Rohach had what Rhoads called his "best day" of the spring by going 13 of 18 for 186 yards and a touchdown and pick.
 Fellow backup Joel Lanning saw extended duty, hitting on 11 of 27 passes for 125 yards. He had the best rushing day among the quarterbacks, churning up 23 yards on nine carries while being sacked twice.
 "I don't feel like I've hit my peak yet," said the strong-armed Lanning, who has yet to take a single in-game snap.  "I'm still striving for it because there's some things I still have to learn, but I've grown a lot since last spring. This spring was way more productive on my part."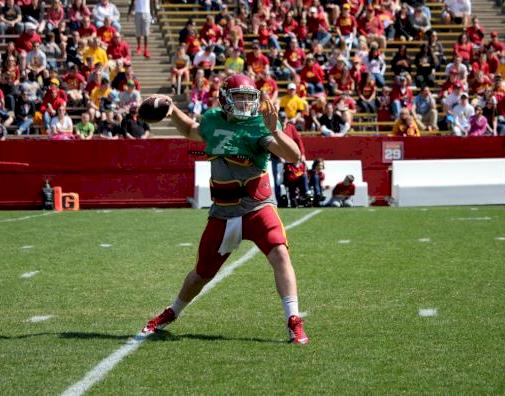 Rhoads noted both Richardson's and Lanning's completion percentage was too low. 
 Quick-hit, high-percentage passes are a key part of the Cyclones' tempo-based offense, so converting on less than 50 percent is less than ideal.
 "Sam is our guy," Rhoads said. "And as we've discussed (in the past) we've got two guys that we'll build packages around and be able to operate with if something would change or happen."
 Rhoads said the running game remains a point of emphasis.
 ISU has struggled mightily in this area, of course, since the Alexander Robinson days and being thin, scholarship player-wise, at the position with Martinez Syria out with a neck injury, has limited growth in the backfield.
 Possible No. 1 tailbacks Mike Warren and Tyler Brown combined for 63 yards on 16 carries. Brown added a 45-yard touchdown off a short pass from Richardson.
 "We've got to run more physical and behind our pads more," Rhoads said. "We miss Martinez Syria right now. I think that's obvious. He's the one true guy that moves the pile. Mike and Tyler are capable of that and in my opinion didn't do a good enough job of that today. These guys are strong in the weight room and they've got to continue to learn how that applies on the football field. That's with their eyes up and being able to bring their hips and all that strength behind that force as they run. There's a time when you run to daylight and make your cuts and run with speed to gain as man yards and there's a time that the pads got to drop with your head up and you've got to push the pile and we've got to get better at that."
 Rhoads said he'll look for immediate backfield help from current high schoolers Joshua Thomas and Sheldon Croney, who are set to arrive on campus this summer.
 "We'll be playing football with all of them in August and everybody will get looks to build that depth chart at running back, no question," Rhoads said.
 Bundrage's resurgence helps a banged-up depth chart at receiver look promising. As for his vaunted speed, that hasn't changed, cornerback Nigel Tribune confirmed.
 "Quenton looks good," Tribune said. "He's limited in practice but at the same time he's full speed. When I stuck him the years back, he's the same. He hasn't lost a step. Strong, fast and can catch. So he's ready to go."
 WOPA RULES
While Ryen led the members of the so-called Walk On Players Association statistically, others from the tight-knit group shined, as well. Kwah-Mensah was already mentioned. Mitchell Harger had a game-high 13 carries and 42 hard-earned yards. Quarterback Kyle Starcevich completed 3 of 4 passes.
 They're all battling for any sliver of playing time they can get — probably not in down and distance situations, however. 
 "I hope to get in on special teams," Ryen said. "I want to return kicks and punts because I have a lot of speed and I want to show it."
ETC.
 Veteran kicker Cole Netten drilled four of his five field goal attempts. His only miss? A 53-yarder that fell short. His makes came from 28, 30, 38 and 40 yards. … Brown's short catch-turned- touchdown allowed him to showcase his speed. "I saw really good blocks from my O-lineman," he said. "So I just read it the best I could and tried to run as fast as I can."