Timing is everything but unfortunately for me, my timing is usually anything but fortuitous. Just a week ago I had thoughts of horseshoes, hand grenades, and – well – Lubbock. The 2012-13 Iowa State Cyclone basketball team was really good and they finished 11-7 in league play, though that season was probably the most likely for Kansas to be knocked off of their perch during this conference title streak. Kansas tied Kansas State at 14-4 but two of those wins came in miraculous fashion against the Cyclones for the Jayhawks.
Iowa State also lost heartbreakers on the road at Texas (3-pointer for overtime at the buzzer) at Oklahoma State, and a dreadful game in Lubbock. It was a season of narrow misses and close calls for a talented team that couldn't quite turn the corner. Even in the NCAA Tournament right after they pasted Notre Dame in the first round, they were left for dead late against Ohio State after Chris Babb rolled an ankle (another narrow miss) and then the Craft buzzer beater with Niang guarding him on the perimeter.
What's the point, Haaland?
Well, prior to the last three games in Kansas City, how similar do those seasons seem to you? A few heartbreaking disappointments and an awful loss in…Lubbock. For as good as that team was in 2013 the season was marred by disappointment by the slimmest of margins, and that continued in the NCAA Tournament.
With all of the apparent similarities to two years ago before the Cyclones headed to Kansas City the thoughts in my head were, "could this season be different?" Could this year's team turn the corner and turn "what ifs" into a lasting legacy instead. The first major test was passed but as they say, on to the next.
The Cyclones appear to have pulled a decent draw mainly by avoiding Kentucky and by Wisconsin hopping up to the one seed and it all starts early Thursday against the very young UAB Blazers. They're led by Jerod Haase which is a familiar name in these parts thanks to his time playing for the Jayhawks in the mid-1990's. He was a solid player, a competitor, and he had that "Eduardo Najera-I'm-really-annoying" vibe to him for opposing fan bases. I haven't seen a second of UAB basketball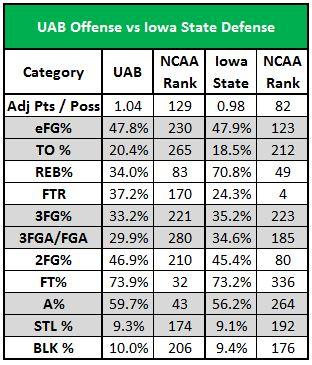 this season but I'd be willing to bet that trait is mostly passed down to his players.
All stats per kenpom.com
When the Blazers have the ball…
The UAB offense isn't setting the world on fire, even when you adjust their scoring numbers for opponents and location as they chime in at 1.04 points per possession which is just 129th in the country. But the Blazers aren't a good shooting team notching an effective field goal percentage of 48 percent that is 230th in the NCAA.  They have registered an effective field goal percentage at 50 percent or better just 12 times in 34 games (notably against Old Dominion and LSU).
The Blazers have also had turnover struggles this season averaging a turnover on over 20 percent of their offensive possessions. However, UAB has had 18 games this season where they eclipsed that mark in a game but just two of them have happened since the beginning of February. They have progressively improved at taking care of the ball this year.
Easily the strongest part of the UAB offense has been their ability to grab rebounds from their own missed shots. They haul in 34 percent of their missed shots which is 83rd in the country. They were able to match or better that number against teams like Illinois State, UCLA, and North Carolina while falling just shy of that number against Wisconsin. Regardless of schedule they do seem to be a threat on the offensive glass against any level of opponent.
Their drilled down shooting numbers continue to be unimpressive both from outside the arc and inside though they are a very good shooting team from the free throw line. Thankfully, they don't get their often with just the 170th highest rate of free throw attempts in the country.
One interesting part about their offense is that they have the 43rd best assist rate in the country up near 60 percent, which is really good.
But, the Cyclone defense appears to matchup favorably against UAB's offense. In all of the four factors, the Cyclones have a better defensive national ranking than UAB's offense. Much of the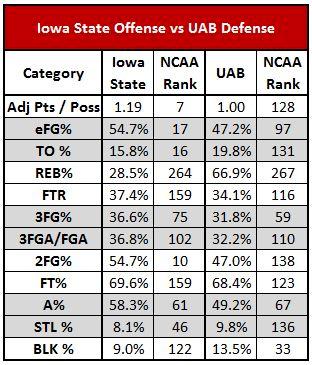 Cyclone defense can leave plenty to be desired but they have been slowly trending in the right direction in the last six games by allowing more than 1.05 points per possession just twice.
Also, the ISU defense does a pretty good job on the defensive glass and they keep opponents off of the free throw line very well. ISU opponents have tended to shoot from 3-point range fairly well but ISU is middle of the pack in limiting attempts.
Most importantly about Iowa State's defense, they have done well to make shooting inside the arc difficult for opponents. They're holding teams to 45.4 percent this season which is 80th best in the NCAA and a pretty good number for this defense.
When the Cyclones have the ball…
The UAB defense is actually quite comparable to the offense by the end result but done in different methods. They have a top 100 ranked shooting defense but they have been really bad on the defensive glass by rebounding just 66.9 percent of opponent missed shots. Their opponents are making just 31.8 percent of their 3-point attempts against UAB (59th) but just 12 of their 34 games have come against offenses that hit on 35 percent or more of their 3-point shots.
The Blazers are slightly ahead of the middle of the pack in turnover rate and free throw rate. They do a pretty good job at limiting 3-point attempts and they have decent defensive numbers for opponent 2-point percentage.
(Informal) Players Report…
Brent Blum detailed this earlier in the week but their main man is Robert Brown though he isn't a great shooter from deep. Nick Norton is their primary gunner from the outside and has hit on 39 percent of his 140 attempts. Hakeem Baxter is their next most relied upon perimeter player but he is another guy that struggles to hit from the outside so guarding their two best perimeter players can be done very conservatively without huge concerns that they'll set the nets on fire. That said, in this type of setting, allowing them easy looks to get going is still a bit of a dicey proposition.
Their entire roster is lacking anyone taller than 6'8" and they don't have a guy weighing in at more than 225 pounds. Lastly, they're really young. Out of 351 teams KenPom.com has their experience at 345th. That isn't to say they'll be flustered and fold, but it is certainly an area that Iowa State has an apparent advantage.
If the Cyclones play reasonably well and hit shots near their averages they should run away with this game. That's if their mindset is in the right place but it is hard to imagine it couldn't be at a time like this. The train is headed down the tracks right now and multiple guys proved to be lethal during the three day title run in Kansas City.
Hopefully this time around there will be no need for the "Comeback Kids" mantra. These Cyclones will look to continue the recent forward steps taken as they aim to leave a legacy and forget the "what ifs".