The Texas Longhorns roll into Ames with an overall record of 14-5 and are just 3-3 in conference play. Two of those conference losses are at home to Oklahoma and Kansas, while the third was a surprise loss at Oklahoma State. Their best win likely came 12 days ago in the home dismantling of West Virginia. Texas is still thinking of a Big 12 title but if they have any hope they have a lot of work to do to compensate for their two home losses.
When the Longhorns have the ball…
They don't play fast at just 64 possessions per 40 minutes but they also aren't usually trying to dictate tempo and slow it down. They seem to play similar to Kansas where they go with the flow and will run at times. We'll see if they stick to that when they get to Ames.
Their offense has a similar feel to those of West Virginia and Baylor where they don't shoot the ball particularly well or even really get to the line all that often, but, they rebound at an elite level on the offensive end. It may not look that way being just third in the conference in offensive rebounding percentage but they're also sixth in the nation.
They have mediocre shooting numbers both in the league and in the country but at the line they're hitting 74 percent of their free throws. That leads the Big 12 and is 36th in the country and a scary proposition for the Cyclones free throw defense that seems to routinely get obliterated by opponents.
For all of the size Texas has, they don't shoot the ball particularly well inside the arc at just 48 percent. Meanwhile, outside the arc they shoot 33 percent of their field goal attempts. That is a middle of the pack number in the country but the fourth most in the Big 12.
When the Cyclones have the ball…
Texas is packing the second best scoring defense in the league and they do it in a simple way. They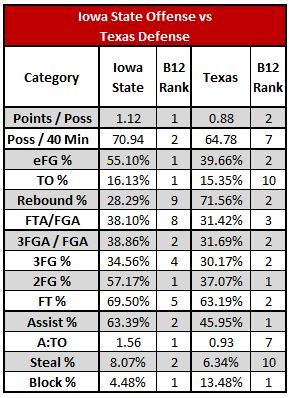 don't overly pressure to force turnovers they concentrate on not fouling, rebounding, and using their length to disrupt shots. They block 13 percent of all two point shots by their opponents and have the best field goal percentage defense inside the arc.
That may be the most crucial battle to watch that will help decide the game tonight. Iowa State usually converts at a high rate in the paint; will they be able to continue that trend? The bigs and guards alike will have to convert over and around the size that Texas will defend with in the paint.
The Cyclones still have the best scoring offense in the league and do it with great shooting and avoiding turnovers. Their assist rate is key in creating the scoring opportunities they get. But, the Texas defense is the best in the league with opponent assist rate (usually a sign of forcing teams out of the offenses they want to run and instead resorting to isolations.)
The players report…
The Longhorns have a pretty impressive and balanced scoring attack. They're led by Myles Turner but Isaiah Taylor, Cameron Ridley, Jonathan Holmes, and Javan Felix aren't fall behind. Felix is the primary 3-point gunner but Holmes is also vastly improved, while Taylor will pop out to make a few on occasion as well.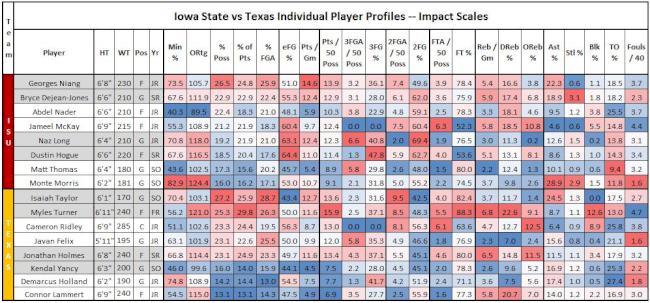 Ridley does most of their damage in the paint and that is probably closely tied to his 12.5 percent offensive rebound rate.
Check out Ridley's shot chart: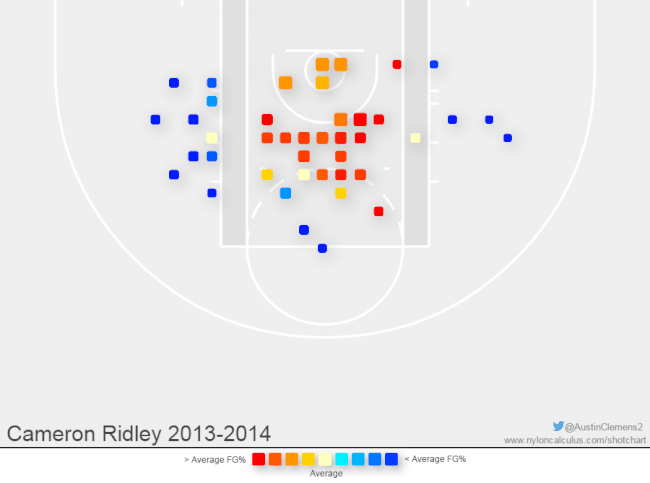 I can't say for certain that all of the red in the middle is from offensive rebounds but if the defense can stay down and keep him turning baseline and making him shoot over the top he is far less effective.
Turner gets his points down there as well but Taylor is typically the biggest thorn to deal with. He can get into the paint almost at will and when he does he converts at a high rate from 10-12 feet. When he gets to the rim he has struggled and he should be asked to shoot 3-pointers. Yes, he'll make a few but the overall chaos he'll cause through that as compared to him getting to the paint is decisively less. His assist rate above is a good indicator as to the havoc he can cause.
For reference, check out his shot chart: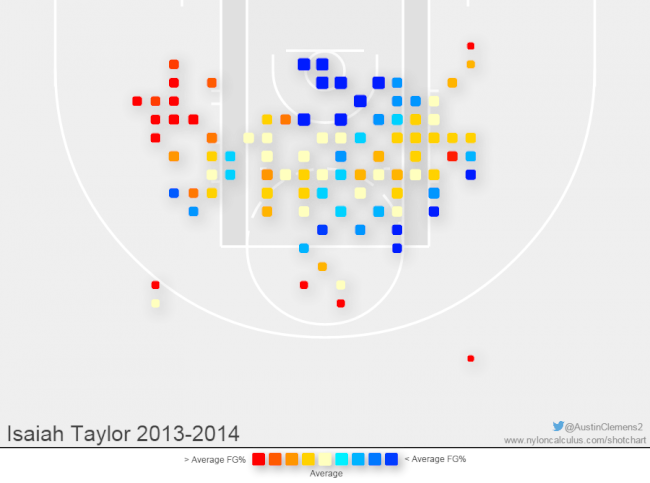 The keys to the game…
Any good defense has to start with preventing penetration and the weaknesses that can create because of defenders having to slide over to help. That is why it is imperative to keep Taylor out of the paint to avoid the easy dump off passes to the Texas bigs. That, and his floater in the lane is highly effective and  highly annoying. Taylor can be highly erratic but extremely high reward as well.
Jonathon Holmes has greatly improved his 3-point shot this year and is the one guy that can do it all and really drive their offense. At the same time, Holmes can drag down the offense when he is forced to carry the load. In the 10 best scoring games for Texas all above 1.05 points per possession, Holmes averaged just 6.5 field goal attempts and an average offensive rating of 128.3. In their other nine games scoring less than 1.03 PPP, Holmes averaged 10.7 field goal attempts and an average offensive rating of 94.8.
Felix is the other shooter that cannot be lost on the perimeter, specifically when Iowa State is forced to double guys like Turner and Ridley. There has to be a sense of urgency on closeouts on the perimeter to contest and hopefully chase off of the line completely.
While it feels like the Cyclone offense is coming apart at the seams, they have scored better than 1 PPP in the last five games, which is always a good start. Though, it seems that they haven't been able to really find their stride completely. I'm no Fred Hoiberg, but I do think a few simple things can be ironed out.
My biggest beef has been Georges Niang's disappearance from posting up on the block. For whatever reason, it has absolutely happened less this year. He needs to be given more chances in that spot to score and create. Granted, many lineups with him have include two of the three from Abdel Nader, Dustin Hogue, and Jameel McKay to make spacing trickier. But, I think you can put McKay on the block and then have Nader or Hogue left on the perimeter. Spacing and shooting are key, but Hogue and Nader can handle that role and attack with cuts from the outside.
Saturday, Bryce Dejean-Jones became a jump shooter again. Something he is capable of but when he is at his best he's attacking downhill and being a slasher. Then the jump shots can come.
One thing that has always been walking a fine line with Hoiberg at the helm and his desire to install confidence has been the slippery slope of bad 3-point shooting nights. When every guy is capable and given the green light they feel the need to each get their shots in to bust the slump. That can lead to a whole lot of missed shots very quickly. Shots that are often not the best available attempts that sends the offense down the path of stagnation and failing to score.
Texas may play some zone so not settling for 3-point shots becomes even more important. If they do, then Niang will have to operate in the middle and get his six foot floater to start falling while they'll likely try to find McKay and others on the weak side for lobs and cuts to the rim.
 As much as this game is a must win for Iowa State, it is equally so for Texas. It will be hotly contested but I think the ISU defensive urgency will get things going early and be a catalyst for the offense. Iowa State will need to find early success scoring in the paint and then hit some shots from the outside. Keep Texas off the glass and prevent Holmes and Felix from finding offense. And, the big one, do not allow Taylor to control the game.
But, at home, I think Iowa State gets back on track.