IOWA CITY — Less than a minute and a half into an intense Cy-Hawk basketball game on Friday night, Iowa point guard Mike Gesell confidently buried a 3-pointer from the left wing and then stared down Iowa State's Monte Morris. Shortly after this innocent exchange, Iowa State's Naz Long nailed a three of his own and more assertively returned the favor to Gesell.
From the opening tip it was clear – these two teams did not care for one another. Iowa's crowd made its presence felt too. 
With 44 seconds to play in Iowa State's 90-75 win over rival Iowa, Georges Niang made a routine layup but and capped off what was a chippy 40 minutes of basketball inside of Carver Hawkeye Arena.  
Iowa State's charismatic leader blew the half-empty Hawkeye student section a kiss.
A chorus of boos predictably followed the gesture. 
Why, Georges? 
"They just heckle us on Twitter and in the crowd," said Niang, who ended the night with 16 points. "The reason I blew the kiss was to say I appreciate you guys doing that and we're out of here."
Niang is that guy…
If he's on your team, you love him. If not…Well, just ask an Iowa fan what they think of No. 31. 
"It's just a heat of the moment,"Niang said. "It's probably something I shouldn't have done but you know when your emotions are so high and I'm an emotional player, it just happened. I wasn't trying to violate or disrespect anyone. It just happened."
The kiss topped last year's unforgettable postgame press conference gem. After Iowa State's win over Iowa, much to the chagrin of Fred Hoiberg, Niang proclaimed Iowa as the "Cyclone State."
When the Cyclones defeated Iowa in football this fall, the junior tweeted a photo (below) of him sipping on a cup of coffee in front of his game-winning bucket against the Hawkeyes last December in response to an Iowa fan who was giving him a hard time.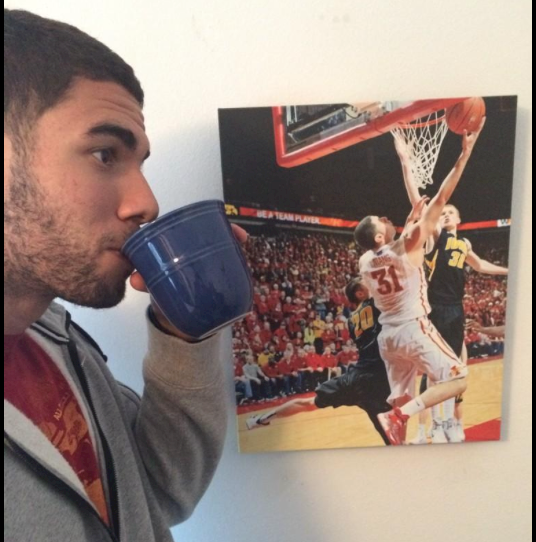 "He is big time," teammate Naz Long joked. "You can ask the ladies. I guess he's a good kisser. He was just having a little bit of fun out there. He doesn't mean anything too disrespectful."
And what did Hoiberg think about the kiss? 
"I'd rather he didn't do it but it's kind of what makes Georges who he is – is the chip that he plays with on his shoulder," Hoiberg said. "I had to try and calm him down before the game because he was so jacked up."
The reason a guy like Niang blows an opposing crowd a kiss is the same reason why after going 1-for-8 from the field in the first half, he chucked a heavily contested 3-pointer (that he made) to start the second.
"That shows you who he is," Hoiberg said. "Last year at the press conference when he said what he said, we talked about those things leading into this one. Georges you don't want to do that thing to put bulletin board material up there but it looks like he did it again."
Indeed he did but this time, Niang knows that he'll never have to return to Carver Hawkeye Arena again. 
Talk about going out on top.