IOWA CITY — On Thursday morning, thousands of Iowa State fans woke up, read about Bryce Dejean-Jones' arrest and were ready to throw in the towel on what had looked to be a promising season.
Forty-eight hours after that news broke, the Cyclone Nation will wake up to a 15-point road thrashing over its bitter in-state rival without "BDJ," his return coming one day later and a game-changing reinforcement named Jameel McKay ready to go in one week's time.
As we've seen so many times during the Fred Hoiberg era – the troops were rallied when adversity struck and the Cyclones responded with a vengeance.
Iowa State 90, Iowa 75, and a boisterous Georges Niang capped it off with a kiss.
It was a definitive win for an Iowa State program that was hardly at full strength. Don't tell the Cyclones that though.
"I don't know why people are so surprised," said an annoyed Niang, who scored 16 in the win. "We play defense. We turned the ball over late and they cut into the lead but they couldn't contain us.  We have each other's backs. This was our second test from adversity. We didn't do a good job against Maryland."
There's just something about this program…
Pardon the cliché, but Hoiberg's Cyclones "know how to win." 
During the 2013-14 campaign, Iowa State was known for its second-half comebacks – many of them on the road. 
In the NCAA Tournament, Niang broke his foot vs. N.C. Central and without its best player, Iowa State rallied to beat North Carolina and earn a trip to the Sweet 16.
"People doubted that we wouldn't beat UNC without me but we proved them wrong," Niang said. "How many times do we have to prove people wrong?"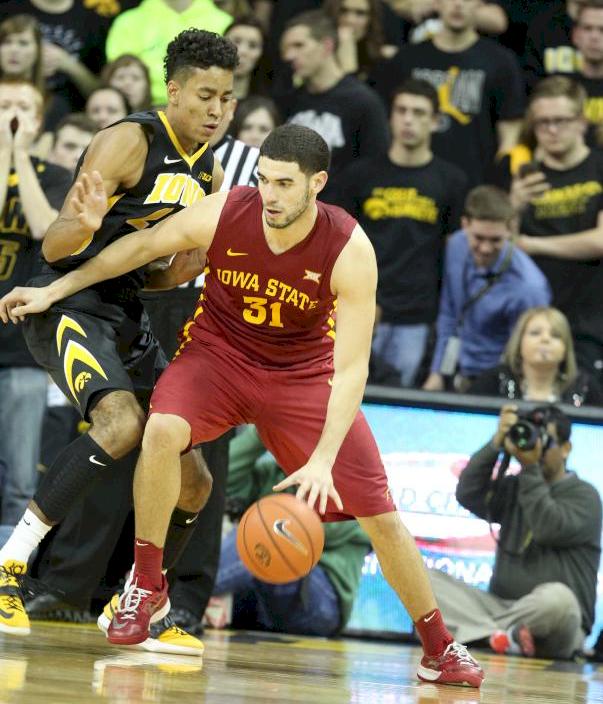 The group's grit flows from leaders like Niang and Naz Long, but it's been instilled in them from the top.
"We have the Einstein of college basketball," an animated Niang said. "I don't understand why people keep continuing to doubt us."
In life, you learn out about a man's true character when adversity hits. On Nov. 25 in Kansas City vs. Maryland, the Cyclones did not respond well to adversity at all. Body language was ugly and the result was a nine-point defeat.
On Thursday, the Dejean-Jones news drew not only a plethora of local but also national attention – more negative than positive. Iowa State was a significant (5.5 points) underdog playing in front of as hostile of an environment as Carver-Hawkeye Arena has to offer.
Postgame word from the locker room is that in a peculiar way, the Dejean-Jones situation made an already close Iowa State team even closer. This resulted in one of the more impressive performances in the Fred Hoiberg era.   
"This defined us," Long, who went 7-of-11 from the field said. "It really showed character. Guys in there before the game were just saying to do it for Bryce – do it for one of our brothers. We didn't let adversity take us down."
JOTTINGS
DEFENSE: Up 38-33 at the break, Iowa State began the second half on a 21-2 run. The Cyclones made 10 of their first 11 shots in the second 20 but Hoiberg credited defense as the key. 
"We got deflections," Hoiberg said. "We talk about getting your hands up to affect timing and a lot of times they were just zipping passes right by us. A lot of times just getting your hands up and getting deflections on those run-outs. When you make a lay-up, that leads to confidence with your jump shots."
NADER: With Dejean-Jones out of the lineup, somebody had to step up for Iowa State and Abdel Nader was up to the challenge. The junior was 0-for-9 from long range heading into Friday but went 4-for-5 from behind the arc on his way to a 19 point, six rebound night.
"It definitely felt great," Nader said. "Words can't describe. I have been waiting a long time." 
HE'S BACK: Dustin Hogue stepped up too. The Big 12's second-leading rebounder from last season entered Friday averaging only 3.1 rebounds per game. He had 13 and 13 in the win. 
EFFICIENT: Iowa State made 63.3 percent of its shots in the second half. The Cyclones dished out 22 assists on 34 field goals. Point guard Monte Morris led the way with six assists to go with his 14 points and five rebounds.
UP NEXT: Iowa State will host Southern on Sunday at 5 p.m.