AMES — As ISU star forward Georges Niang checked out, the Hilton Coliseum crowd rose and showered him with a rousing standing ovation.
 It felt like an end-of-game moment, but this show of appreciation came 34 seconds before halftime.
 Niang's line at the time: 13 points, six assists, three rebounds.
 The score: The No. 18 Cyclones 52, 18th-ranked Arkansas 32. 
 And the good vibes would only increase — for Niang, teammate Bryce Dejean-Jones and the rest of ISU's team, which never let that lead dip below double digits en route to a statement-making 95-77 drubbing of the previously-unbeaten Razorbacks.
 "Coach (Fred Hoiberg) was preaching before the game we really ned to get off to a good start and step on these guys from the beginning," said Niang, who went 9 of 12 from the floor and 6 of 6 from the line to notch 26 points. "I think that's what we did and I think it all started on the defensive end. I think that's going to be our backbone the whole year."
 Arkansas (6-1) didn't shoot poorly (48.3 percent each half), but struggled from the 3-point line in the first half.
 The Razorbacks hit just 4 of 14 long-distance shots before the break — and they entered the game shooting 45 percent from beyond the arc.
 "They put us on our heels and we never did recover until the second half," said Arkansas coach Mike Anderson, who won four games at Hilton while he led Missouri's program. "My hat's off to them. Their guys — their key guys — they stepped up and played."
 All five starters for the Cyclones (5-1) scored in double figures, led by Dejean-Jones, who scored 27 points while going 8-for-8 from the field.
 "It was very exciting," said Dejean-Jones, who sank four 3-pointers. "Coming here, I was told that it's magical in here and that's what it was tonight. The fans were loud and excited. It just helped us the entire way."
 ISU led from the point Niang drilled his first of two 3-pointers 50 seconds into the game.
 Niang scored or assisted on the Cyclones' first three baskets and sank all six of his free throw tries. 
 "They made play after play," Anderson said. "They shot the ball well."
 Better than that.
 The Cyclones shot 64 percent overall and 52.9 percent from beyond the arc.
 ISU effectively sealed the win by unleashing a 13-0 run that turned a 26-20 lead into a 39-20 edge.
 Five different Cyclones scored during the spurt and the Razorbacks would inch no closer than 10 points from the lead after that.
 "The biggest thing with that team is keeping them out of transition and keeping them off the glass and that first half we did as good a job, I think, as you can against a team like that," Hoiberg said.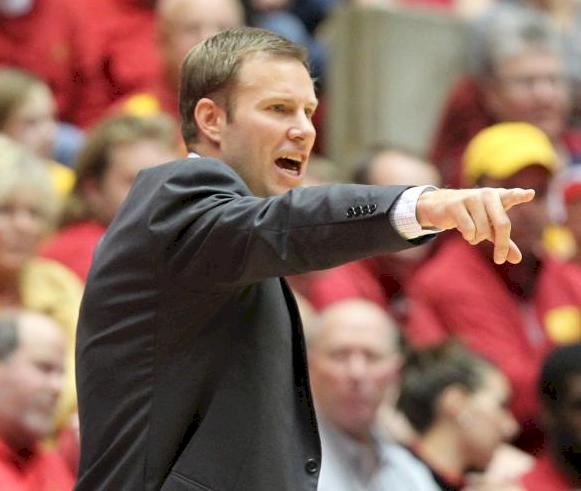 ISU outscored long and lean Arkansas 22-16 off turnovers and, surprisingly, 36-16 in the paint.
 "That's huge to outscore a team like that, with that size and athleticism (by that margin) in the paint," Hoiberg said. "That was a big thing tonight for us. Not only were we going to attack on offense, but we were going to have to keep the floor shrunk and try to make them take tough contested shots and they did, they hit some of those, but that was the game plan going in."
 It's the same coming out: Defend at a high level, create open shots through superior spacing and take advantage of transition opportunities at will.
 The formula obviously works — even against a team that encourages the use of the Twitter hashtag #Fastest40.
"I think this is huge for us," Niang said. "Coach has been preaching we need to get our swagger back and I think we definitely did that with this game."
 NOTES
 Niang moved into a tie with Scott Christopherson for 25th on ISU's all-time scoring chart (1,106). … The Cyclones' 18-point victory margin ties for the third-largest in program history against a ranked team. … Monte Morris finished with three steals, giving him eight in the past two games. … Niang and Dejean-Jones are a combined 53 of 59 from the line this season (89.8 percent).