Last week, Dr. Buck kicked off the "Sports Docs' Weekly Blitz" with an introduction of the team physicians who take care of the Cyclones and laid the groundwork for future topics in this blog. This week, before we dive into specific sports injury topics, I would like to touch on the quality of the Sports Medicine Facilities and Care at Iowa State.
I'm the newest physician on the team but my relationship with ISU athletics started several decades ago when I was a ball boy for Johnny Orr. It was probably the best "job" I'll ever have. Since then, I've been all over the country studying and training to become a sports medicine specialist in the field of orthopedics. 
During my Sports Fellowship at the Hospital for Special Surgery in New York City, I was selected to serve as a team physician for the NY Giants. It was an awesome opportunity for me professionally and it gave me an insider's perspective on Sports Medicine in the NFL. I travelled to many of the NFC's other franchises and also participated in the NFL Combine, which included the annual NFL Team Physician's Meeting. Having had that experience and now having been in Ames the last two years, I can honestly say that both the Sports Medicine facilities and the quality of care given to the student athletes at Iowa State are absolutely on par with what I saw in the NFL.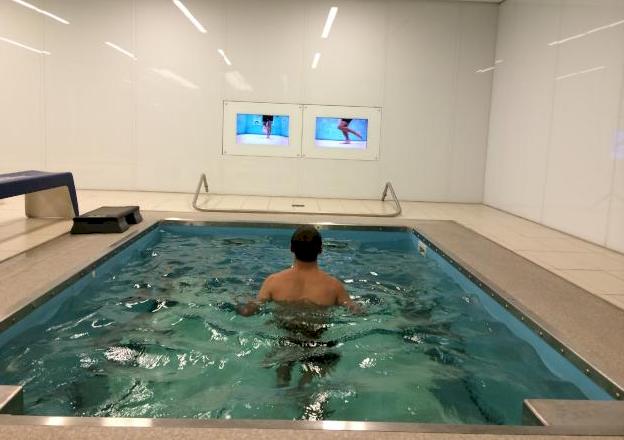 The facilities are truly state of the art. When the Sukup and Bergstrom facilities were built, no expense was spared on the athletic training equipment. An example of that is the HydroWorx system (seen in the image). This underwater treadmill allows us to work on lower extremity injuries and surgical rehabilitation in an accelerated manner, at varying levels of buoyancy, all the while being able to video gait patterns and make necessary corrections as we progress through the rehabilitation process. All of ISU's athletes have access to this and it has been an asset to hasten recovery. Not all NFL teams have this level of athletic training capability. 
Are you interested in making an appointment with our docs? Click here to learn more about Dr. Warme, Dr. Buckand Dr. Greenwald.