It is hard to believe but the NBA Draft is just over a month away. This week the NBA holds its annual Combine in Chicago, putting 60 prospects under the microscope with measurements, drills and interviews. Former Cyclones Melvin Ejim and DeAndre Kane are among the invitees to this essential part of the Draft process. These two men are both are on the Draft bubble at this stage so this week can be a big help or hindrance.
One of the most anticipated parts of the Combine is the measurement portion. More than any other sport, size and length matter (Insert Michael Scott reference) in basketball.
Melvin Ejim measured 6'5 1/4 without shoes and 6'7 with shoes. His wing-span was charted at 6'11 3/4 and he weighed 219 pounds.
DeAndre Kane listed at a solid 6'2 3/4 without shoes and 6'4 1/2 with. Kane's wing-span came in at 6'8 and he tipped the scales at an even 200 pounds.
So what does it all mean, yo?
Ejim is going to fight the uphill battle through the Draft process because he is an undersized forward and his measurements do not change that. He is listed at the exact same height as Michigan sharp-shooter Nik Stauskas. According to DraftExpress.com, the average height of a small forward in the history of the Draft Combine is 6'6 1/2 (without shoes) with a wingspan of 6'11. The average of a power forward is 6'8 with a 7′ 1/2 wing span. Ejim worked out with the small forwards in the Combine so his height isn't a killer in that group.
The two areas Ejim will need to prove to NBA GM's is that he can consistently knock down the longer NBA three ball and, more importantly, that he can defend the small forward position. Out of necessity, Ejim guarded mostly posts in his career at Iowa State, so it is somewhat of an unknown how he can defend on the perimeter, where most small forwards live. As we all know, Ejim's intangibles are off the charts and that is only going to enhance his stock.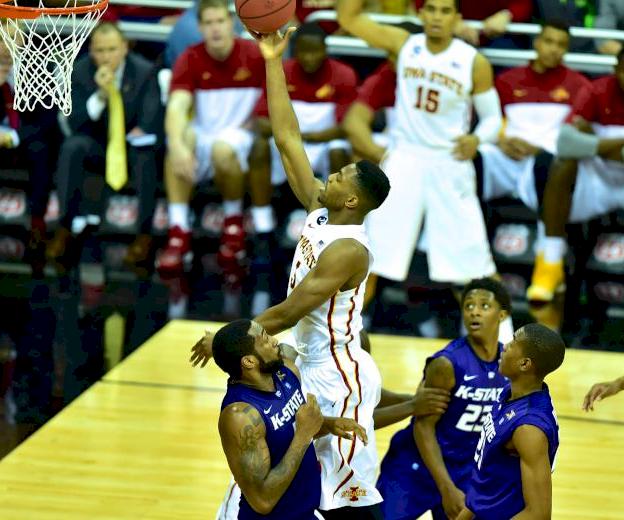 As for Kane, his measurements only help his chances. Kane's strength is his size and his ability to overpower smaller point guards. The average point guard at the Combine is 6'1 1/2, 190 pounds and a wing-span of 6'4. So Kane has a full two inches of height, four inches of length and 10 pounds on the middle of the pack lead guards. Teams love big point guards because they can defend multiple positions and Kane's size allows him to do that. 
Kane also needs to prove he can be adequate with the long range shot. His mechanics improved immensely in his time at Iowa State and in the brief glimpses they showed at the Combine, his shot looked very solid and confident.
Kane's best shot in the NBA initially is as a back-up point guard that can create tempo and defend both positions. I believe his size and skill are up to par, but the biggest red flag is his age. Kane will turn 25 prior to June's Draft. To contextualize that, NBA All-Star James Harden is three months younger than Kane. Teams love potential and get skittish when a player has already reached their so called ceiling. That said, I think Kane is NBA ready right now and could be a rotation player as a second or third point guard in the right situation. He is ancient by Draft standards, but may be worth a second round pick if a team is in need of a strong guard.
Keep in mind, only first round picks are guaranteed contracts in the NBA. And this year is considered an extremely deep Draft. So teams use their second round picks to take fliers on guys. Only a handful of second round picks stick in the NBA each season because roster space is limited with just 15 spots per NBA team.
Both Kane and Ejim are far from guarantees to get drafted; this is the first week of a crazy month as they try to make their NBA dreams come true.