I like to joke on Twitter that I am one of only eight NBA fans in Iowa. I fully realize this is incorrect. There are actually 17 fans. As one of the self-proclaimed defenders of the Association in the state, I get pumped up for NBA Draft night. I feel like a 16-year old who just discovered Snapchat.
This Draft night is shaping up to be an all-timer. We thought last year's miserable Draft group would be miserable and they were miserable. (Quickly name the top three vote getters for this past season's NBA Rookie of the year…..exactly.) The 2014 Draft class has legitimate difference makers and had NBA teams purposely tanking in order to get in position to grab one of these men.
This Draft also has some strings attached to Iowa State, Ames and Hilton Coliseum. Cyclone seniors Melvin Ejim and DeAndre Kane have an outside chance of being selected, Doug McDermott will likely be picked in the top 10 and potentially four more of the top eight picks walked through Hilton Coliseum this season. Throw in drama around LEBRON AND THE DECISION REVISTED and other trade possibilities and we have a humdinger of an evening.
So without further ado, I present my "2014 NBA Mock Draft because everyone needs to make a mock draft Mock Draft."
1. Cleveland Cavaliers-Jabari Parker, SF, Duke
Current NBA Comparison: Carmelo Anthony
The Cavs are riddled by incompetence, but this is hard to botch. Prior to Joel Embiid's foot injury, the consensus was the big Jayhawk was headed to Cleveland. Two screws in the foot later and Embiid has fallen off the number one perch. Cleveland's first call should be to LeBron to ask who he would want to Draft. If that doesn't go over well, they will take the safest bet in the Draft in Jabari Parker. Parker will have an immediate impact offensively with the ability to score on all areas of the floor. There is some concern with his defensive ability and his propensity for eating. Nobody wants a fat small forward. 
2. Milwaukee Bucks- Andrew Wiggins, SF, Kansas
Current NBA Comparison: Kawhi Leonard
At a young 18-years old, Wiggins averaged 17 points and six rebounds in the Big 12 and yet most thought his season was a disappointment. The "next LeBron" hype was unfair from the start. There were times when he was passive offensively but after seeing him up close three times last season, I have no doubt he is ticketed to be an NBA All Star some day. I would select him first overall. He can be one of the best defenders in the league and has enough skills to be a threat offensively. If the Bucks get him, they can team him with the Greek Freak, Giannis Antetokounmpo, and make Milwaukee watchable for the first time since Ray Allen and Glenn Robinson were touring the city.
3. Philadelphia Sixers-Dante Exum, PG, Australia
Current NBA Comparison: James Harden
This is where things get a little weird. The Sixers are stuck with a dilemma; take Embiid to pair with Nerlens Noel and have two injury plagued big guys who could form an imposing front-court or who could both never be healthy. The flip side is to take the unknown 18-year old guard from Australia that has played high level competition for about a week in his entire life. Exum wowed scouts at a Nike Hoops Summit last summer and that is roughly the extent of what we know about him. He has great size for a point guard at 6-6 and showed the ability to finish at the rim, but his outside shot is questionable at best. Complicating matters is the Sixers already have a PG in reigning Rook of the Year Michael Carter-Williams. Good luck Philly.
4. Orlando Magic-Joel Embiid, C, Kansas
Current NBA Comparison: Tim Duncan
The Magic under GM Rob Hennigan have been ultra conservative. They have long circled Dante Exum or Mr. Flop Marcus Smart as candidates for this spot. But with Embiid available and with a young combo guard already on the roster in Victor Oladipo, I think the Magic have to go for broke with Embiid. When healthy, Embiid is a top 10 center in the NBA right now with potential to be the most skilled big man in the game. Fred Hoiberg said often throughout last year that Embiid would be his first choice. The foot/back issues are frightening, but the Magic have no intention of making the Playoffs this season and can afford to shelve Embiid.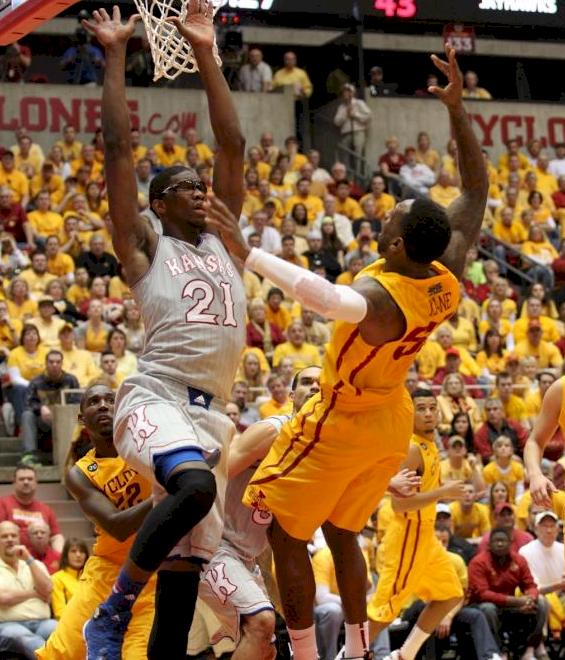 5. Utah Jazz- Noah Vonleh, PF, Indiana
Current NBA Comparison: LaMarcus Aldridge
The Jazz would love to trade up to somehow snag Jabari Parker due to Parker's ties to the Church of Latter-day Saints. But that is a pipe-dream, so they will have to settle for best player available and that is probably Noah Vonleh. Vonleh wasn't used much in the Indiana offense, but was pretty efficient when used. He has all the length/upside/potential/ceiling teams salivate over and could be a nice cog down the road. A boring pick for a boring franchise that is now coached by the always entertaining Quin Snyder! Snyder was once out-schemed by Wayne Morgan and lost by thirty points at home. So appalled by this, Snyder got himself ejected. Julius Randle is also an option here.
6.  Boston Celtics- Marcus Smart, PG, Oklahoma State
Current NBA Comparison: A young Andre Miller
Smart gets selected; walks on stage; falls over. For all the grief he has received, Smart is a physical specimen at 6-3, 230 pounds and a great defender when he is upright. He is a bulldog that is strong enough to get to the rim even at the NBA level. The Celtics have been looking to move Rajon Rondo for years and this may be the time to do so. A Smart/Rondo back-court would be dangerous to back-boards and citizens of Boston due to their lack of accuracy and potential of basketballs careening into the seats.
7. Los Angeles Lakers- Doug McDermott, SF, Creighton
Current NBA Comparison: Nicolas Batum
McDermott is NOT another Adam Morrison. He is a better athlete than people give him credit for, he had the same vertical jump at the Combine as Melvin Ejim and is smart enough to find his spots to score. There are some defensive questions, but McDermott will be an ELITE shooter. If the Lakers want one more ride with Kobe, McDermott gives them the best chance to win in the next couple of years and also would make a nice piece for Kevin Durant to find spotting up in a corner in 2015.
8. Sacramento Kings- Julius Randle, PF, Kentucky
Current NBA Comparison: Zach Randolph
The Kings remain a directionless mess. Randle plays hard and is going to be able to score and rebound, but will be lost in obscurity like the rest of the Kings.
9. Charlotte Hornets- Nik Stauskas, SG, Michigan
Current NBA Comparison: Joe Johnson
Stauskas is another dude who is pigeon holed as only a jump shooter. He proved in Ames that if you let him, he will dunk on your face. I'm a big fan of Stauskas and think he will be ultra successful in the league. At 6-6 he has great size compared to other guards and has better than average ball handling skills. The Hornets need some firepower from outside and are virtual locks to take McDermott or Stauskas.
10. Philadelphia Sixers- Aaron Gordon, PF, Arizona
Current NBA Comparison: Shawn Marion
Gordon is your typical great athlete with a developing offensive game. He is going to dunk a lot. Likely with Exum already, the Sixers and their D-League caliber roster need help everywhere else.
11. Denver Nuggets- Dario Saric, PG/PF, Croatia
Current NBA Comparison: Boris Diaw
I'm not sure if this guy is related to Toni Kukoc, but he should be. Saric is like a skinny Royce White with a better jump shot. Problem is, he is stuck in Europe for two more years. So drafting him is similar to giving your significant other a promise ring and those things are silly.
12. Orlando Magic- Elfrid Payton, PG, Louisiana-Lafayette
Current NBA Comparison: Patrick Beverly
Payton would be the first guy named Elfird to ever play in the NBA. He is a tall, fast, lengthy point-guard who has a dicey jump-shot. He does have great hair.
13. Minnesota Timberwolves- Gary Harris, SG, Michigan State
Current NBA Comparison: Wesley Matthews
The T-Wolves franchise all hinges on Kevin Love. It appears the Wolves are going to hold onto Love until after Draft night, but it is very likely he gets moved prior to the season. But not knowing exactly what will go down, Gary Harris is a conservative pick to hold them over. He would go earlier in the Draft, but he measured at just 6′ 2.5 without shoes, which is tall for most of us, but short for an NBA two guard. He has a chance to be a rotation guy for an NBA team for many years if he wears shoes.
14. Phoenix Suns- Rodney Hood, SF, Duke
Current NBA Comparison: Joe Johnson
Jeff Hornacek's Suns were the surprise of the NBA last season and used an up-tempo, three happy system to run around teams with superior talent. Sound familiar? Hood has great size for a wing at 6'8 and shot a stellar 42 percent from distance. He is a plug and play guy for an improving Suns roster. We have Hoiball in Ames and there is Hornball in Phoenix (Ok, that's probably not a good name.)
15. Atlanta Hawks- James Young, PG/SG, Kentucky
Current NBA Comparison: Nick Young
The Hawks head coach is Mike Budenholzer who sat on the Spurs bench for almost two decades. He is trying to implement the same system with lesser talented pieces in Atlanta. And they need more shooters. As Atlanta native Lil' John  once eloquently said, SHOTS SHOTS SHOTS SHOTS SHOTS SHOTS EVERYBODY….. SHOTS. Young can shoot, he and Lil Jon should be friends.
16. Chicago Bulls- Jusuf Nurkic, C, Bosnia
Current NBA Comparison: Ummm….Tiago Splitter
For me to pretend to know who this guy is would be a disservice to all of us. He's a big guy who put up decent numbers in a good European league. Apparently he also has anger issues; he and Noah will probably fist fight. Don't be surprised if the Bulls trade this away to save roster cash for Mr. Carmelo….or *dramatic pause*…. Mr. James.
17. Boston Celtics-T.J Warren, SF, NC State
Current NBA Comparison: Caron Butler
Chris Babb should be on high alert for who the Celtics target on Draft night. Babb technically has two years left on his contract, but the Celtics have the team option on him, meaning Babb's roster spot is up in the air and he can be cut at any time. The Celtics need help everywhere and Warren is a solid piece who should be able to be a quality scorer. If the Celtics grab a two guard in the first round, Babb may be in trouble.  
18. Phoenix Suns- Zach LaVine, SG, UCLA
Current NBA Comparison: Gerald Green
LaVine rivals Wiggins as the best pure athlete in the class. The guy will win an NBA Dunk contest some day. It is unknown if he can, you know, play the actual game of basketball. That said, he and Gerald Green on the same team would be fun toys for Hornball (Again that name is just not working.)
19. Chicago Bulls- Shabazz Napier, PG, UConn
Current NBA Comparison: Darren Collison
Derrick Rose should be healthy, but Napier is a pretty good backup plan. He may be smallish for a point guard, but Napier can shoot the hell out of the ball and has NBA range. The long range consistency is the difference between Napier and another older guard, DeAndre Kane.
20. Toronto Raptors- Tyler Ennis, PG, Syracuse
Current NBA Comparison: Mario Chalmers
Ennis is Canadian and if you passed Geography in 5th grade, you realize Toronto is also in Canada. Ennis won't get by the Raps.
21. Oklahoma City Thunder- Clint Capela, PF, Switzerland
Current NBA Comparison: Mason Plumlee
Seems like an Oklahoma City pick. The Thunder owe Kendrick Perkins another $9 million next year to stand in the lane and scowl. Woof, that contract.
22. Memphis Grizzlies- PJ Hairston, SG, North Carolina
Current NBA Comparison: Wilson Chandler
Hairston had his share of legal problems at North Carolina, but is one of the more NBA ready players in the Draft. Memphis has one more run left in them with the Gasol/Randolph/Conley group and Hairston could provide some scoring punch off the bench.
23. Utah Jazz- Jordan Adams, SG, UCLA
Current NBA Comparison: Aaron Afflalo
Diante Garrett is another former Cyclone with a murky NBA future this off-season. The Jazz hold his team option and it is unknown if they will keep him. Thus the waiting game and hoping the Jazz don't take too many guards. The Jazz have so many young guys they may trade this pick to a club without a first round pick in exchange for future assets. That would be good news for Diante.
24. Charlotte Hornets-Adreian Payne, PF, Michigan State
Current NBA Comparison: Markieff Morris
Fun to see the Hornets back in Charlotte. When I was a youngster playing NBA Live on the computer, I always picked the Hornets because I liked the way they painted the bee-hive in the paint. I was kind of a weird kid.
25. Houston Rockets- Kyle Anderson, SF, UCLA
Current NBA Comparison: Boris Diaw
If you are scoring at home, that is two players compared to Boris Diaw in one Draft. Strange times indeed. This is another pick that may be traded because the Rockets need to save money. Call it the, "No I can't go out to the casino this weekend, I have to make a down payment on a house" move.
26. Miami- Mitch McGary, C, Michigan
Current NBA Comparison: Josh McRoberts
Think of how many tank tops McGary could wear on South Beach? If healthy, he could add some athletic size in the paint. But if LeBron is unhappy with his current cast, McGary won't be enough to keep him, although he would make a good background dude in the Samsung commercials.
27. Phoenix Suns- Cleanthony Early, SF/PF, Wichita State
Current NBA Comparison: Matt Barnes
Fun fact: Suns GM Ryan McDonough is the younger brother of ESPN broadcaster Sean McDonough. I would venture the Suns trade one of their three first round picks to somebody. So this pick likely won't be theirs. But Early is a suitable choice for a team wanting a versatile scorer. Another fun fact: one of Early's first offers coming out of junior college was from Fred Hoiberg and Iowa State. Would have been a nice piece.
28. LA Clippers- Jerami Grant, SF, Syracuse
Current NBA Comparison: DeMarre Carroll
Grant can run and jump and is a very good athlete. He could be on the receiving end of many lobs from Chris Paul. If there is an opportunity for DeAndre Kane to be selected in the first round, this is a potential landing spot as the Clips could use a 2nd or 3rd PG depending on if Darren Collison sticks around.
29. Oklahoma City- KJ McDaniels, SF, Clemson
Current NBA Comparison: Tony Allen
McDaniels is considered one of the best wing defenders in the Draft. He could fill a role behind Durant now that Thabo Sefolosha is a free agent.
30. San Antonio- Glenn Robinson III, SF, Michigan
Current NBA Comparison: DeMar Derozan
Robinson had a rough second year with Michigan and could likely slide because of it. He is a talented offensive player, but doesn't do one thing exceptionally well. It would be a classic Spurs pick to get a piece that could be groomed into a really good player in time. With the Spurs likely losing Boris Diaw, Patty Mills and Matt Bonner, they will need some punch off the bench.
Thoughts on Melvin Ejim and DeAndre Kane
If you stay up late to see Melvin Ejim and DeAndre Kane get selected, you may be disappointed. Both will have to shake the dreaded "too old" or "tweener" albatrosses and face an uphill battle because of that. Many of the teams in the second round do not have room on their roster, so they stash young guys and Europeans away in case they amount to something down the line. Of the 120 players selected in the 2nd round over the last four years, just 18 percent have received any meaningful minutes. The 2nd round selections are at a big disadvantage. But all it takes is one team to pull the trigger and give them an opportunity.
Although both may be question marks to be picked, they are guarantees to play on a Summer League roster. From there, they can still get noticed much like what happened to Chris Babb a year ago.
So sit back, relax, pop open a frosty beverage and enjoy the chaos that is Draft day!