Proudly landscaping Central Iowa since 1981, Country Landscapes has provided the ultimate in custom landscaping with innovative design and quality installation. Their locations in central, eastern, and northern Iowa serve Ames, Ankeny, Des Moines, Iowa City, Cedar Rapids, Clear Lake, Mason City, Marshalltown, and the surrounding communities. Their staff is local to you and loves to landscape–let them help you with all your landscaping needs!

Iowa State's run to a Big 12 Tournament championship greatly increased Melvin Ejim's chances to break the school's all-time starts record.
After already notching three postseason starts this year, Ejim now sits at 123, which puts him in a tie for second with his head coach, Fred Hoiberg. That means that if Ejim starts Friday night's NCAA Tournament second-round game vs. NC-Central (8:50 on TNT), he will tie Jeff Grayer for Iowa State's record. Should the third-seeded Cyclones defeat the Eagles, Ejim would break Iowa State's all-time starts record on Sunday vs. either North Carolina or Providence.
Playing in San Antonio
For some college teams, playing in postseason (NBA) venues like San Antonio's AT&T Center can be intimidating. Hoiberg doesn't expect this to be a problem for his Cyclones though. Thank the Big 12 Tournament for that.
"We just played basically in an NBA building in the Sprint Center with the background and the way that it is set up," Hoiberg said. "It's a pretty similar building actually to the Spurs arena. It's a great city. I know that our fans will be down there and looking forward to it."
After Iowa State was selected for its third-straight NCAA Tournament on Sunday, Hoiberg seemed relieved that the Cyclones, who played three games in three days last week, drew one of the last games of the NCAA Tournament's second-round late Friday evening.
"It gives you an extra day," Hoiberg said. "You prepare yourself for this time of year. Going back to our summer workouts, everything that these guys have done together through open gyms and workouts. It is really an awesome opportunity for us."
Nianging
Everybody is doing it. Anymore, you ain't cool unless you're "Nianging."
Before, during and after Saturday's Big 12 Tournament Championship Game, thousands of Iowa State fans wore Band-Aids over their right eyes in honor of Georges Niang, who had to receive five stitches after taking an elbow late in Friday's victory over KU. 
"That's pretty cool," Niang joked. "Me and Tim Tebow could get along really well."
Niang heard about the craze before he took the floor on Saturday night.
"Somebody sent me a picture with a tweet in it and I thought I would re-tweet it," Niang said. "All of the sudden people were texting me all day. I thought, 'Oh man, this thing is going viral.' Then I came into the arena and everybody had a Band-Aid on and they wanted to show me that they had one on. Cyclone Nation is the best. They did a great job of supporting me through an injury."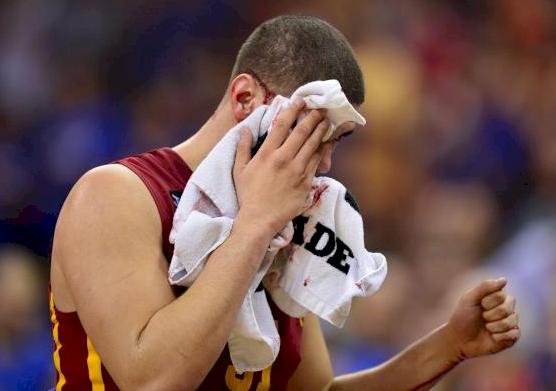 How to prepare for the Big Dance
Iowa State has been great in its last two NCAA Tournament second-round games, convincing victories over UConn and Notre Dame. What has been the key? I asked two Cyclones.
"We go into it like we do any other team," Melvin Ejim said. "We watch film. We go over their plays. We do a lot of stuff and I'm sure once we get down there, we will do things outside of the gym. There will be scouting reports and going over things in the dining room and stuff like that. They will get us ready. They do a great job with it."
Georges Niang…
"You just have to relax and not let the hype get to you," Niang said. "The NCAA Tournament is a big deal. You have to just play your game."