Proudly landscaping Central Iowa since 1981, Country Landscapes has provided the ultimate in custom landscaping with innovative design and quality installation. Their locations in central, eastern, and northern Iowa serve Ames, Ankeny, Des Moines, Iowa City, Cedar Rapids, Clear Lake, Mason City, Marshalltown, and the surrounding communities. Their staff is local to you and loves to landscape–let them help you with all your landscaping needs!

SAN ANTONIO, Texas — A month before the 2013-14 college basketball season began, Fred Hoiberg's Iowa State Cyclones took a Sunday afternoon bus trip to Omaha, Neb. 
A casual late-fall jaunt to the Henry Doorly Zoo was the farthest thing from Hoiberg's mind, though. This was a business trip – an opportunity for a new-look basketball team to work some kinks out against one of the Big East's top programs, Creighton, in a closed-door "secret" scrimmage. Of course, the Bluejays just happen to be coached Iowa State's former leader (2006-2010), Greg McDermott.
Talk about a small world.
Today, Iowa State and Creighton are both 3-seeds in the NCAA Tournament. They are both in San Antonio and each program has a Sweet 16 berth (and beyond) on the mind. Creighton (26-7), will meet the 14-seed Louisiana-Lafayette (23-11) at 2:05 on Friday in the AT&T Center. Iowa State (26-7) will play NC-Central (28-5) a few hours later at approximately 9. 
This small-world scenario, with both teams being highly seeded and darkhorse Final Four picks, was nothing but a pipe dream on that Sunday in October.
"We both would probably tell you that we didn't see two 3-seeds out there on the floor that day," McDermott said in Creighton's locker room on Thursday afternoon. "We watched a couple of teams that had some pieces but had a long way to go."
McDermott, who still has plenty of reasons to closely keep tabs on Iowa State (keep reading), has seen an enormous amount of growth in the Cyclones since October. 
"DeAndre Kane, you could see what his potential was and the mismatches that Fred was going to be able to create because of his size and strength at the point guard position," McDermott said. "I think that Naz Long has been a big difference maker with his ability to add another shooter to that lineup to go with what they already had."
There are clearly similarities between both of these programs too, specifically when it comes to a lofty but often-used comparison linking McDermott's son Doug (who is probably going to win the Wooden Award) and Iowa State sophomore Georges Niang.
"They are a little bit like us," McDermott said. "They are a hard matchup because Georges Niang can play away from the basket like our bigs play away from the basket yet you can run him down into the post when you get a mismatch. Very similar to what we do with Doug."
As a senior, Doug is averaging 26.9 points and 7.9 rebounds per game. He's a 45 percent 3-point shooter and is arguably the best player in the country. Niang's numbers currently sit at 16.5 and 4.4. McDermott averaged 22.9 and 8.2 during his sophomore campaign. 
Still close ties with Iowa State
From Omaha, McDermott has had plenty of reasons to follow Iowa State during the four years since he left Ames.
For one, there is Melvin Ejim. The Big 12's Player of the Year actually signed to play at Iowa State for McDermott before he accepted the Creighton job in the spring of 2010.  
Question: Did McDermott, who admittedly didn't have the success at Iowa State that anyone had hoped, know that Ejim would eventually become the Big 12's best player?
"What I knew is that Melvin Ejim is a better person than he ever was going to be a basketball player, and he has become a heck of a basketball player," McDermott said. "He is a wonderful young man – one of my favorite people I have ever recruited. You like to see someone like that have the success that he has had."
The two have kept in touch over the years as well.
"I get a text from him congratulating us and I congratulated him when he scored 49 or 50. I am very proud of Melvin," McDermott said. "To see him follow through on all of the things that we talked about while recruiting him with being serious about his education and maximizing his potential as a basketball player."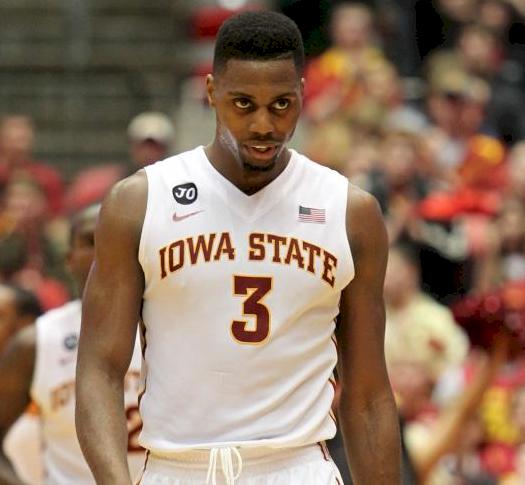 There are more connections. McDermott is still close friends and keeps in touch with the man who hired him to Iowa State, athletics director Jamie Pollard. While at Iowa State, McDermott used to go head-to-head against former Nebraska head coach and current Hoiberg assistant, Doc Sadler in the old Big 12.
"It has worked out for everybody. I have fond memories of Iowa State," McDermott said. "I have a lot of friends there and Coach Hoiberg is one of those really good friends. Obviously I want to see him do well. It is interesting that we are both in the same town."
Enter the North Carolina Tar Heels.
The 6-seed in the East Region is coached by Roy Williams, the man who lured former Ames High Little Cyclones (and Doug McDermott/Bubu Palo teammate) Harrison Barnes away from Iowa State. Marcus Paige, another Iowa native, plays point guard for Williams while wearing the powder blue.
"I recruited Marcus Paige so I am close with Marcus," McDermott said. "Then, to have Nebraska in the same bracket as well with Coach (Tim) Miles and I being longtime friends. I think it makes it interesting. I think there will be some fan bases cheering for each other. I think it will make for a pretty good environment in this building the next couple of days."
Will the hundreds of Iowa State fans in attendance on Friday cheer for McDermott, a man who compiled a paltry 59-68 record during his four years in Ames? Time will tell.
But rest assured, the 49-year old head coach of Creighton who now wears blue to work every day, will be cheering for the Cardinal and Gold. He always does. He always will.