Proudly landscaping Central Iowa since 1981, Country Landscapes has provided the ultimate in custom landscaping with innovative design and quality installation. Their locations in central, eastern, and northern Iowa serve Ames, Ankeny, Des Moines, Iowa City, Cedar Rapids, Clear Lake, Mason City, Marshalltown, and the surrounding communities. Their staff is local to you and loves to landscape–let them help you with all your landscaping needs!



KANSAS CITY, Mo. — Friday night's 94-83 victory over Kansas was not your ordinary semifinal win in a conference tournament. This one mattered. As Fred Hoiberg walked off the Sprint Center floor and into the tunnel, the joy etched on his face was evident. He wanted this one; Cyclone Nation needed this one. Now, Iowa State finds itself in the Big 12 Championship game for the first time since 2000. It has been a long 14 years. 
When Iowa State captured the crown in 2000 with Marcus Fizer and Jamaal Tinsley leading the way, Kuemper Arena was a swarm of Cardinal and Gold. The old arena was kindly named Hilton South and Cyclone fans were accustomed to staying for the weekend. The 2001 squad won the regular season Big 12 title, but were swiftly defeated in the quarterfinals by Baylor on Friday afternoon. The loss laid the foundation for a miserable decade to follow. 
In the following years, Iowa State fans still traveled in droves to Kansas City and Dallas and Oklahoma City, but the once week long ventures turned into forgettable one-night stands. Until last season, the Cyclones never advanced past the quarterfinals since Fizer left town.  
Even worse, the Cyclones went winless in the Big 12 Tournament from 2006 until their victory over Oklahoma last year. The once proud and confident Hilton South turned into a collection of Cyclone fans covering their eyes.   
Meanwhile, Kansas seemingly won everything over the same stretch. Under Bill Self, they have won 10 straight regular season titles and six of the last eight Big 12 Tournament crowns. Since 2006, Kansas has won 20 games in the Big 12 Tournament, Iowa State–two.
The Cyclones have crawled back to prominence in the last three years under Hoiberg, yet the Kansas road-block remained. Before they met Friday night, Kansas had won five straight over Iowa State and 18-of-19. We knew Iowa State was good, but they still weren't on Kansas' level. With the 94-83 victory, the Jayhawk weight lifted. No banked in threes, missed charges or ill-fated turnovers doomed the Cyclones this time around.  
"We've had some unbelievable matchups over the past couple of years. And the absolute two hardest games I've ever had as losses go. McLemore banks in the three and then losing the one at home, a tough call at the end," Hoiberg said.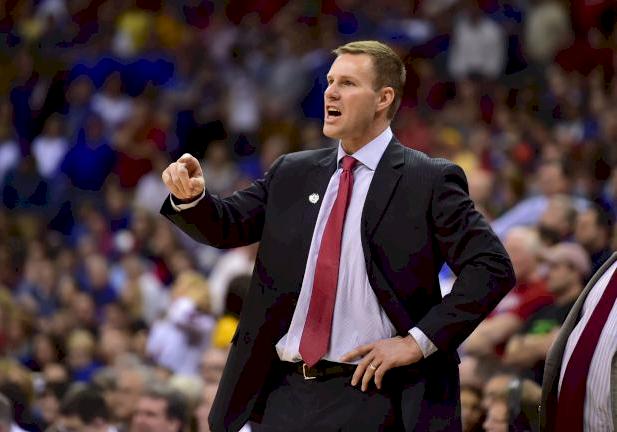 This was a get over the hump game. Iowa State has played 20 teams this season and has defeated all 20 at least once. Any looming question marks about if the Cyclones can close out games against the best were erased with the brilliant performance against Kansas. Iowa State shot a blistering 54 percent, made 11 treys and buckled down on defense when they needed to.  
"We're not going to play a team in the tournament that was as good as Iowa State was offensively," Kansas coach Bill Self said. 
Iowa State played the best they have all year; this wasn't a fluky situation where Iowa State caught Kansas on an off night and threw in a bunch of impossible threes. This was a surgical dismantling, teams just don't do that to Self coached squads.  
"It's a great win for us for the fact that it gives us confidence that we can compete with anybody in the nation," Hoiberg said. 
Iowa State is one game away from winning their second ever Big 12 title. Hundreds more Cyclones fans  will undoubtedly litter Interstate 35 Saturday morning to join in the party. Nothing is off the table for the Cyclones. Take a step back and soak it all in. This is what college athletics is all about. This is why fans endure a decade of heart-break.  
"It's great for our team and even better for our fans. It was important for us to win this for them," Hoiberg said. 
The Cyclone fan-base has rallied behind Hoiberg ever since he was named the head coach in May, 2010. Now Hoiberg is returning the favor; it is Cyclone Nation's time to celebrate. The Mayor has returned the Magic to Ames and that Magic has now migrated south to Kansas City.  
Hilton South is back.