This Iowa State team can win the National Championship. This isn't a "anyone who makes the NCAA tournament has a one in sixty eight chance of winning the title" team. This Iowa State team is a legitimate contender to win the whole dang thing. There are certain ingredients that every title winning team compiled over the last decade. With six weeks remaining until the NCAA selection show, Iowa State is one of very few teams who are able to check most of the necessary boxes. Hop on board and strap the seat-belt nice and snug, this could be a historic ride.
*** PODCAST — Chris Williams & Adam Gray discuss Iowa State's big win *** 
Multiple weapons
The most important criteria to seek when looking at a title contender is their ability to score in a variety of ways. The NCAA tournament is a ravenous obstacle course and can only be navigated with a variety of tools.
Eight of the last 10 national champions finished the season in the top 20 nationally in scoring. The lone exceptions were then Big East brutes Louisville (2013-42nd nationally) and Connecticut (2011-63rd) whose scoring averages suffocated thanks in part to their rough and tumble conference. After their win against Oklahoma State, Iowa State sits at 4th in the nation in scoring, the most potent output of any club in a BCS conference. It's not just raw numbers that matter it is the manner in which a team can score. It is nearly impossible for one or two scorers to carry a team to a title, a championship team needs three to five options.
Last year's Louisville club had five players that averaged eight or more points. Russ Smith was the engine of the offense, but when he struggled the Cardinals could lean on Peyton Siva, Gorgui Dieng, Chane Behanan or Luke Hancock. Great defensive teams can take away your two best options but few can take away three or more. With DeAndre Kane, Melvin Ejim and Georges Niang, the Cyclones have a frightening three heads. Iowa State and VMI are the only two schools in the nation with three players putting up sixteen or more per game.
The last notable NCAA tournament team to have three sixteen plus point per game scorers on the same team was Duke in 2010 with Jon Scheyer, Kyle Singler and Nolan Smith. They won a national title.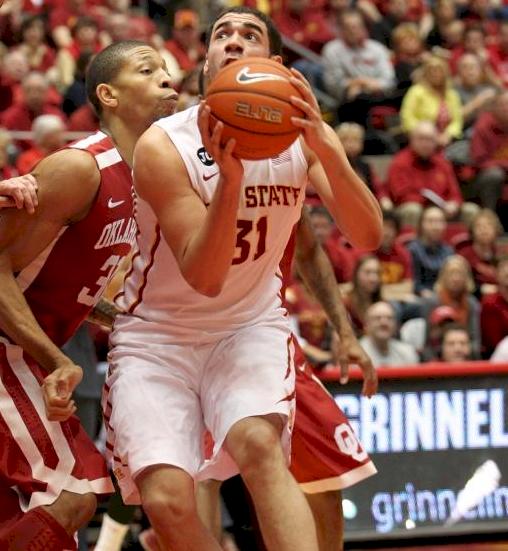 Protect the rock
When the lights get brighter and the pressure amplifies, there is a tendency to get reckless with the ball. The common chorus during post-season play is guards dominate. Teams need multiple ball handlers that don't lose their minds in the face of unthinkable tension.
The last five national champions all relished each possession. The best gauge of handling pressure is the amount of possessions that end in a turnover. Like any actual dance, drunken sloppiness equates to an early exit and a scornful look from those in attendance.
In 2013, Louisville had a solid ball-handler in Peyton Siva and his occasionally negligent back-court mate Russ Smith. They turned it over on 18 percent of their possessions and were a respectable 80th in that category. The Cardinals tightened things up in the tournament with only one double digit turnover game. The nation's leader in ball protection a year ago was Michigan at 14 percent turnover rate. The Wolverines had multiple guards with Trey Burke, Tim Hardaway, Jr., and Nik Stauskas. They of course finished as the nation's runner up.
Here are the other recent champs, guards and the teams turnover rate:
2012: Kentucky (Teague, Lamb, Kidd-Gilchrist)-17 percent-23rd in nation
2011: Connecticut (Walker, Lamb, Napier) – 17 percent-25th
2010: Duke (Smith, Scheyer,)-16 percent-16th
2009: North Carolina (Lawson, Ellington, Green)-16 percent -7th
Iowa State currently has a sterling turnover rate of just 14 percent. That is sixth best in the nation and trails only Tea-party conservative Wisconsin in the major conferences. With DeAndre Kane and Monte Morris, Iowa State has two of the more confident ball handlers in the nation. Morris played 52 minutes on Monday without a turnover; that is just stupid good. Matt Thomas has only turned the ball over four times since Thanksgiving. Iowa State can also turn to Georges Niang to alleviate pressure. Turnovers are killers in March and the Cyclones have a rock solid safe room.
Nasty streak
The most difficult of my top three title ingredients to measure is the nastiness level. There is no real way to calibrate toughness. But to put it plainly, every team needs one or two A-Holes.
When the nitty gets gritty, basketball teams need men that don't shirk the spotlight. Every game has a conflict that needs to be overcome. The Oklahoma State game had about fifty moments where a weak-minded team could have given up on the road. The final possession in the 2nd OT when Naz Long hit the biggest shot of the year is an obvious front-runner for "large-marbled" plays.
But I thought one forgotten stretch that best illustrated Iowa State's "A-hole-ness" occurred with five minutes left in regulation. After Le'Bryan Nash hit a jumper at the 5:30 mark, Iowa State trailed 69-64 and appeared to be on the verge of succumbing to another Stillwater defeat. Kane breezed down the floor for a layup, George Niang blocked a shot, Kane made a jumper, Dustin Hogue secured a steal and Matt Thomas drilled a 22 footer for the lead. The Cyclones rallied from down five to up two in a two minute stretch.
Being tough doesn't necessarily mean elbowing people in the head, it's about staying calm when the adverse happens. Iowa State is now 2-0 in overtime games and 6-1 in games decided by six points or less. There needs to be a belief that you are the best player on the floor. Iowa State has a high degree of irrational confidence. It is that brashness that finds ways to win and this Cyclone outfit is full of it.
This year, college basketball is as wide open as any year in recent memory. Through the first two months, 23 different teams have been ranked in the top 10 at some point. As we head down the six week back-stretch, confusion reigns. Yes, Syracuse, Arizona, Florida and Wichita State have put together impressive resumes, but none are locks for the Final Four.  
Weird stuff happens in the Big Dance and by no means should Cyclone Nation lock in hotel rooms in Dallas for the Final Four. Keeping Kansas on the other end of the bracket would certainly help the cause. But given one night on a neutral floor, Fred Hoiberg's club has the ingredients to compete with all comers. Buckle up, anything is possible.