AMES — After leading Iowa State to three bowl games in his first four seasons at the helm, momentum within Paul Rhoads' program stalled in 2013. The youthful and banged up Cyclones slid to a substandard 3-9 record with a handful of lopsided losses on the schedule as well.
After a 1-9 start and consistent lackluster performances on the offensive side of the football, you didn't need the football mind of John Gruden to have a decent idea that Rhoads would eventually make a staff change or two after the season finale, which happened to be a refreshing triple-overtime victory at West Virginia. 
Rhoads acted swiftly. After Iowa State's offense ranked a disappointing 91st in scoring, Rhoads relieved offensive coordinator Courtney Messingham and running backs coach Kenith Pope of their duties one day after the triumph in Morgantown. 
The two wins to end the year helped with fan morale but still, Rhoads needed to make a splash hire when it came to Iowa State's offensive leader. This was all about program momentum.
The soon-to-be sixth-year head coach could not have done any better.
The man is Mark Mangino, a former head coach that once led Kansas (yes, that Kansas), to an Orange Bowl (yes, that Orange Bowl). Mangino, who new running backs coach Louis Ayeni referred to as, "Man-genius," during Thursday's press conference, was the first coach ever to be recognized as both national coach-of-the-year and the nationally assistant coach-of-the-year. Mangino was also named the Frank Broyles Award winner in 2000 (at Oklahoma), which goes to the nation's top assistant coach.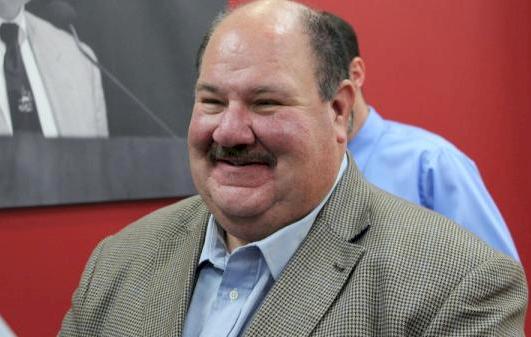 He inherited a Kansas program that had suffered from six straight losing seasons. Mangino led the Jayhawks to four bowl games (three of them were wins) in eight years. Kansas has yet to be relevant after he left.
That is one hell of a resume for a coordinator folks.
Let's all be honest about one thing: Iowa State isn't exactly a destination job for big name coordinators. There are very few realistic hires that Rhoads could have made that would have resulted in fans saying, "I am so jacked up for spring football!" 
Take it from a man who publishes Iowa State's largest fan site for a living. Over the last few days, I have seen this kind of reaction with my own two eyes. With two top-10 basketball teams rightfully grabbing headlines across the country, Iowa State fans (while enjoying hoops) are still anxious for spring football to begin in March. After a 3-9 campaign, that is saying something.
Cupboard is not empty
Mark Mangino did not have to take this job. It isn't like he was sitting beside his phone in Youngstown, Ohio just waiting for any job offer.
"We weren't in a particular hurry to leave there," Mangino said. "We haven't lived there for over two decades so it was kind of fun being there."
To the Mangino's, Youngstown is home. Few jobs would have lured Mangino away from his family and friends at this point in his life. Iowa State just happened to be one of them.
"I said way before that it had to be a place where football had a level of importance on the campus," Mangino said. "It had to be a place that cared about the academic interest of the players. It had to be a place where there were good people that cared about one another, that all pulled the line in the same direction and no sidebar agendas. It was a bonus that it was in the Big 12 because I am familiar with it."
And it is highly doubtful that Mangino would have left Youngstown for a place where he thought he was going to lose.
"I'm not coming in here as a rebuilding project on offense," Mangino said. "There are parts here. There are talented players here. This is more of a remodeling job maybe than a rebuilding."
Better coach, better man
In addition to being the assistant head coach (and tight ends coach) at Youngstown State last season, Mangino has managed to stay very busy since his departure from Kansas in 2009. He clearly had getting back in the game on the top of his mind.
"I spent a lot of time trying to make myself a better coach by visiting several other football programs at the collegiate level and some NFL teams," Mangino said. "Several I was invited to, which was nice. They gave me a lot of access to about everything. I got to be in meetings, the practice fields and sat down with the coaches at some places and their staffs."
Thankfully, Mangino's wife, Mary Jane, has also beaten breast cancer during this time.
"I say everything happens for a reason," Mangino said. "If I was putting in a 14, 15, 16 or 17 hour day during that time, I don't know if I would have done a good job or if that would have been in her best interest."
I too am an "everything happens for a reason" believer. Up until now, everything seems to have worked out for Mangino. Now, he is in Ames and hopes to "remodel" Iowa State's offense that for the most part has never been as productive as it needs to be for this program to win in the Big 12. 
"Everything happens for a reason."
Think about that saying for a moment. 
Mangino held out for the right job. Now, he is coming to Iowa State. What has been the biggest sports story at Iowa State for say, the last four years? 
Second chances. A slew of them. Talk to Fred Hoiberg about second chances and the basketball transfers that he has taken. Look at where his program is now. 
Who knows how this thing is going to play out. I sure don't. But it just feels right. I welcome Mark Mangino to Ames. He has yet to coach a game while wearing cardinal and gold, but on day one of his tenure, this certainly appears to be a home run hire.