It's like a bad commercial jingle (think FarmersOnly.com) that you just can't get out of your head. I'm speaking of Iowa State's road trip to Kansas in 2013, of course.
After a somewhat disappointing non-conference season, Fred Hoiberg's Cyclones made 14 3-pointers, hung in there on the glass and turned the ball over fewer times than the endowed Jayhawks. Some might even say that Iowa State out-played Kansas in that one.
But within Iowa State basketball history, Jan. 9, 2013 will forever go down as the "Ben McLemore Bank Shot Game," and no, he didn't call it.
"It still pains me," said a dejected Fred Hoiberg when reminiscing about the bank shot heard around the Big 12 on Monday afternoon. "When it went off of his hand, it looked like it was three-feet to the left. I usually can judge if that ball is going to go in. From my angle, it looked so far left and then it banked and went in."
In a split second, utter jubilation turned to calamity for Hoiberg, his players and all of you Fanatics watching at home. From there, overtime was simply a formality. The extra period had to be played but the future outcome was inevitable. The Cyclones were sucking on fumes and the legendary Phog Allen Fieldhouse was louder than a Justin Bieber concert. Kansas out-scored Iowa State 18-10 in overtime and now, those painful memories still irk Hoiberg's program. 
"It was a hard one to handle," Hoiberg said. "I'll say this: Our guys bounced back. We had a great win after that game against Texas, which was very important to come back and get a big win after such a heartbreaking loss. My message to the guys after that game was if we can play with that type of intensity and give ourselves a chance to win in that arena, we were going to have a pretty successful year."
Iowa State did just that. Of course, the Cyclones went on to the third round of the NCAA tournament, where a controversial call vs. Ohio State kept Iowa State out of the Sweet 16.
That's all fine and dandy, but the opposition doesn't get many opportunities to escape Lawrence, Kansas with wins. Rightfully so, for two years in a row, Iowa State has left Kansas feeling like it let a golden opportunity slip away. Keep in mind that the Jayhawks have only lost nine Big 12 home games since the league was formed in 1996-96. Iowa State actually has three of those victories (2000, 2001, 2005). But somehow, Iowa State has been "right there" in each of its past two trips to KU.
Regardless of which team you root for, tonight's game is an intriguing one, no doubt. Kansas defeated Iowa State 77-70 just over two weeks ago and it was as bizarre of a basketball contest as you will ever witness.
Iowa State shot 31 percent from the field. The Cyclones were 4-for-25 from 3-point range. That is very rare.
Iowa State forced 24 Jayhawk turnovers and only committed eight of their own. And the top 10 home team lost this game how again?
Kansas point guard Naadir Tharpe went 7-of-9 from the floor and lead all scorers with 23-points. Will he be able to replicate that performance this evening?
And last but not least, it isn't possible for Georges Niang to be as bad as he was on Jan. 13.
The point is that round one was a very peculiar meeting and because of that, do not expect tonight's game to look much like the Big Monday tussle that took place 16 days ago.
Quotable: Fred Hoiberg on Allen Fieldhouse
"It is fun for a lot of people. It is not fun for coaches. It is a cool place. It is a great atmosphere. Obviously they have a lot of history. I think the two loudest arenas if you ask anybody in the league would be Kansas and Iowa State. I think we have the two best atmospheres."
Countering KU's size
Sure, Iowa State had a poor shooting night in round one against Kansas but give the Jayhawks credit. Joel Embiid was in the heads of Iowa State's players. 
"When you look at their length, that was really the first time that we had seen that type of length and pressure and just the way that they get out on the floor," Hoiberg said. "I looked back at our game against Kentucky a couple of years ago in the NCAA tournament and I think we were 6-of-23 that year. That was a year where I think we were third in the nation in 3-point shooting."
Size does matter.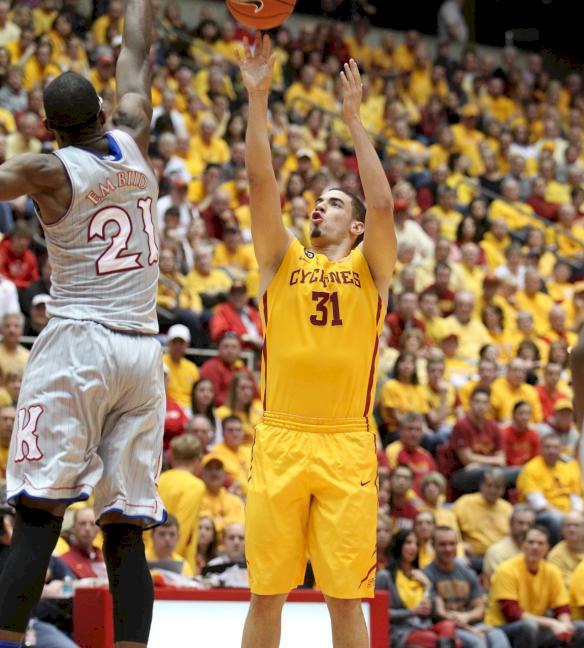 While it is true that Iowa State played a very out of character basketball game that night (Niang will never go 4-for-20 from the floor, ever again), Kansas deserves a tip of the cap for the defense that it played.
"That length affects you, not only in the paint but when they come out and contest, I think Georges had a three blocked Embiid in this last game," Hoiberg said. "That all affects you. The first time we saw it, it is a different look than what you see on most nights."
As a whole, Iowa State missed 48 shots while Kansas out-scored the Cyclones 23-to-10 in second chance points.
"There are a lot of things that we didn't do well in that game," Hoiberg said. "Rebounding was one of them. Getting back in transition on a couple of occasions. Wiggins is faster running forward than our guys are running backwards, I can tell you that. That's a big thing. If we get back in transition and rebound the basketball, I know I say that before every game, but especially against Kansas in their building, you have to get back, slow it down and keep them out of the paint. They thrive on dunks and alley-oops in that building."
The big key
This one is as simple as they come. Iowa State has to make shots. The Cyclones made 14 threes in an overtime loss at Kansas last year. Iowa State made 17 shots from long range in another overtime loss to the Jayhawks in Ames. Both games were close and very competitive. But what happened when Kansas rather handily defeated Iowa State (88-73) in last year's Big 12 Tournament semi-finals? Cyclones cooled off, hitting only 27 percent of their 3-pointers while going 26-for-64 from the field.
"One, you obviously have to make shots," Hoiberg said when discussing keys to a victory. "They are so good at protecting the rim and protecting the paint. They do as good of a job as anyone in the nation with their two-point field goal percentage. You have to try to free up your guys and hopefully they knock down the shots."
Tonight's game will tip at 8 o'clock and will be televised on ESPNU. CycloneFanatic.com will be in Lawrence for complete coverage of the game.
We will also be hosting a game watch this evening at the Keg Stand in West Des Moines.