"He was 357 pounds of best player available."
Quotes like those tend to get fans keyed up about an incoming recruit. As does comparing a junior college offensive lineman to one of the best that Iowa State has ever seen, Kelechi Osemele, currently of the Baltimore Ravens.
On Dec. 18, Paul Rhoads was visibly (and audibly) giddy when he spoke about Wendell Taiese, a 6-foot-5, 357-pound guard out of Laney Community College in California, who had just signed with the Cyclones. It was a hefty addition to Rhoads' offensive line, a group that couldn't stay healthy and as a result, struggled mightily in 2013.
"He (Rhoads) told me in person that I can fill Kelechi Osemele's shoes and be that type of player," Taiese said. "I want to come in with every intention for him to keep the idea that I am dominant and I have a good work ethic. I need to show him that."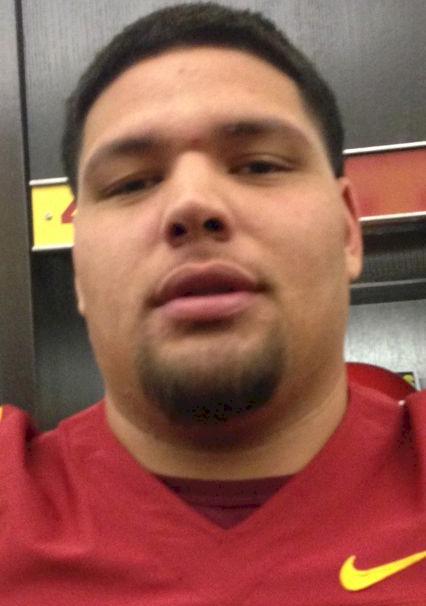 The plan is for Taiese, who says his actual playing weight is more like 330 pounds, to arrive on Iowa State's campus in time for spring football in March. Arriving early is vital for the Taiese if he wants to have an edge on his competition this fall camp.
Taiese's mission will be to beat out two Cyclones who racked up a healthy amount of playing time during Iowa State's 3-9 campaign of 2013. Jamison Lalk and Oni Omoile both saw reps and steadily improved as sophomores. Both men have something that Taiese does not — Big 12 experience.
"I am going to come in and compete like everybody else to earn that spot," Taiese said. "And I don't mind doing it but he wants me to come in and play for him, that strong guard position."
Signing a junior-college offensive lineman wasn't originally a top recruiting priority with this class, but things change. A career-ending injury to Shaban Dika stung. Add to that, Bob Graham went down with a season-ending injury during fall camp as well. Both men were supposed to be juniors in 2013.
Of course, that whole "best player available" scenario played into signing Taiese as well. Connections helped, too. Taiese originally signed with Washington State out of high school. At the time, Iowa State's wide receivers coach, Todd Sturdy, was the offensive coordinator for the Cougars.
The real question here though is if Taiese, who held additional offers from Kansas, Fresno State, Cincinnati and Texas State, is a projected starter or simply a depth guy going forward.
Based off of game tape, quotes and reading between the lines, there is a strong chance that if Taiese comes in and proves to be the player that Rhoads thinks he can be, he will be in the starting lineup when Iowa State hosts North Dakota State on Aug. 30.
In a joint venture with the Des Moines Register and CycloneFanatic.com, I will be providing weekly recruiting updates to be published in Friday's paper until signing day on Feb. 5.