For those who never had the opportunity to meet Iowa State defensive ends coach Curtis Bray, the outcry from his current and former players on Twitter should tell you all that you need to know. At the much-to-young age of 43, Bray passed away on Wednesday morning at the Iowa State football complex.
While I won't claim to have been Curtis Bray's best friend, I did get to know him fairly well over the last five years. Like the majority of the men on Paul Rhoads' staff, Bray always seemed to have a smile on his face. Even during a rough 2013 campaign, you wouldn't have been able to tell Iowa State's by the look on Bray's enthusiastic face. That is what I will remember about Coach Bray. He was a quiet and kind man who I have never once heard a negative word murmured about.
Coach Curtis Bray will be missed greatly. On behalf of everybody at CycloneFanatic.com, we offer up prayers towards Bray's wife and two kids, as well as everybody at the Iowa State football office.
Below is a compilation of tweets honoring Iowa State's fallen coach. 
@CycloneFB writes: We lost a great man today in Coach Bray. Our thoughts and prayers go out to his family. #Cyclones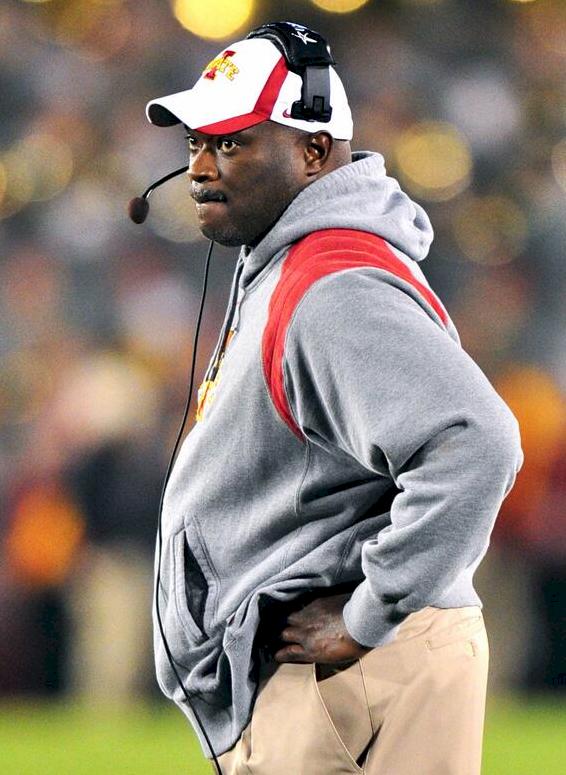 Former Iowa State LB Jake Knott, @JakeKnott20: This world was lucky to have Coach Bray. He treated EVERYONE the right way. He will be sorely missed. Lucky I was able to spend 4 yrs w/him.
Former Iowa State LB A.J. Klein, @AJKlein47: In shock that Coach Bray has passed away this morning. Great man and great coach. Will be missed.
Iowa State QB Sam Richardson, @SBRichardson12: Here we are worried about such petty things… Hard to see God's plan here but you've got to trust him.
ESPN Reporter Sam Ponder, @Sam_Ponder: So sad to hear Iowa State DL coach Curtis Bray passed away. Was always so kind and friendly to me. Prayers to the ISU family.
Iowa State DE Cory Morrissey, @CJMO48: No one knows why God does what he does , but we have to trust him
Iowa State 2014 WR commitment Allen Lazard: RIP Coach Bray. Didn't get to know him too well but always had a smile when I saw him. Thoughts and prayers to his family. #cyclONEfamily
Iowa State women's basketball assistant coach Billy Fennelly, @BillyFennelly: What a sad loss for the Cyclone Family today. Coach Bray always went out of his way to ask how our team was doing. Prayers to his family!
Former Iowa State RB Jeff Woody, @JWoody32: It's all been said, but it needs to be said again. A stand-up guy and a great coach was taken too early today. Rest in peace, Coach Bray.