The late Curtis Bray indisputably made a positive impact on hundreds of players who he has coached over the span of his five-year career in Ames. That was obvious on social media Wednesday when news spread that the 43-year old Iowa State defensive ends coach had tragically passed away and the entire Cyclone Nation shared stories about how great of a man that Bray was.
While there are dozens of positive stories that can be told about his career as a coach, current Iowa State defensive end Cory Morrissey is especially thankful for Bray's life and the impact that his position coach made on him. 
Morrissey, a class of 2010 Gilbert High School graduate, is a heartwarming example of a true underdog success story. Out of high school, Morrissey was told that he was too small to play football at the Division I level. Morrissey refused to give up. After graduation, Morrissey kept chasing his lifelong dream to eventually wear the Cardinal and Gold. Instead of playing ball at the Division II or FCS level, Morrissey went the junior-college route and ended up at a quality program, Iowa Western Community College in Council Bluffs.
Just look at him now.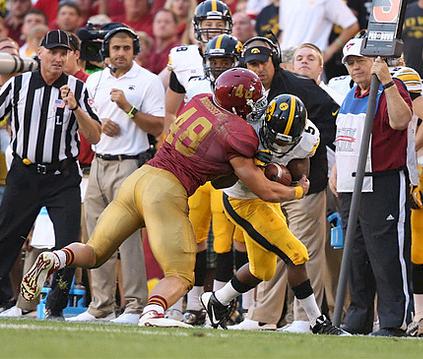 Morrissey, a young man who is well known by many as the hardest worker on Iowa State's roster, is not only a Cyclone but also an All-Big 12 (Honorable Mention) defensive end. Morrissey didn't accomplish this goal alone though, and he knows it. This is how a bond grows. 
"You are with a position coach every day of your life," Morrissey said. "You are with them watching film. At camp, we spend 24 hours with our coach. Spring ball, we watch film outside of practice. Then we come in and we are always with them. You start to build a stronger bond with him then say maybe your head coach or another person or coach in the program."
The position coach/player relationship isn't just about football either.
"Other things come up in life and he talked with us about different situations and thinks that were happening with guys on the team," Morrissey. "He would coach you through, and be a life coach. He was a role model. You looked up to him."
Bray came off as a quiet and kind man. In covering him for five years, I never once heard him murmur a peep that could have been taken to be remotely negative about one of his players. It was that group of players that really got to know the real Curtis Bray.
"He was a comedian. He was really funny," Morrissey said. "He made heavy situations more fun and relaxed."
Bray was the definition of a "player's coach."
"When Coach Rhoads was making practice really hard, during his assigned period, he would take it easy on us," Morrissey joked. "He said he was looking out for us. We appreciated that." 
And the nicknames, oh the nicknames. Bray dished out a lot of them during his five years in Ames.  
"Mitchell Meyers was, "Meyers Island" because he was always dozing off," Morrissey said. "Rony Nelson was, "3DR," because he was third-down Rony. He was always picking on someone but in a funny way. He always brought comedy during some dry stuff." 
In December, Morrissey was given the Arthur Floyd Scott Outstanding Defensive Lineman Award. The man who presented that award was none other than an emotional and proud position coach named Curtis Bray. 
"He got up and gave a little speech about me when I got my award at the banquet," Morrissey. "He said a lot of positive things about me and that means a lot to me now."