If you have watched any Iowa State basketball this season, you have probably noticed an awful lot of chatter on the floor. This isn't a neighborly type of chatter either. These discussions generally involve a lot of shouting and dirty looks. In fact if you didn't know any better, you'd think that these Cyclones all hated each other. 
Naz Long learned the hard way late in the second half of Iowa State's 91-82 overtime victory over UNI.
"If you guys remember, at the end of the game in a clutch situation, a guy drove right by me," Long explained. "That is something that (DeAndre) Kane let me know about, Georges (Niang) let me know about and Melvin (Ejim) let me know about. As far as communication goes among all of us, we are able to let each other know that it can't happen." 
And if shenanigans like that do occur, indeed, you are going to hear about it.
"People don't listen to how the other guy is saying it, they listen to the message," Georges Niang said. "If I yell at someone, they don't take it as, 'He's yelling at me.' It's more like, 'I understand how serious you are and let's get after it.' There's nothing that anybody has said something to me and I go home and start to cry about it."
Defensively, Iowa State is clearly a much better team than it was a year ago at this time and the Cyclones are crediting this kind of accountability and communication as the source of it.
"We are more bought in," Niang said. "I think just in practice, being pushed and motivated."
That DeAndre Kane guy has played a major role as well. 
"DeAndre has told me on occasion that if you let someone score on you, you should take that personally," Niang said. "They believe you aren't good enough to guard them. We just take it personal when we go into games and hold each other accountable." 
So on Friday evening when the Cyclones host the University of Iowa, if you see a scowl or two out of a guy wearing an Iowa State uniform, don't worry about it. These Cyclones love each other. You know how brothers tend to pick on each other? That is this basketball team. It's all good.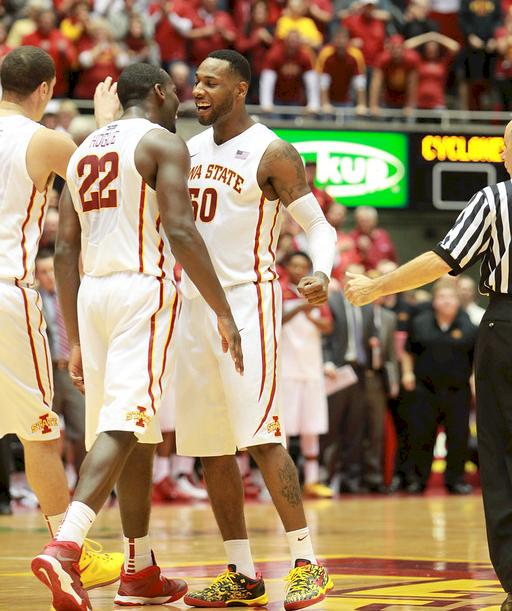 A friendly rivalry
These two have been jawing at each other since Media Day. Dustin Hogue and Melvin Ejim both want to lead Iowa State in rebounding and neither man is shy when talking about it.
"They definitely let it be known that both of them want to have the most rebounds at the end of the game," Naz Long said of his two teammates. "They aren't afraid to show it and they aren't afraid to let everybody in the whole gym know it."
As a result, Hogue is currently averaging a team high 10.4 rebounds per game, a number that currently ranks him first in the Big 12. 
"It is weird because at halftime, I haven't heard Dustin talk about points one time," Long said. "He always talks about, 'Man it says I have six rebounds. I swear I have seven.' Melvin and him go back and forth about the rebounds. Shoot, we love it because they just go out and compete for that."
Fred Hoiberg credits this type of competitive mentality in being a big reason for the team's 7-0 start.
"I think one of the reasons we have had success is because of how competitive our practices have been," Hoiberg said. "Even the guys on the scout team have been awesome at getting the guys prepared to play."
Iowa State's point guard, DeAndre Kane, is currently averaging 8.0 rebounds per game. That's second on the team behind Hogue. Ejim led the Big 12 in rebounding last season and is currently third on the team and 7.8 boards per game. 
"I would throw DeAndre in the mix as well as a guy who is going out and getting rebounds," Hoiberg said. "Those guys give us an opportunity to compete against longer teams and play smaller, which makes us tough to defend on the other end."
Iowa prep
Fred Hoiberg on what the Cyclones are doing to prepare for Friday's game with Iowa…
"If we get opportunities to get out and run, we are going to try and take them. They mix up their defenses exceptionally well. That is the thing that we need to recognize – what defense they are in and try to attack it and exploit it. That is going to be a big part of our practice here these next four days in preparing for Iowa is to recognize those defenses and try to attack."