I think I speak for the majority of the thousands of people who attended yesterday's 77-70 Iowa State victory over Michigan when I write that Johnny Orr escorting Fred Hoiberg onto the Hilton Coliseum floor was one of the coolest moments I have ever witnessed at a sporting event.   
On press row, we are supposed to be "professionals." Smiling is generally frowned upon. If you show any sort of emotion, you are chastised by your peers (I fully admit to exaggerating now). Basically, we are trained and expected to act like robots down there (or in my case, up there as I am in the hack-blogger section away from the real journalists). However, I am not too proud to admit that I got a little bit choked up at the sight of Orr's fist pump. 
"That was really a special moment," Fred Hoiberg said after the game. "I got a little choked up walking out there with him. I saw him back in the locker room before the game and I can't tell you exactly what he said, a couple of the words, but he said, 'I am 86-years old and I got dressed up for you.'"
That is some funny stuff right there, which is one of the reasons why I am so fascinated by Johnny Orr, the man. I never covered any of his teams. I have only met him once and by all means, I do not "know" him. But I work with, for, and talk to Iowa State fans every single day of my life. That is my life. Never, ever, have I once heard a single person murmur one negative comment about Johnny Orr.
That is how you know you have lived a rewarding life.
I feel like the tail end of my generation and those younger than me really missed out on a special era of Iowa State athletics – the Orr era. While it certainly didn't fully replicate what those years were like, the entire scenario that was Iowa State – Michigan with Orr playing such a prominent role in pregame festivities – that was a nice taste of the good ole days for those of us who weren't around to enjoy them.
Much love for Dickie V 
To open up ESPN 2's broadcast of yesterday's game, legendary broadcaster Dick Vitale was asked about his first trip EVER to Hilton Coliseum. 
"They are treating my like royalty baby," Dickie V yelled.
Some don't care for Vitale's antics but I eat them up for a couple of reasons.
First and foremost, I have a soft spot in my heart for elderly people. I just love everything about them. They tell the coolest stories and have more perspective on life than five 25-year olds combined (20 bucks says that my late Grandma Jean was cooler than your grandma). 
Most importantly though, I appreciate the enthusiasm that Vitale brings to his life each and every day.
I lightly noted this in my intro, but working in the media isn't all about watching and writing about sports for a living. It isn't like that at all actually. The majority of us get into this business because of a love for sports and journalism. But often times, it doesn't take long for the awful hours, crappy pay and other factors to suck the enjoyment right out of what is a job that each one of us are so blessed to do for a living. I see it all of the time. This business can chew you up and spit you out.
But at the age of 74, Vitale is passionate about everything that he does and frankly, happy. I have a hard time putting into words how much I appreciate that. If Dickie V is calling a game, chances are I will watch. 
The older I get, the more I am thankful for guys like Vitale (seen below shaking the hand of Melvin Ejim – photo by Reese Strickland).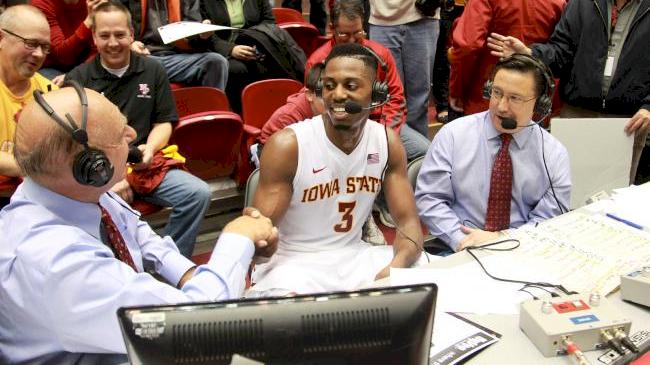 I would throw Fox Sports play-by-play man Gus Johnson into this conversation. Is Johnson too over-the-top with his animated style of calling a game or is Johnson simply insanely passionate about his craft?   
When Jay Mohr landed his daily talk show on Fox Sports Radio a few months back, I thought that I would hate it.
"Mohr is a comedian, not a broadcaster. This will be a disaster," I thought. 
I gave it a shot though and as is normally the case, I was wrong. Mohr's carefree, fun program makes me think and smile every single day. That is a man who doesn't take himself too seriously and he is successful because of it.
Locally, I'd throw the Des Moines Register's Randy Peterson in the mix. I often times give him crap for being a grumpy old man (which he is, wink, wink), but I challenge anybody to find someone more passionate about his/her career than the longtime newspaper veteran. In Peterson's mind, he hasn't worked a day in his life. From the Pony Express (I'm kidding) to typewriters to i'Phones, Peterson has seen more change in this business than a guy my age can even comprehend. He has stood the test of time and to this day is still the very best that our market has to offer. 
Sports are supposed to be fun. Annually, Dick Vitale makes college basketball more fun than it already is. 
Vitale is more of an icon than analyst but at the end of the day, I have no problems with that at all. I spoke to a few people at Iowa State who worked closely with the man over the weekend and every one of them told me how great of a guy Vitale was to be around. 
When he arrived to Hilton on Sunday, Vitale had one request. He wanted every member of the media to take a look at his pamphlet for an event that he is throwing to raise money for the V-Foundation. That was it.
Haters are always going to hate, but I'm going to keep patting Dickie V on the back. He is a good guy who is great for college basketball and I am damn happy that he finally made a trip to Hilton Coliseum.
Iowa State picking up the win was the cherry on top, but the Orr/Vitale combination made Sunday a very special day.