Talk to any member of the Iowa State football roster or coaching staff and mention the name Levi Peters. Chances are, a grin as wide as Texas will instinctively come across that individual's face. 
Peters, a 5-foot-10, 213-pound walk-on freshman linebacker, is without question the most interesting man on Paul Rhoads' football team. His fanatical haircuts, aggression on the gridiron and overall zest for life seem to touch every person who comes into contact with him.
Over the last two months, Peters has also become a fan favorite, which is appropriate for the most popular man in Iowa State's locker room.
"He is easily the most liked guy on the team," senior linebacker and team captain Jeremiah George said. "When I look at him, he makes me want to play football physically and with a lot of fun."
Peters, a former high school state wrestling champion, hails from Gilmore City, a small town whose population was 504 at the 2010 census. Peters actually played quarterback for nearby Fort Dodge during his senior season.
Peters has primarily played special teams for Iowa State during his redshirt freshman campaign but he has done more than enough to leave his mark. Peters' coming out part was on the road on Oct. 12 at Texas Tech when the Fox Sports 1 cameras caught him obliterating a Red Raider during kick coverage.
With Luke Knott on the shelf due to injury and the game being well out of reach, Peters came in for the final series at Kansas State on Nov. 2. That's when he proceeded to suplex every Wildcat within his reach.
"Crazy man," defensive coordinator Wally Burnham said to describe Peters. "What do you call those wrestlers who get in the ring and kick?"
That's an MMA fighter coach.
"Yeah. He is that guy," Burnham said. "He would make a great guy in that sport."
Peters' budding future in the ultimate fighting world is a running joke (kind of as the guys seem to be half serious when talking about it) within Iowa State's locker room.
"Levi Peters vs. Jacob Lattimer in a UFC match would be the greatest fight in the history of the world because neither one of those guys would give up," senior running back and team captain Jeff Woody said.
Peters' latest claim to fame came during last Saturday's 34-0 Iowa State victory over Kansas. That is when he was caught on camera with an American flagged shaved into his head.
"I like America. I'm a big supporter," Peters said. "I thought, 'I might as well do it for the last home game.'"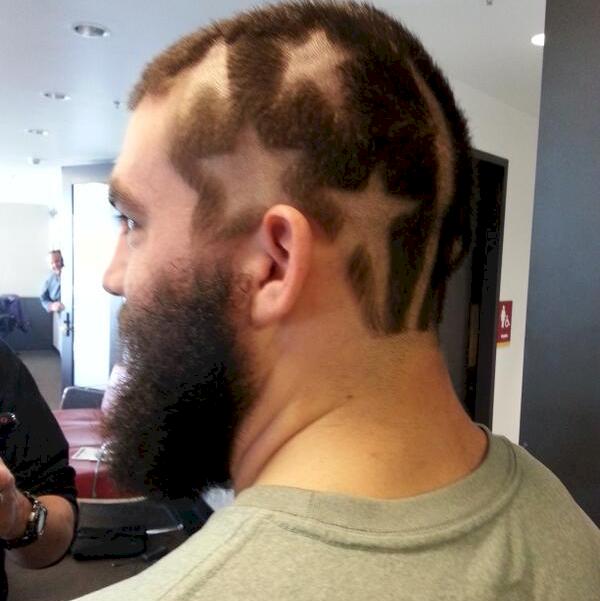 The untamed haircuts are nothing new for the former standout high school catcher. Peters is Iowa State's Dennis Rodman. Week in, week out, it is impossible to know what that "crazy man's" head is going to look like. 
"In camp there were a bunch of guys getting haircuts for picture day or whatever. They were looking all good," Peters said. "I took one of the shavers out of their hand and just started taking it to my hair and just walked away. I had that haircut for a few days."
There was also a time this season when Peters and Woody decided to honor the Iowa State football program's janitor, who goes by the name of Carl. 
"Me and Woody did a Carl Appreciation Day," Peters said. "He has got the bald up here so I shaved all of this so it looked like I was bald. I kept that for a little bit."
Below photos were taken from Peters' Twitter feed.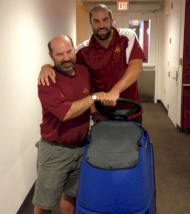 And last but certainly not least…
"For camp I shaved sunglasses and a mustache in the back of my head so it looked like I had a face in the back of my head," Peters said. "I did the zig-zags earlier this year."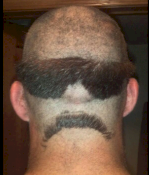 In addition to the hair, Peters hasn't shaved his bushy beard since mid-July.
"I can't decide if I want to keep it for the winter to keep my face warm or shave it," Peters said. 
On behalf of the Cyclone Nation, keep it Levi. It's awesome. 
Quotable: Paul Rhoads on Levi Peters
"He is a complete enjoyment to coach. He's got the right mentality when it comes to the sport of football and when it comes to special teams in particular. That's a very challenging and valuable role for our football program. He has embraced it and at the same time works to become a better WILL linebacker in our system. You see the toughness. You see the hustle. You see the discipline. You see the inspiration that he provides for others."
World's best teammate could earn a scholarship
Peters' fun-loving approach to the game is refreshing but so is the way that he approaches every day life. No. 35 always has a smile on his face and during what has been a tough season for everyone within the program, his positive vibes have most definitely rubbed off on his teammates when they needed it the most.
"Levi Peters is the most likable guy I have ever met in my life," Woody said. "He will never say anything negative about anybody else. He is always smiling. He is a guy who everyone can root for."
Peters is much more than just a guy with a wild haircut and an awesome attitude. He can play football too and likely has a future at linebacker within the Iowa State football program. He stood out on special teams this season but due to Knott going down with an injury midway through the season, Peters slid into the No. 2 WILL linebacker spot and has seen more reps during practice because of it.
"He has gotten a lot better," Burnham said. "I think through spring practice and in the fall next year he could possibly work himself in there."
Linebacker is an overall weak position within the Iowa State football program when it comes to depth. When you combine that fact with the progress that Peters has made over the last two months, do not be surprised if he is right there this spring with high hopes to receive more playing time in 2014.