AMES — That went down exactly like it was supposed to.
In front of Dick Vitale, a top 10 recruit, the legendary Johnny Orr and 15,000 of the nuttiest basketball fans in America, Fred Hoiberg's Iowa State basketball team did not disappoint anybody – other than a few folks in Ann Arbor, of course. 
Melvin Ejim turned in one of the gutsiest performances that Hilton Coliseum has ever seen as the Cyclones secured the biggest November win in program history via a 77-70 final over the 7th-ranked Michigan Wolverines.
That game and specifically, that 22-point, nine-rebound warrior-like performance by Ejim, is one that you will tell your grandchildren about down the road. That's because only two days ago, neither Ejim nor Hoiberg knew if the senior would play. He hyper-extended his knee almost three weeks ago and wasn't supposed to be back until December.
December huh? 
"I can't say enough about him," Hoiberg said. "I told him in my office yesterday, 'If you do get the green light,' I said, 'I am gradually going to ease you back into this thing.' I think I took him our for two minutes in the second half."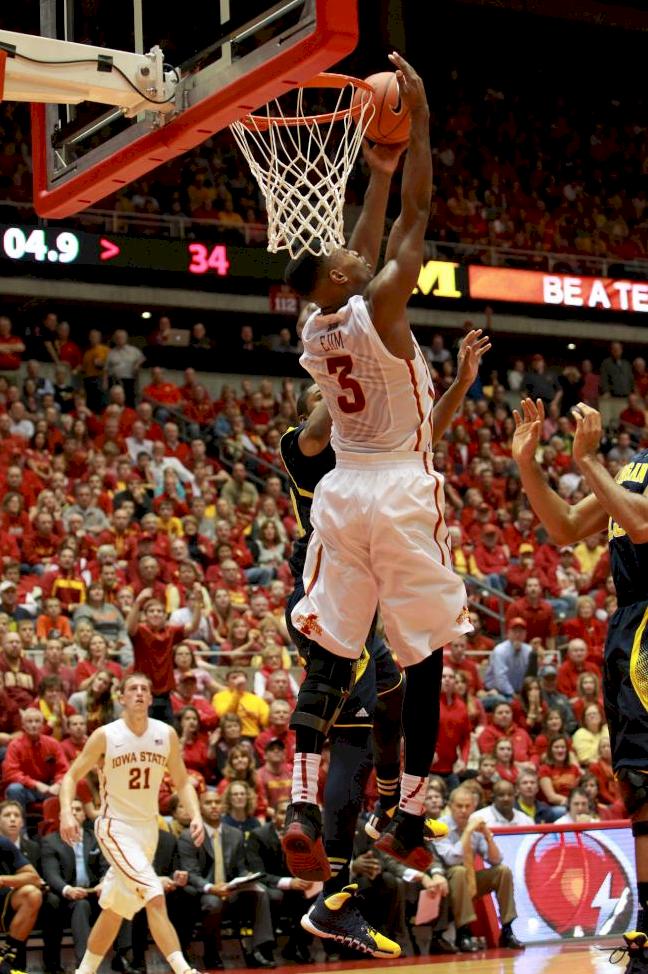 Ejim did not start the game, but checked into the contest with 16:17 to play in the first half (ironically at the exact same time that Michigan's Mitch McGary made his season-debut). He played 28 minutes total. 
"I couldn't even put into words what it means to have him back here," Georges Niang said. "He brings 100 percent all of the time. His first game back he didn't have to knock off any rust. He was good to go right from the back."
And what if Hoiberg or head trainer Vic Miller would have tried to keep Ejim from playing in that intense atmosphere?
"It would have been crazy," Ejim said. "I probably would have went and changed at halftime."
Cyclones overcome adversity
This is why the 2013/14 Cyclones might be better than most might have thought back in October. Time and time again on Sunday against a very good team, Iowa State found ways to overcame adversity.
After leading by one at halftime, Iowa State trailed the Wolverines 53-45 with 12:47 to play. Georges Niang had gone to the bench with four fouls and momentum had clearly swung in the direction of John Beilein's team.
Hoiberg called a time out and his group responded via a big dunk from Dustin Hogue. That was just the start of a 7-2 Cyclone run. 
"They stayed together and that's something you stress when you play a great team like Michigan," Hoiberg said. "They will go on a run. I told them the last two days; 'I can promise you fellas that we will hit adversity in this game on Sunday afternoon.' That is exactly what happened."
This is why you play a team or two like Michigan in the non-conference – moments like these. The Cyclones learned something about themselves on Sunday and because of the result, confidence is at an all-time high. 
"They can go off and feel sorry for themselves and go back out with their heads down or they can regroup, pull back together and find a way to get back in it," Hoiberg said. "I'm glad that's what they decided to do." 
Niang, who visibly struggled at just about everything for the first 36 minutes of the game, checked back in with four fouls with just under four minutes to play. He then scored six Iowa State points in a row and with under a minute to play, the game was never in doubt. 
"I was getting frustrated out there," Niang said. "Coaches always preach throughout the year to not let yourself get out of the game. I was focused and ready to go for whenever he needed me. I had a mismatch at the end of the game any my teammates found me. DeAndre Kane made a nice pass and I had a layup." 
Naing ended with 10 points and six rebounds in only 23 minutes of action.
JOTTINGS
*** Senior DeAndre Kane went down with what appeared to be a knee injury late in the second half. After the game however, Hoiberg confirmed that Kane was suffering from cramps. 
Kane had 13 points, six assists and five rebounds in 32 minutes of play.
"He is so strong on the block," Hoiberg said. "He is a natural when he plays the point – a mismatch. We had so many opportunities to get him down there on the block and he can really drive it. He is shooting the ball well right now. If you can shoot it and get the defense out on him, that is going to make him an extremely difficult guard."
***Dustin Hogue notched his first career double-double. Hogue, who attended Indian Hills Community College last season, had 12 points and 10 rebounds in the win.
***Naz Long went 4-for-6 from 3-point range in the win. Long is now 13-for-20 from long range this season.
*** Only seven Cyclones saw the court for Iowa State on Sunday. 
*** Iowa State is now 5-5 all-time vs. Michigan. The win matches the highest-ranked nonconference opponent that Iowa State has ever beaten at Hilton Coliseum. Iowa State defeated No. 7 Iowa in 1987.