Earlier this week, I asked you all for some mailbag questions. You guys responded and gave me enough material to write a book. No fancy intro today. Let's dig right in with this off-week mailbag and tackle a semi-ridiculous question (that he acknowledges) from Clonefan32.
Clonefan32 writes: (Disclaimer: not saying this should happen any time soon) What do you think would have to happen for CPR to be on the proverbial "hot seat"?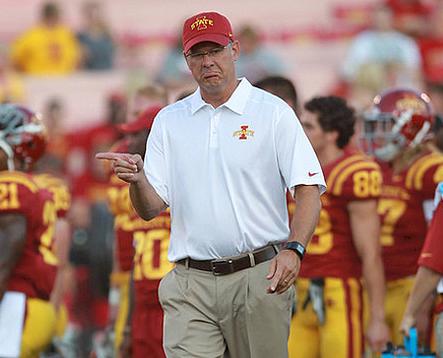 CW: First of all, thank you for the disclaimer. That saved me from having to go off on an annoying and semi-aggressive tangent right here. Your question is fair but even so, it's not worth answering (because I'm a glass half-full guy who doesn't see the point in always thinking worst-case scenario about situations in life). 
Folks – I get that you are down right now. You are fans. No, you are Fanatics. You are emotionally invested in your team and being 0-2 with losses to your two in-state rivals sucks. I totally get it. My blasted Minnesota Vikings are the same way. 
But going off on the deep end and calling for every job within the program doesn't do anybody any good in the middle of September. It's just too early for that. 
Let's stick to Rhoads though. Before any of you start questioning if "he is the guy," think back to how grand things were five years ago.
Yeah, about that… 
Paul Rhoads has given every Iowa State fan on this planet something that if you're being realistic, you've never really had in the modern day. Hope. 
Dan McCarney had some quality years, but even so, you could just about take every other Saturday "off" during the conference season because you knew that the Cyclones had no chance.
The Chizik years…If I wrote a tell-all book about those, would you buy it? 
What has Rhoads done in four years? He's gone 6-6 three times. That alone isn't flashy but if you're rolling your eyes at his accomplishments, you clearly do not understand the history of Iowa State football. 
To me, Rhoads' biggest accomplishment is the atmosphere that we've all come to love on game day at Jack Trice Stadium. Season ticket records. Some awesome new facilities. Most importantly though, you know that every time you go to a game in Ames, there is a chance that a night like Oklahoma State (2011) could ensue.
Rome wasn't built in the day. Neither is a championship football program when you're damn near starting from scratch. For example, Bill Snyder took all sort of shortcuts and never fully turned the corner until year five at Kansas State.  
Paul Rhoads isn't going anywhere and for that, you all should be thankful. 
CYCLNST8 writes: Give us a breakdown/update of beatable teams left on the football schedule.
CW: To me, Baylor seems like the least likely victory from here on out on Iowa State's schedule. I just don't see any way that Iowa State's offense can keep up with that crew, regardless of how well the defense plays (or how bad Baylor's defense turns out to be). 
Tulsa is winnable. In fact, I like Iowa State by 10-14 points in that one (Tulsa is bad).
You all are aware of the debacle that is Texas football right now right, correct?
Texas Tech is probably the most underrated team in the league, but they still have quite a bit to prove in my opinion. Let's see how that walk-on freshman quarterback holds up in the heart of a Big 12 season. He won, but struggled mightily at home last week against TCU.
Oklahoma State at home will be tough. Very tough. But we've read that book before. Who knows?
I still think that Iowa State has a legitimate shot to win in Manhattan this year (could Rhoads be any more due to knock somebody off than Bill Snyder?). 
I'm not sure how Iowa State's offense will score against TCU on Nov. 9. But still, it isn't like Gary Patterson's offense has been lighting the world on fire so far this season. 
At Oklahoma, well, history says that Iowa State has no chance in this one. But are you really sold on Blake Bell as a legitimate Big 12 quarterback yet? I'm not. This is by all means a likely loss though. 
Kansas as home is a game that Iowa State should win.
At West Virginia to wrap up the season is very winnable.
For the record, obviously I do not think that Iowa State will win all of those games. But in case you haven't noticed, the Big 12 is a pretty "blah" league this year. Iowa State probably won't be favored in any of these games (other than Kansas), but Vegas isn't always correct. I think that at the very least, these Cyclones will keep your attention and pull off an unexpected win or two in 2013.
Yes, I still believe that.
CycloneErik writes:Will we be on TV again after the Texas game? I forget how the guarantees and scheduling work. It's half curious and half defeatist.
CW: No fears Erik. I believe with the way the new Big 12 television package is set up, no matter how bad your team is, they will still always be on TV. Even Iowa State vs. Kansas.
Jambalaya writes:When teams like Iowa play a straight up, base defense, why are we reluctant to throw it vertically, down field?
CW: Against Iowa, the staff didn't feel like ISU's offensive line could protect the quarterback long enough to do this effectively. That's what Rhoads had to say about it at least. And that probably was the case. But that first offensive possession was a total buzz-kill. You've got the crowd behind you. You're at home. Iowa's weak spot is its secondary. Why not take at least one shot?
Boone7247 writes: Is Jeff Woody hurt? Thought we would see him in an H-Back roll of some sort this year. Or can he not block?
CW: He isn't hurt. Honestly, I have no clue where he's been. They talked a lot about playing him in that role during spring ball but we've yet to see anything close to it this fall. Having said that, the Cyclones were depleted by injuries at tight end in the spring. My assumption is that playing Jeff there was simply filling a hole for the time being, but what do I know?
Mustangcy writes: What roll do you think the conference realignment issues we faced in 2010 and 2011 play in our current struggles? Recruiting had to have been seriously harmed both those classes.
CW: I'm sure that it didn't help Iowa State's recruiting efforts. How badly it hurt them, who knows? Did you have a chance to read Monday Musings earlier this week? I outlined the 2010 and 2011 recruiting classes and pointed out "misses," which are important to think about when evaluating who is playing and why in 2013. Check that out and it should answer some of your questions. 
But regarding realignment, you're onto something. Across the board, sport-to-sport, I know how hard things got for all of the coaches at Iowa State. It's not making an excuse, just pointing out a fact that most "big-time" players want to know that they are going to play in a "big-time" conference. At that point, any Iowa State coach making that sort of a promise would have been a lie due to the extreme amount of uncertainty in the landscape of college athletics. 
CyZinger writes: How good (bad) is Christian Ponder?
CW:
Isufan writes: Pretend that Iowa State scores another TD in the last few minutes against Iowa and ISU wins 28-27.
1. Is the board still in full meltdown mode?
2. Are the Hawks in meltdown mode?
3. Would it have been the greatest comeback in ISU football history?
CW: 
1 – No.
2 – Absolutely. 
3 – Yeah, I'd say so. 
ISUCubswin writes: After two weeks, who are your Super Bowl teams this year?
CW: Seahawks and the Broncos, but something tells me that the Colts are a darkhorse in the AFC. 
CyberJJJ writes: Does the injury card explain our inability to run the football? I had heard great things about this offensive line, but haven't really seen tangible proof yet.
CW: Injuries on the offensive line have made it a heck of a lot harder for Iowa State to run the football. The only reason? No. The scheme has been an issue as well. I do know this – it isn't the running backs. I still believe in their talent but by golly, they have to have a little room every now and then. 
Did the coaches tell West not to return the last punt to give the O a chance, or was that his call?
CW: I am pretty sure he was told to fair catch that but I am not positive. That's what it looked like to me at least. 
Daserop writes: What are you thoughts on the mens basketball non-conference schedule this year?
CW: It's a rough one. Michigan…at BYU…Iowa…UNI…Who knows what to expect out of that trip to Hawaii? It's brutal and frankly, I'd much rather see this team gain confidence with cupcakes than the Michigan and BYU games. I'm all for a challenging non-con but Iowa State has such a young backcourt, I see the Cyclones struggling early on. Having said that, those struggles should make them better come March so that's a positive.
Can we get a Adam Gray and Brett Blum podcast?
CW: First of all, it's "Brent" Blum. For the life of me, I cannot figure out why that is so hard for people to understand (this happens all of the time). 
I'd love for those two to do a podcast together but all of the equipment is in my home office. My apologies. You're going to have to settle for me hosting. 
CycloneNorth writes: How do you see the last two episodes of Breaking Bad playing out?
CW: I've never seen the show but have heard through unnamed sources that it is phenomenal. Worth getting the seasons on DVD?
Liljones13 writes: With the news that Josh Cunningham has decided to take a visit to the good guys, how does that affect our status with Vaughn?
CW: You are in luck. I wrote about this yesterday. CLICK HERE to check it out. 
Have a great weekend everybody!