Happy Wednesday Cyclone Nation!
You know it's been literally months since I've written a mailbag column? I know…I know. That's crazy talk. Not that any of you care but right here, right now, I'm making a vow to the two or three of you who actually enjoy reading this thing. I'm going to try to do better and pump more of these out in 2013 and beyond. 
Deal?
Deal. 
Let's start this bad boy off with a question on the minds of many, from IHavNoCyCash.
IHavNoCyCash writes: What are some of the bowl scenarios relative to Iowa State? Any surprises on Sunday?
CW: We should have all learned in 2009 that yes, surprises are very, very possible. Here's what I'm thinking right now regarding Iowa State's bowl situation…
Obviously, you need to keep an eye on Kansas State and Oklahoma. For Iowa State to be guaranteed a spot in the Big 12's bowl pecking order, both of these schools need to win on Saturday. That would likely put both in the BCS. There's what whole Kent State scenario to watch out for too but we'll stay focused on the Big 12 for now. 
Assuming that the Big 12 gets two teams in the BCS (which I've outlined HERE by the way), I (like many) like Iowa State ending up in the Heart of Dallas Bowl. But let's say that somehow, Kansas State or Oklahoma get snubbed. Then what?
There's still a decent chance that Iowa State ends up in Dallas. Why? Because there's a good chance that Dallas would select Iowa State over say, Baylor, whose fans aren't likely to pack the city, fill hotel rooms, go to restaurants, etc. That's far from a sure thing though. Just a theory on my behalf. 
Now let's say that Iowa State gets left out of the Big 12's allotment of games (this might not be a horrible thing by the way). I've heard the following bowls mentioned regarding the Cyclones: Liberty, Independence and Music City. 
In conversations I had last night, the Independence Bowl seemed like more of a long shot and the Liberty seemed to be picking up steam. 
Nobody knows though. Sit back and enjoy the ride. 
iacyguy writes: What team would you like to see Iowa State play in its bowl game?
CW: You know when you're 6-6, you pretty much take what you can get. I will say that I'd like to see Iowa State matched up with another BCS program though. The Cyclones got Rutgers last year but I don't really consider the Big East high-major football. Now there's no doubt that Rutgers was a formidable football team but it's not a sexy opponent at all. Neither was Minnesota in 2009 but at least the Gophers were a Big Ten team that borders the state of Iowa. That spiced things up a bit. 
I'd love to see Iowa State end up in say, Nashville, taking on Vanderbilt or something like that. It's different. It's a winnable game against an SEC opponent. That'd be pretty cool. 
At the end of the day, it makes no difference to me. Just win the thing. I never believed in this before a few years ago but I saw first hand last year the difference in program momentum after a bowl win compared to a bowl loss – maybe not inside the doors of the Jake but here on Cyclone Fanatic's forums. The morale of the fan base was much higher during the offseason after a bowl win compared to last summer's never-ending quarterback controversy. Just win baby. Just win. 
cycloneworld writes: Are we going to have to deal with the Kirk Ferentz-like "who is going to hire Paul Rhoads this year?" every year going forward?
CW: Probably, but that's a good thing. Nobody wants to hire your coach if you suck. 
Wait for it…Wait for it…….
Wesley writes: Who do you think will be the starting quarterback next year?
CW: Based off of how this regular season ended, I think you have to give the edge to Sam Richardson don't you? I mean, the kid's touchdown to interception ratio during the first two games of his career was 7-to-0. 
Having said that, I am a believer in the theory that California kid Grant Rohach is for real (he's redshirting this year). He'd have to be REALLY good to beat out Richardson (given the way he's ended this year) but who is to say that can't and won't happen?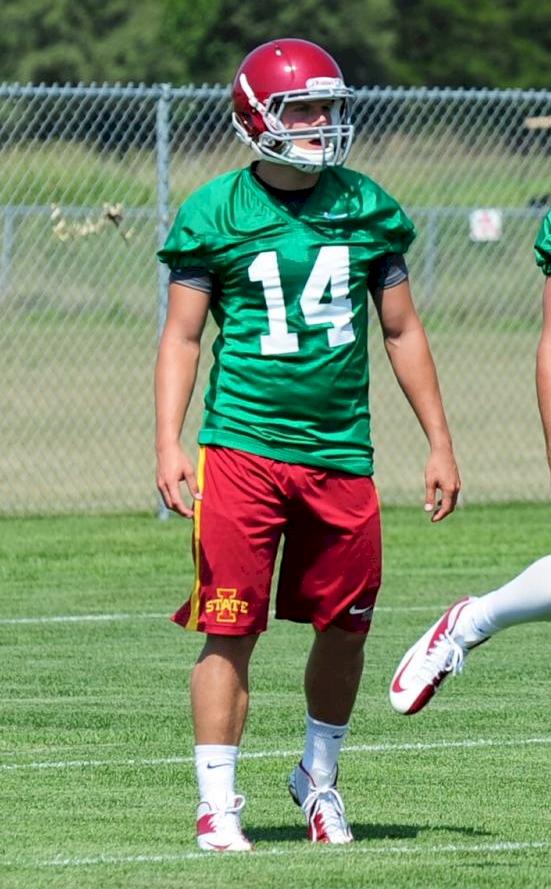 I'm not going to count Jared Barnett out completely either. Barnett's two years of playing at Iowa State are fascinating. Here's a guy who helped lead Iowa State to the biggest win in program history (Oklahoma State) as a freshman and its most impressive win of 2012 (at TCU) and isn't being talked about at all. I'm not saying that's right or it's wrong. You can make up your own mind on that but I'm not about to completely write him off at Iowa State either. 
My suspicion is that we'll go through of another offseason wondering who the signal caller is going to be. For this site's traffic, I'm down with that. For everybody's sanity, I hope we know sooner. But I doubt it. There are too many unknowns. 
It's way too early to know what Richardson's future consists of…Rohach has never taken a snap…Barnett has some big wins to his name but can't seem to keep the job. Stay tuned. 
CyArob writes: Which redshirt freshman (true freshman this year) are most likely to see the field next year and and do you think any of them will have a big impact for next year?
CW: Well I'll start with two guys who shouldn't surprise you, Rohach (who I've already written about) and kicker Cole Netten. Neither guy is a lock to receiver significant playing time but I think both will at the very least be in the conversation leading up to the season. Rohach, for reasons I wrote about up above and maybe let Netten handle kickoffs? 
A few guys stand out to me on defense…
Luke Knott is one of them. He's at linebacker now. With the loss of Big Knott and A.J. Klein, there are going to be plenty of opportunities for playing time there.
I've always heard great things about Charlie Rogers at defensive back, the same goes for T.J. Mutcherson. 
I think that a guy like Collin Bevins will get a few snaps at defensive tackle. I'd say any of the redshirting wide receivers (Dondre Dailey immediately comes to mind) will have a chance to prove their worth too, based off of the fact that Iowa State will lose four receivers to graduation this year. 
Other than that, it's a toss-up. Full disclosure, I haven't poked around much about redshirts up to now so I don't have much more insight to offer you. 
ISUCyclones2015 writes: Favorite moment of the ISU football season?
CW: Oh a couple of them come to mind…
I'd say sitting Sam Richardson's dramatic entrance to the Kansas game a few weeks ago is one of them – mainly because it came out of nowhere. That's the last thing I was expecting to see at that moment. I was sitting up in the Cyclone Radio Network's booth for that game and all of us were shocked. It wasn't the fact that Sam entered the game that was so enjoyable, but the fact that he led Iowa State on an 89-yard touchdown drive that was special.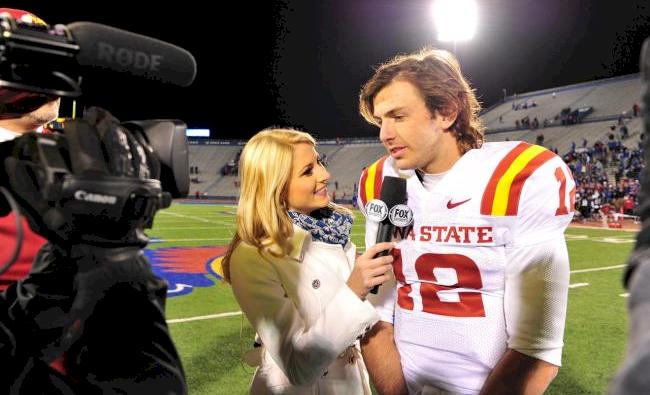 I really enjoyed hanging out with everyone who went on Cyclone Fanatic's charter to the Kansas game too. That's been a dream of mine ever since coming on board here three years ago – to start doing charters like that on an annual basis. To see Adam Gray's hard work pay off was pretty neat. Iowa State fans had KU fans out-numbered at the end of the game. All in all, it was a pretty neat evening in Lawrence. 
I think that Jake Knott's interception in Iowa City takes the cake though. Really, it's an iconic play in the history of that great rivalry. Knott was the perfect guy to make it. That iced the game and without it, the Cyclones aren't bowling this year. 
How about some hoops?
CLONECONES writes: What's up with the FT shooting?
CW: Just relax. Everybody was all worked up about free throw shooting at this time last year too. Come to think of it, I'm not sure there's been a season that I've covered Iowa State where this hasn't been a big deal in the month of November. The Cyclones will be just fine from the charity stripe. 
Cyclone06 writes: Will Cincy and UNLV be good losses or bad losses come March?
CW: Good…Cincinnati and an upper to middle of the pack Big East team that won't even be on the bubble. They'll be in. UNLV is still the overwhelming favorite to win the Mountain West Conference. That UNLV team is probably a top 6 seed in some region. I didn't think that Iowa State would beat Cincinnati and I thought they would beat Oregon on night No. 2. Obviously, the tournament didn't go the way I thought it would. 
CyberJJJ writes: So far in the basketball season, what are the pleasant/unpleasant surprises? 
CW: Pleasant…Tyrus McGee, Georges Niang and rebounding. I expected big things from each of them but but both exceeded those expectations. 
Unpleasant…Korie Lucious and turnovers. 
I'm not panicking about Lucious. If he's still turning the ball over at this high of a rate at the end of the non-conference season, then we have a problem. 
erikbj writes: Do you think Cyclones.tv is a good idea? A lot of friends and family are upset that they haven't been able to see the games (lack of technology or unwillingness to watch a game on their computer). Kind of feel that ISU is alienating a demographic of their fans/donors.
CW: Yes, it is without a doubt a good idea. I understand your point but talk to the thousands of folks living outside the state who are loving the heck out of it. I understand your point. It's difficult for some older Cyclones to watch games on their computer. I totally get that. But like anything in life, Cyclones.tv is only going to get better with time. With John Walters running the show and hard working people like Tyler Rutherford and Dani Varley plugging away, this product is going to get better and better by the day. I'd advise folks to keep supporting it and give it time. It is a very, very good thing.