AMES — Game week is finally here.
Iowa State head coach Paul Rhoads fielded his first press conference of the 2013 season on Monday morning and with it came a handful of questions regarding the season-opening depth chart that was released earlier in the day. 
Here's a notebook touching on all of the key stories coming out of Monday's press conference.
No Ethan Tuftee?
Heading into fall camp, a guy could have made a quality argument that senior Ethan Tuftee was the best offensive lineman on Iowa State's roster. So why was the 6-foot-4, 314-pound veteran listed as a second-string guard behind a freshman in Daniel Burton and sophomore Jamison Lalk?
"It's more that Ethan missed some days with a Charlie horse above his knee and didn't get the practice opportunities to beat those guys out coming off of the spring where he missed a handful of practices," Rhoads said.
That is about the only answer that makes any sense at all here considering that Tuftee has started 15 games in a row for Rhoads' program. Rhoads said that he expects all three men to play significant minutes in Saturday's season-opener against Northern Iowa.
"I expect all three will play but Daniel Burton continues to impress as a young player and Jamison Lalk is right on pace as to where a player would hopefully be in his third year in the program," Rhoads said. "Oni Omoile is another guy who I think could potentially play Saturday night."
David Irving move paying off…so far 
It seems like it was only yesterday when Rhoads announced that junior defensive end defensive tackle David Irving had switched positions. On Monday, Irving found himself at the top of Iowa State's depth chart at defensive tackle, ahead of JuCo transfer Rodney Coe and redshirt freshman Devlyn Cousin.
"David has probably exceeded expectations in making that transition," Rhoads said. "Some things you don't see coming. Here's a guy at his height and range playing on the edge and covering that ground you think is where he belongs but when he got inside, he was a natural. Using his hands, the quickness off of the ball and the ability to be able to control his gap, yet beat blockers and get to a second gap. He made a speedy change at that and has excelled at a short amount of time."
As is always the case with Iowa State's defensive line though, expect a number of Cyclones to take a significant number of snaps on Saturday night.
"We've got a number of guys capable, it's the number of snaps we give each of those guys that will probably be the next spot that we need to sort out," Rhoads said.
Which freshmen will play?
Alton Meeks is the only true freshman that is currently listed on Iowa State's depth chart. Meeks, a 6-foot-2, 241-pound SAM linebacker might play this season. Or, he might not. That too is the case with true freshman cornerback Nigel Tribune, who isn't on the depth chart but still could play this season.
"They are both practicing with the varsity squad and learning the game plan, will travel to the hotel with us and be ready to use," Rhoads said. "But over the long term of the season, want to make sure we are going to use those kids and not just waste a year for a small number of snaps." 
Rogers wins CB job
This news shouldn't surprise anybody. When a redshirt freshman is listed No. 1 on the depth chart heading into camp, it means he is clearly the favorite to win a position battle. That's exactly what Charlie Rogers (below) did at cornerback over the month of August. 
"With that long frame he has adapted to different coverages that he has to excel at, whether if it is playing deep, playing man, playing an underneath coverage," Rhoads said. "He has become a more physical player and I think he has improved his tackling ability. He has continued to grow, much as we anticipated."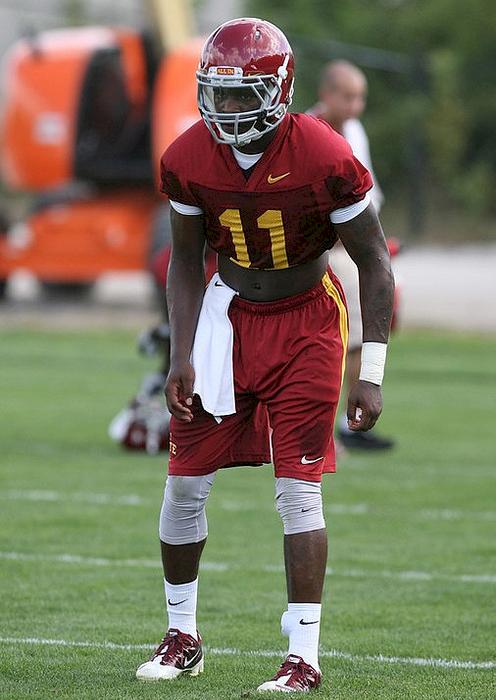 Seeley most improved, Knott pushing Miller
A few other notes regarding Iowa State's situation at linebacker…
Rhoads had some fine things to say about redshirt freshman Kane Seeley (below)… 
"Kane Seeley is probably our most improved player from practice one to practice 25 in training camp and where we were at the end of spring practice – special teams and the MIKE linebacker position," Rhoads said. "We really needed that to happen. We didn't feel that we had a two MIKE linebacker coming out of spring practice and definitely feel we do right now with Kane and how well he has played and that will elevate him on special teams as we go into the season."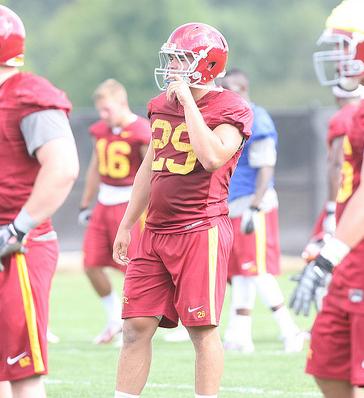 And what about Luke Knott?
"Luke, I think is nipping at the heels of Jevohn (Miller) and will continue to challenge him to play well, which is great competition and always makes a position group play better," Rhoads said. "I think our level of play on game day will start to sort out the number of snaps each one of them get. Jevohn certainly returns as the guy with more experience and will get the starting nod Saturday night but you see Luke on the field."
Who is the kicker?
There isn't any news to report today regarding Iowa State's open kicker job. Rhoads did not name Edwin Arceo or Cole Netten as his starter for Saturday.
"Just when you think you start to have answers in a situation like that, somebody drops off in their performance," Rhoads said. "I want to feel great about who it is I am putting out there and the reason I made that decision. So yeah, she is going to keep going, that battle for the rest of the week."