It goes without saying that during his freshman season at Iowa State, Georges Niang was pretty darn good.
Niang, a versatile 6-foot-7 forward out of New England, averaged 12.1 points and 4.6 rebounds per game. Niang is smart. Niang is competitive. Niang is a leader. Niang is a better shooter than most believe. Niang's future is without question, very bright.
But if it's fans or media alike, whenever Niang is discussed, his athleticism seems to be questioned. That's why when Niang met with Fred Hoiberg at the end of his freshman season, Niang made a vow to his head coach.
"He is the one who brought that up," Hoiberg explained. "He said, 'Coach I promise that when I go home, I'm going to come back leaner. He came back and it was unbelievable – the change in his body." 
Since the end of March, Niang is down 10 pounds and has replaced body fat with muscle. In Niang's ultra-competitive mind, his body was the biggest improvement that he could make between his freshman and sophomore campaigns. 
"I just felt like at the end of the season that I was getting worn down," Niang said. "I wasn't able to give 100 percent at the end of the game. I was working my hardest but it wasn't my best. When you lose a game in the last three seconds of your freshman year, you want to learn what you can do better."
There's more to this story than Niang working harder and smarter in the gym. After all as he put it, he's always worked out. Niang is just like most people who are reading this though. Think back to your first year of college… 
Nutrition was likely an issue.
"Your body is like a car," Niang said. "If I were to put diesel in a regular car it wouldn't run as well as if I put regular gas in it." 
He's eating better now.
"After being in college, you realize that you can't just put anything in your body," Niang said. "I met with a nutritionist a couple of times. She did a great job to help me realize what I need to eat and when I need to eat it. I've worked on bettering my diet."
Fans who went out and watched the YMCA Capital City League this summer have seen the new and improved Niang. It was in that summer league that Niang already started to feel the benefits of his new body.
"I just feel a lot better running up and down the court," Niang said. "I'm a lot more active on the boards. The little stuff makes you feel better."
What else?
Niang's body is without a doubt, much better. That's a plus. But he's been working on two specific aspects of his basketball game this offseason as well. 
"I want to shoot a better percentage from three and from the field," Niang said. "When you look at guys like Doug McDermott's stats – the kid shoots 55 percent from the field and almost 50 from the 3-point line. He's very efficient."
Hoiberg wants him to be a better rebounder. 
"Melvin (Ejim) last year was obviously one of the premier rebounders in the nation," Hoiberg said. "With Georges' stamina increasing and being in better shape, he'll be able to play more minutes and play the right way by going to the offensive glass every time without getting winded."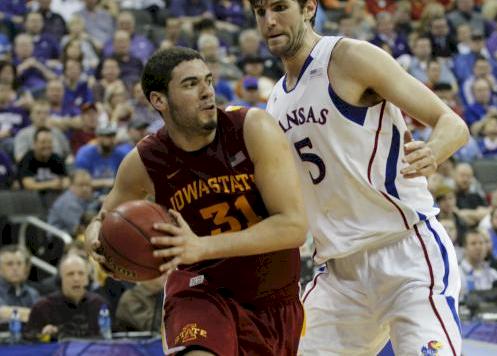 JOTTINGS
*** Hoiberg on Georges Niang, the leader…
"It is hard to lead as a freshman. As the year went on though, if a guy wasn't working hard, Georges would jump on him. That was great to see for a freshman to do something like that. I told him this year that he would be one of the leaders of this team with Bubu and Melvin and DeAndre as our seniors but after that, he is a guy who can lead by example. That's what you are required to do when you are one of the best players on the team. You need to lead guys the right way."
*** Niang on his attitude towards the Capital City League this summer compared to last year. 
"I'm trying to show people how things are done as opposed to learning from the seniors like last year. I want to be a model since Melvin isn't here this summer to our new guys. We win games off of hard work. We might now have the best talent in the league but we are going to work harder than everybody else."
*** How has he got into such great shape you ask? Swimming has been a big part of it.
"I did that a lot with my trainer back home and it's actually a lot tougher than I thought it would be," Niang said.
*** What did he learn from last year?
"It comes down to focus. We lost five games last year by less than five points. It comes down to focus and making that last second play. Not letting fatigue get to you and being focused. That's why I worked on my conditioning when I was back home. Everything that you do counts at this level of basketball."